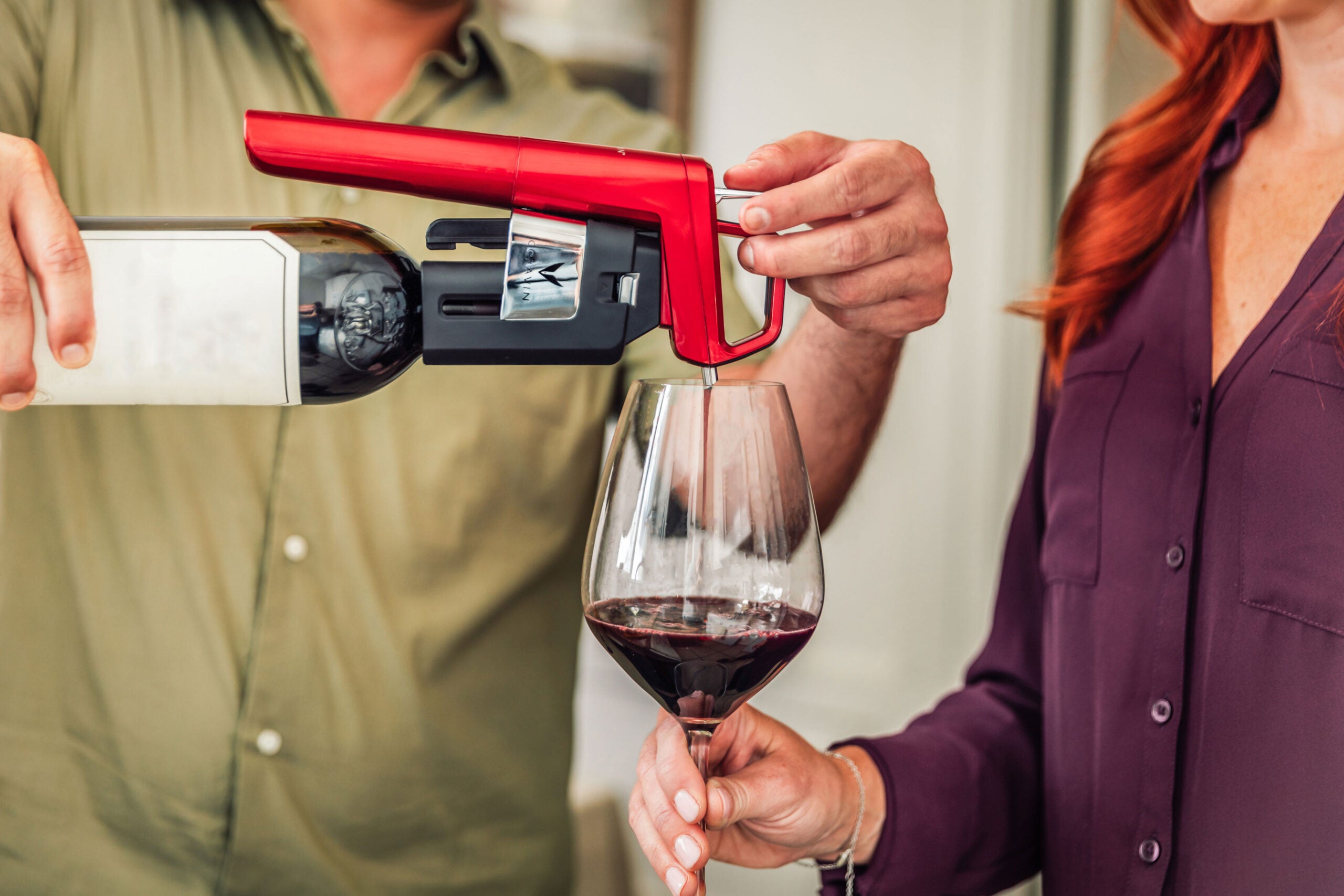 To say that the Coravin system revolutionized drinking wine would be an understatement. Before Greg Lambrecht invented it in 2011 there was no way to open and store a bottle of wine without the wine deteriorating. You would need to drink it within a matter of days, and many wines don't even last that long. With Coravin, you can have a glass, then come back to it days, weeks, or even years later. Lambrecht speaks with Elite Traveler about his invention.
Where did you get the idea for Coravin?
I'm a lover of wine and I always have been. My real job is in medicine. I started my first medical company back in 1999. I invent new medical therapies for unmet clinical needs. Invention has been a part of my life since I was a kid, but I trended toward medicine in graduate school and I really never went back. Although I have now branched off into Coravin, part of the founding story comes from my training in invention, but also my love of wine.
My wife was from a family that came from Europe and settled in Cleveland and then in Texas. They were very Eurocentric in their wine consumption and they were big collectors. So, she and her family introduced me to European wines, and I've since become obsessed. The two of us shared wine together on weekends and when friends came over. But at some point, we were always compromising on what wine we opened. She and I like different wines, and one day it would be my wine that would get opened, and another day it would be her wine that got opened. That was, I think, the beginning of my understanding that there was an unmet need here in wine as well. Then she became pregnant and stopped drinking completely, which really slowed down my drinking. Working in medicine, there was no way I would finish a bottle in an evening. If I wanted a second glass, I didn't necessarily want it from the same bottle.
What other considerations went into Coravin?
I then started to realize there was another problem, there were also wines that I didn't know whether or not they were ready to be opened. But as soon as I opened it, I committed to it. I started isolating bottles that I was willing to open early to try to figure out whether or not the wine would be ready to drink. After a while, I started to realize that there were all sorts of things that I wanted to be able to do with wine that I was not doing. Because as soon as I pulled the cork, I was committed to the bottle, and while 750ml is the right volume sometimes, it's not all the time.
I also realized that I wasn't exploring wine the way that I wanted to. There's more good wine being made now than ever before. You can buy Chardonnay and Cabernet Sauvignon from pretty much any country in the world, and it all varies by the place that it's made, and the vintage that it's made. And then there are all these new regions for wine, like Croatia, Greece, and all sorts of different areas in Italy.
The rate at which I was exploring wine was slowed by the volume I had to commit to in order to be able to take the experiences. That was true both at home and also at restaurants. I remember thinking restaurants have better cellars than I do. And I think when I invented Coravin, I had a total of 30 different bottles of wine. I wasn't a big collector or anything. But restaurants had a ton of wine that I wanted to try. Normally, their by-the-glass program was not their best wine. My bottles were, but I had to commit to the whole thing and certainly, if I wanted to try two great wines, there were few occasions where that was the case unless they were doing some crazy pairing.
How did your medical career influence your invention?
The very first medical device I developed was an implantable chemotherapy infusion system. Normally for kids with leukemia or for anybody who needed long-term access or chemotherapy, it was an implant underneath the skin. You could stick a needle through the skin into the implant over and over again during the course of somebody's chemotherapy series. I got really good at making needles that didn't do damage to things when they went through. I remember being in the kitchen, holding a bottle of wine that I really want to drink a glass while Lee was pregnant and one of the needles that I made for this chemotherapy delivery system thinking there's got to be a way I can use this needle to get wine out of that bottle.
After creating your prototype and coming up with your goals for the system, you did plenty of trials at home. How long did you conduct trials before starting the company?
Eight years from the first good prototype. I was running medical companies. This was something I did for myself, but I didn't really think that it would be something that would take off the way that it has. In that intervening time between 2003 and 2011, by-the-cup coffee came out, the espresso machines and Keurig machines. I think in people's minds there became this assumption that if you wanted something wonderful, you could have it by the serving. And choice. And for me, freedom, I don't know how to drink wine without Coravin anymore. No way I could go back. I can bring any glass of wine I have in my house or from any bottle whenever I want. I have 800 different wines in my cellar and it's partly part of the company's ongoing science experiment. But if somebody comes over to my house, I have an 800 wine-by-the-glass program!
What are the most fun tastings you do with the Coravin?
If somebody comes over, I say grab whatever bottles you want. Bring them up. Take them. For entertaining, I'll put 12-15 bottles on the table for three or four people and we'll each have our Coravin. And we'll taste and compare. And sometimes one of the bottles that we all love will get opened. But some of them aren't ready.  I can do a vertical in my house. I have a 12-year vertical and I can do that anytime a guest comes over. Hey, pick five years, we'll taste all five. It's freedom.
You've done blind tastings with wine experts and winemakers. Tell me about that.
When we started, what we did was a repeat of my experiment at home. I would get together with six cases and winemakers in a region or a sommelier in the city. We started with New York, San Francisco, and Napa Valley in the United States. We have done three-year blind tasting repeatedly. We had six months, one year, two years and five years, three years and three years. We're going to be doing a five-year test. We've done the same in Paris with a sommelier. We did a Burgundy two-year blind tasting and a one year. Both of them were horrified because we were using their wine and their wine is the most delicate. It was panic. But it was the same as the results throughout.
So no one could accurately guess which had been opened for years with Coravin and which was the newly opened bottle?
Correct. And that's been pretty consistent across the way. We would ask, "Would you serve any of the wines that you have in front of you to a guest or a friend?" We've had 100% yes responses. We asked, "Are any of the differences in the glasses greater than you would expect from normal bottles to bottle variability of this wine?" And we've had 100% no responses.
What is most inspiring to you about wine today?
It's so easy to get stuck in a rut in life and I think that's in part because of the pain of exploring a new region from a cost perspective. I love the millennial influence on the wine world and how they're looking for variety. The millennials I run into in the wine world are trying this grape I've never heard of and so I want to try that. Or if it's from a region I've never heard of, I want to try from there. I love that sort of democratization of life and the opportunity to explore new regions, new flavors and then to connect. Wine is made in beautiful places by, generally speaking, very nice people. Wine, travel, and the connection to a place is one of the reasons that wine has stayed with us for 8,000 years. We have that olfactory memory now that wine keys into. There's always some connection. The more I can create a connection between a place of time and an event and the wines that I drink, the greater the joy I find in the wine experience.
To learn more about Coravin, visit coravin.com
This interview has been edited and condensed for clarity.