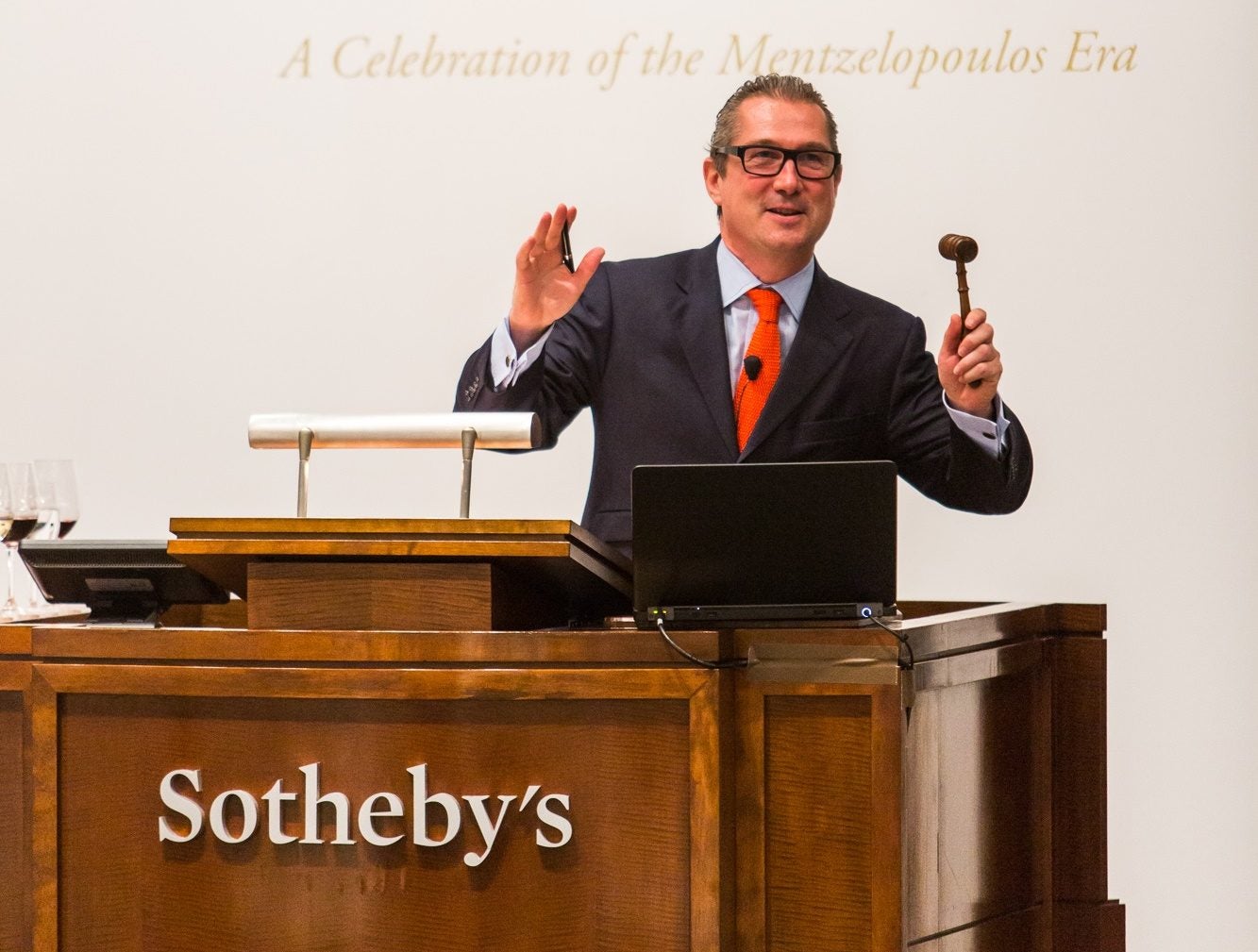 Jamie Ritchie has been buying wines by the case since he was 18 years old. Now, as worldwide head of Sotheby's Wine, he oversees wine auctions that reach record-breaking numbers.
The last five years have been a prosperous time for the fine wine and spirits business, as demand from Asia and the Americas has driven prices to record levels. In 2018, Sotheby's Wine had record sales well in excess of $100 million for the first time. Now, in the first half of 2019, our auction business is 20 percent above any previous year with sales of $65 million.
These tremendous sales included one single-cellar offering that brought $30 million; the world-record price for a bottle of wine — $558,000 for one bottle of Domaine de la Romanée-Conti (DRC) 1945 — and $843,000 for a special bottle of The Macallan 1926.
Garnering the most demand for wine has been red Burgundy from world-class domaines such as DRC, Armand Rousseau, Leroy, Georges Roumier and Jacques-Frédéric Mugnier. These wines are coveted worldwide, particularly in Asia and the Americas. In the Americas, you will find greater demand for the next tier of domaine producers, like Mugneret-Gibourg, Robert Groffier, Denis Bachelet and Fourrier.
There is generally more strength and depth when you buy a wider range of wines. Burgundy used to represent under 20 percent of auction sales, but last year increased to 42 percent. Of course, the greatest, most highly sought after vintages are 2016, 2015, 2010, 2009, 2005 and 1999. But it is worth noting that with Burgundy, the most important thing is to prioritize the producer over the vineyard or vintage. Other vintages that are drinking extremely well now are 2012, 2011 and 2008.
White Burgundy has also seen strong demand — despite ongoing issues with premature oxidation — and people are drinking the top growers' wines earlier. The 2014 and 2017 domaines from Coche-Dury, Leflaive, Comte Lafon, Roulot, François Raveneau and Vincent Dauvissat are particularly successful.
Bordeaux represented over 70 percent of the value of our sales when we began auctioning wine in 1970, but it dropped to 46 percent last year. This was caused by the increase in Burgundy prices, while prices of younger vintages from Bordeaux have remained flat.
This is partly due to the production levels of Bordeaux, which are significantly higher than Burgundy, as well as the distribution system for Bordeaux, which sells its wine as 'futures' (also known as en primeur, or purchasing wine that is still maturing in the barrel). The best vintages to buy now are 2018, 2016, 2015, 2014, 2010, 2009, 2005, 2000 and 1996.
Personally, I think the 2005s are outstanding, with great value for the quality. Some châteaux are undergoing a renaissance in terms of quality, and for the 2015s and later, I would take a serious look at properties like Calon Ségur, Canon, Rauzan-Ségla, Pichon Longueville Comtesse Lalande and Haut-Bailly, in addition to the first growths. We are currently offering the 2018 futures and 2016s and 2015s through our retail business.
Bordeaux market share is also under pressure from increased demand for the best wines from Champagne, Rhône and Italy; California has remained flat.
In the spirits area, The Macallan, recognized for its distinct flavor and ability to age well, tends to dominate with over 50 percent market share, followed by The Dalmore. The spirits business differs vastly from wine: Spirits have a higher average bottle price (last year, Macallan was $15,000 while DRC was $9,000) but a lower average lot price, since more individual bottles are sold than full cases.
Asian collectors purchased 65 percent of our sales by value across auction and retail in 2018 — an increase from recent years. We see continued growth in new buyers for both wines and spirits throughout Asia, as well as North and South America. In the future, we foresee fine wine prices continuing to increase.
As the growth of the demand in new geographic regions rises — including with younger buyers who are creating new wealth — supply is limited to one new vintage per year, less all the older wines that were already enjoyed. Ultimately, prices will have to increase.
Buying wine to enjoy immediately, to build a cellar to drink or for investment can be intimidating. At Sotheby's Wine, we have expanded from being an auction-only business by adding retail and advisory services, as well as storage options. Our retail business is focused on selling only the best producers, whose wines are typical of the region and offer great value at each price point.
Our advisory business helps those who want to build or manage a collection, but lack the time or confidence. With the addition of storage in multiple locations, collectors will have the ability to enjoy their wines anywhere, anytime.
Together, this diverse range of services represents the evolution of our business — simplifying the ability to engage with and drink better wines. Wine is one of the greatest joys in life, and we're in the business of spreading that joy.