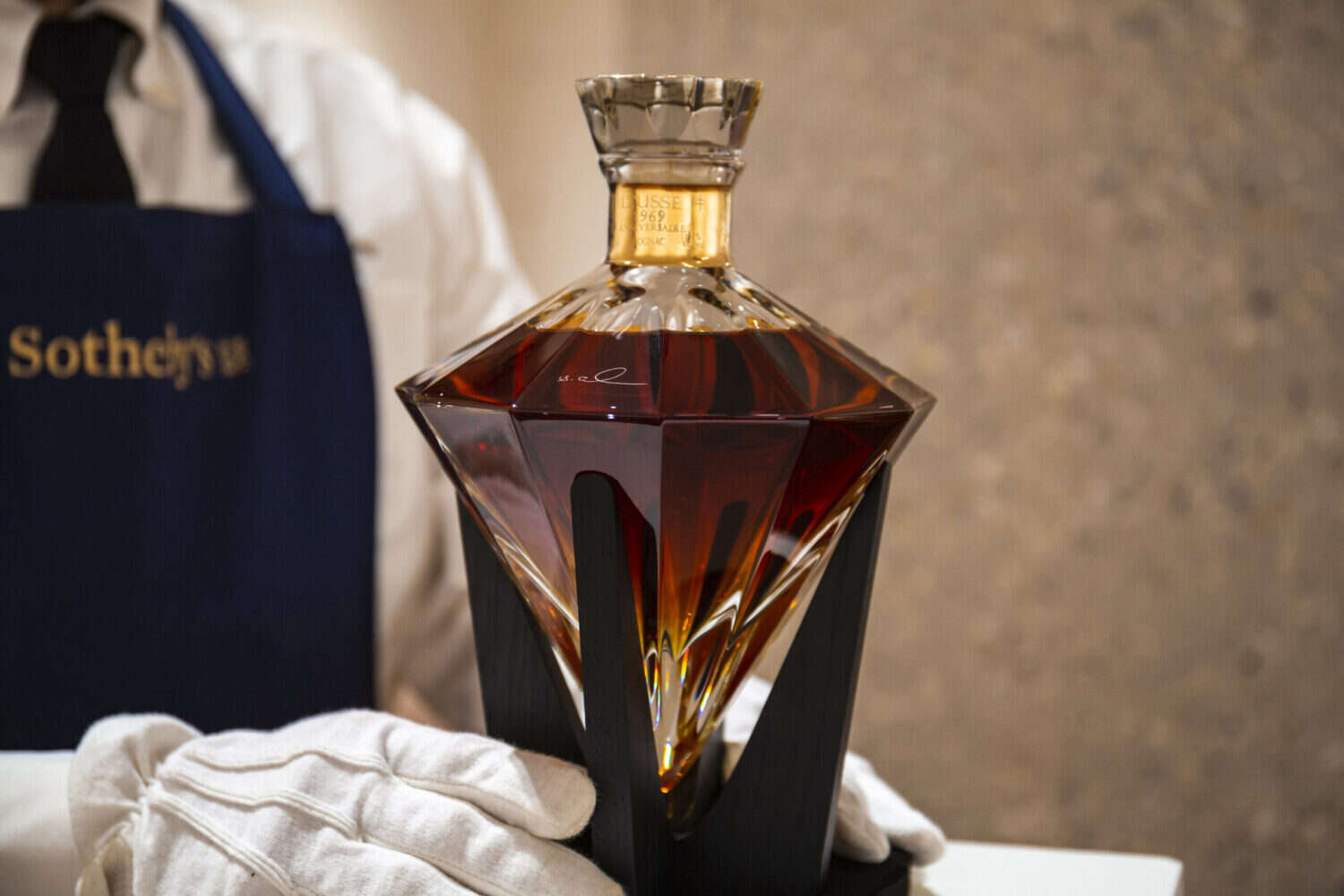 Shawn Carter, the American rapper better known as Jay-Z, is auctioning one of the rarest bottles of cognac in the world in order to raise funds for his eponymous foundation. The unique "Bottle No 1" from the D'Usse 1969 Anniversaire Limited Edition is part of an ongoing online auction at Sotheby's and has an upper estimate of $75,000.
Jay-Z's decision to sell this unique decanter marks the first time a bottle of this ultra-rare Grande Champagne D'Usse cognac has been presented in public. The limited-edition collection has been created from a single barrel of prized D'Usse eaux-de-vie and just 285 numbered decanters exist.
The cognac is presented in an exclusive 12-cut crystal diamond decanter that befits its exclusivity. Each decanter is worth $10,000, but the addition of a 24kt gold foil around the neck and Jay-Z's signature means Bottle No 1 is far more valuable.
As a part-owner of D'Usse, Jay-Z has been instrumental in breathing new life into the cognac industry. The icon, who is known as much for his entrepreneurial spirit than his music these days, says this latest release epitomizes why he was so drawn to D'Usse in the first place.
He said: "When our cellar master, Michel Casavecchia, discovered the aged liquid at the Château de Cognac and explained how truly one of a kind it is, it was important to me to honor it by doing something that would celebrate its singularity.
"Once that barrel is emptied, there's no way the liquid can be recreated. The whole process behind the 1969 Anniversaire collection reminded me why I got involved in the spirits industry in the first place – to create something that will stand the test of time. It means a lot that we're finally able to share the D'Usse 1969 Anniversaire Limited Edition with the rest of the world, and we're proud to auction the first bottle in the collection with Sotheby's to benefit the Shawn Carter Foundation."
[See also: The Best Cognac Brands to Try in 2021]
On the liquid itself, master blender Casavecchi said: "It's been an honor to watch this exquisite liquid mature at the historic Château de Cognac. Now bright gold with shiny reflections, the cognac in each bottle of the 1969 Anniversaire Limited Edition has rich aromas of fresh walnut, hazelnut and candied apple, and a flavor profile that reveals an incomparable potency—woody at the start, with a long finish of stewed fruits, a touch of leather, and cigar box. It's with immense privilege that we welcome this collection to the D'usse family."
The Shawn Carter Foundation was founded by Jay-Z's mother Gloria Carter in 2003. Since then, it has helped many facing socio-economic hardships to further their education and improve their economic prospects. All of the funds raised in the auction will go to supporting the foundation's professional development and entrepreneurship workshops.
Online bidding for Bottle No 1 began on March 1 and runs until March 13 (9am ET). The remaining bottles in the collection will go on sale in May across key US cities.