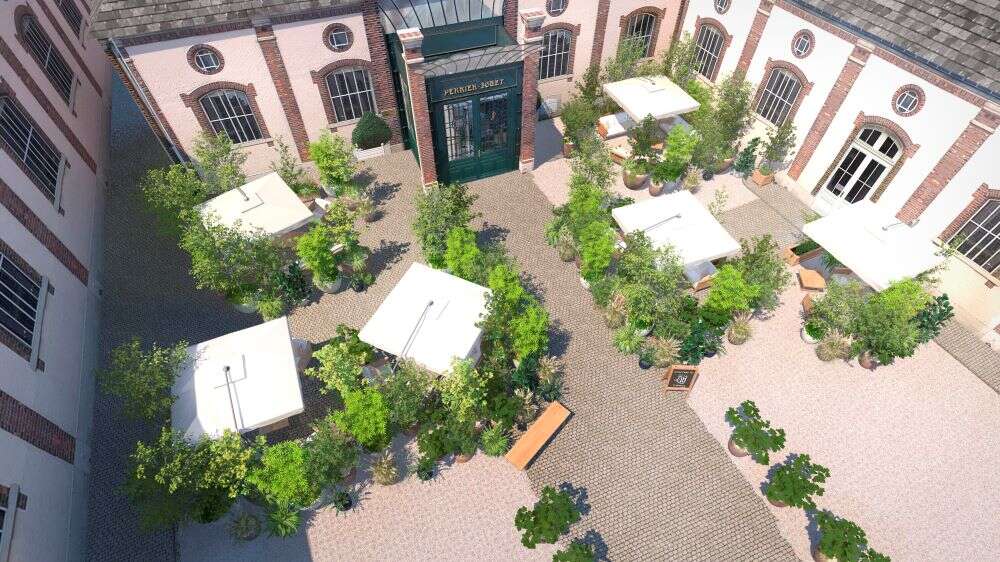 Of all the champagne houses in France, Perrier-Jouët's is, without doubt, one of the most exclusive. Never before has the celebrated producer opened the doors of its Unesco World Heritage property. This is all set to change however with the unveiling of Belle Epoque Society, a selection of champagne experiences for the summer months at its famed Epernay site in France.  
Launching with an inauguration event on June 16 before officially opening to the public on June 19, Belle Epoque Society will see two unique offerings from the 210-year-old champagne house with the establishment of Cellier Belle Epoque and the opening of Maison Belle Epoque.
[See also: New Data Reveals How Much the US Spends on Wine]
The new Cellier Belle Epoque is an elegant indoor-outdoor champagne bar set within the historic courtyard of 26 avenues de Champagne. Adorned with greenery, the space honors Perrier-Jouët's long-reigning affinity with nature and is the ideal spot to sample the house's celebrated cuvées. Underneath the French summer sun, visitors will be able to enjoy a varied schedule of events that explore the cultural and historical heritage of the house. This includes champagne and food pairings created by Perrier-Jouët's cellar master Sèverine Frerson and the house's new chef Sèbastien Morellon, who is fresh from a stint at two Michelin-stared La Grande Maison de Bernard Magrez in Bordeaux. 
Most exciting of all, however, is the opening of the historically significant Maison Belle Epoque for the very first time. Formerly home of Perrier-Jouët's founding family, the 18th-century mansion features the largest collection of French Art Nouveau in Europe, a movement with which the champagne house shares close ties. The summer opening will also offer visitors the unique chance to indulge in meticulously prepared alfresco lunches on the remarkable property's expansive terrace overlooking the manicured gardens. 
Belle Epoque Society will also see the reopening of the Perrier-Jouët Boutique. Visitors will be able to purchase a piece of Perrier-Jouet to take home in the form of one of the house's vintages, including the newly released Perrier-Jouët Belle Epoque 2013.