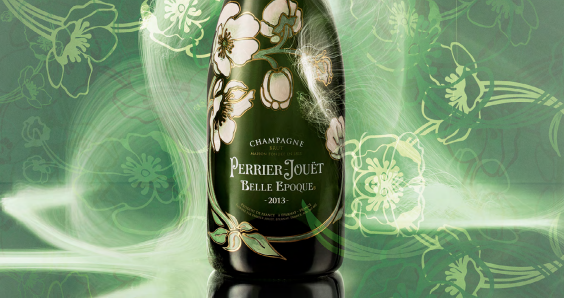 Following the favorable conditions of 2013 which saw a cold winter followed by a cool spring, the historic champagne house Perrier-Jouët has released the highly-anticipated Perrier-Jouët Belle Epoque 2013 Vintage.
Speaking at a virtual tasting to mark the release, Perrier-Jouët's UK Ambassador, Jonny Fizz said: "It was a particularly good year for Chardonnay… and for us at Perrier-Jouët, Chardonnay is the driving force and the hero grape."
Perrier-Jouët Belle Epoque 2013 is an excellent example of the art of blending in the Maison's signature style. The cuvée comprises of 45% Pinot Noir grapes which were used for their power but also to support and enhance the more delicate Chardonnay, which makes up 50%. A small quantity of Meunier grapes was also used to balance the two. 
The 2013 vintage has spent more than six years aging in Perrier-Jouët's cellars in Épernay. The final product is a delicate and balanced champagne, pale gold in color with subtle glints of apple green with aromas of white fruit and flowers. The vintage is perfectly packaged in the Maison's iconic bottle adorned with the legendary spray of Japanese white anemones created by Art Nouveau master Emile Gallé.
[See also: The Prince Edward Cocktail by Nc'nean Distillery]
Speaking prior to his retirement at the end of October 2020, the former cellar master of Maison Perrier-Jouët Hervé Deschamps said: "Perrier-Jouët Belle Epoque 2013 is a captivating expression of a true icon – a rare and elegant champagne that celebrates the art of vintage and the excellence of the Perrier-Jouët vineyard." 
Deschamps spent 27 years at the helm, during which the celebrated chef de cave become the youngest cellar master to be awarded the prestigious Chevalier de l'Ordre des Arts et des Lettres for his contributions to French culture. The Belle Epoque 2013 vintage is perhaps extra special as it is the last to be bottled under Deschamps, with Perrier-Jouët appointing its first-ever female cellar master in Sèverine Frerson to take his place.
Indeed both cellar masters have had a hand in creating the vintage: "While [the Belle Epoque 2013 Vintage] is Hervé's wine, as it predates Sèverine joining us, the liqueur de dosage was created by four hands: Hervés' and Sèverines'," notes Fizz.  
Frerson will be the 8th cellar master to join the famous champagne house in its 200-year-plus history. Founded in 1811 by botanist Pierre-Nicolas Perrier and his wife Rose-Adélaïde Jouët, nature has always been at the heart of the champagne house, and that same ethos can be found today in the house's sustainability practices.
As champagne producers across the region strive to meet the target set out by the Comité Champagne to achieve 100% sustainability in champagne winegrowing by 2030, Perrier-Jouët has already made huge inroads; from tree planting initiatives and beehive installations through to eco-packaging and green electricity. In 2016, 100% of Perrier-Jouët vineyards obtained a double certification for Sustainable Viticulture in Champagne and High Environmental Value (HEV) and last year saw the house introduce a zero-herbicide policy. 
Perrier-Jouët Belle Epoque 2013, approximately $220.