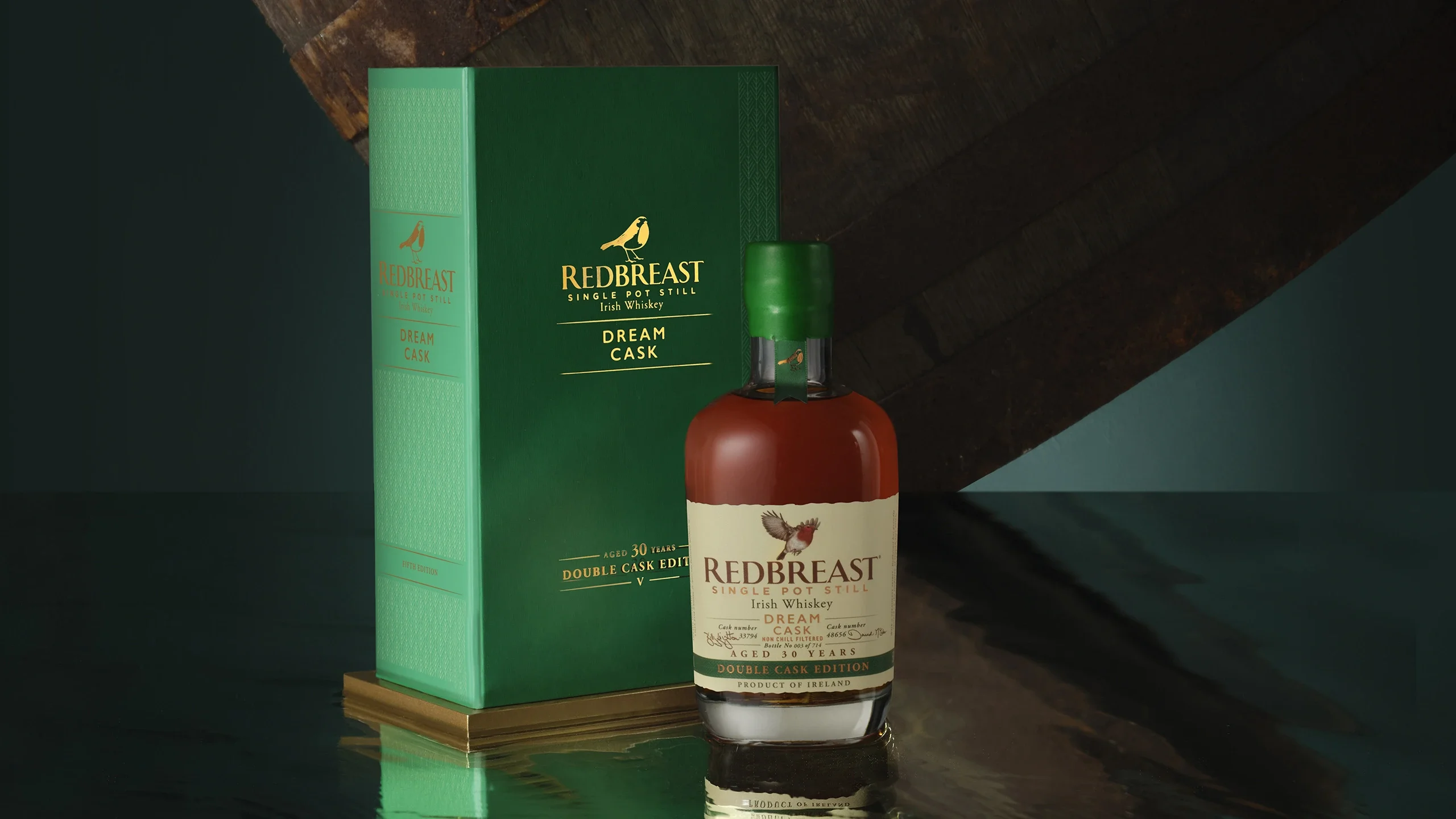 Redbreast Irish Whiskey is building upon its celebrated Dream Cask series with the launch of the fifth release in the collection: the Dream Cask Double Cask Edition. Marrying two casks from the Midleton Distillery's inventory to create one unique whiskey, the 30 Year Old single pot still whisky is a truly unique addition to the lineup.
Each cask was hand selected to ensure it perfectly embodied the DNA of Redbreast. The first, chosen by master blender Billy Leighton, has been in a first-fill oloroso sherry butt since May 1990, while the second, selected by blender Dave McCabe, was laid in a first-fill bourbon butt the following year in December 1991. The two casks were selected at optimum maturity and unusually blended at the point of bottling, allowing each to retain its distinct character.
"For this 2022 expression, we set out to create a perfectly aged single pot still whiskey that captured the qualities and virtues of its Dream Cask predecessors, but with a new and distinctive twist of marrying these two casks just at the point of bottling. We are delighted with the results and are excited to share this next chapter in the unfolding story of Redbreast," said Leighton.
Bottled at 56.9%, the Redbreast team was keen to lay focus on the influence of bourbon in this newest Dream Cask release, instead of just the signature sherry-induced notes. "I am honored to have been able to select my perfectly aged dream bourbon cask for this year's Dream Cask and to pay homage to that unbeatable harmony that makes Redbreast so special," said McCabe.
[See also: The Difference Between Irish Whiskey and Scotch Explained]
"We are incredibly fortunate that we have the variety of aged stock at Midleton Distillery to explore and make our dreams a reality," he added. "Sharing our discovery with whiskey drinkers across the world is one of the most exciting and joyful aspects of my role to date."
The result is a complex whiskey that carries distinctive creaminess and vanilla from the bourbon barrel, which has been carefully balanced with the deep fruitiness of a sherry cask. The taste lends into notes of orange peel and smoked almonds, with a final lingering hit of spice and oak.
The release joins its four carefully crafted predecessors in the Dream Cask series, including the 2021 Oloroso Sherry Edition and the Ruby Port Edition of 2020, both of which were highly sought after.
Just 714 bottles of this highly unique Irish whiskey will be available for €550 (approx. $587), with each presented in an emerald green keepsake book box. Naturally, buying a bottle is easier said than done, with those hoping to get their hands on the Redbreast Dream Cask Double Cask Edition invited to try their chances at an online ballot. The ballot closes on May 30th when successful applicants will be given an opportunity to make a purchase.