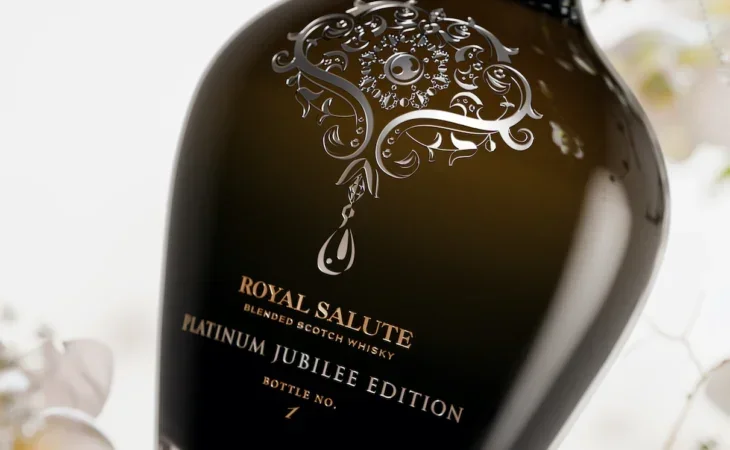 Queen Elizabeth II marked 70 years of service with an epic weekend of celebration, for which many brands tried to tie themselves in. However, when it comes to regal association, few can trump Royal Salute. The luxury blended whisky was created in 1953 as a gift to the Queen to mark her coronation. So, it is no surprise that Royal Salute produced an extra special whisky for Her Majesty's Platinum Jubilee.
Revealed among the crown jewels at the Tower of London, the Royal Salute Platinum Jubilee Edition pays homage to Queen Elizabeth both inside and out of a stunning crystal decanter.
Inside, there is a complex whisky blended with liquids aged for at least 30 years. Master blender Sandy Hyslop took some of the last remaining whisky from seven ghost distilleries and finished the blend in Tawny Port casks for over two years. The choice of cask finish is significant, as Tawny Port was served during the great Coronation Banquet in 1953.
Those two-and-a-half years have had a heavy influence on the Platinum Jubilee Edition, giving it a rich and decadent flavor with notes of baked fruits and honey. Describing the choice of cask to Elite Traveler at the event, Hyslop said he took "no half measures" in creating something bold and unabashed.
[See also: Ladyburn 1966 Edition Two Captures Spirit of the 60s]
The tribute to Her Majesty continues on the outside of the decanter. Each decanter (there are just 147 individually-numbered bottles) has been engraved with an intricate pattern inspired by one of the Queen's seven iconic brooches. There are also seven boxes designed with a color palette that reflects some of her most memorable outfits.
The most ardent of collectors will be able to purchase a set of seven, although they will only be available direct from Royal Salute's private client division. For those who don't have the storage space, single decanters are on sale now for $20,000.
One of One
Not satisfied with launching one of its rarest expressions ever, Royal Salute also produced a one-of-one bottling of the Royal Jubilee Edition, complete with a custom brooch of equal rarity. Crafted by historic jewelers Bentley + Skinner, the brooch is made of  18ct yellow gold, platinum and set with 70 diamonds.
The bottle and the brooch were auctioned at Christie's on June 8, achieving a hammer price of $86,000, 100% of which will be donated to the Queen's Commonwealth Trust, a charity that supports young leaders who are transforming their communities. The auction also saw the first set of seven standard-issue decanters go under the hammer. Bottle No 1 (along with No 11, No 21, No 31, No 41, No 51 and No 61) sold for $220,000, well above the high estimate.
Royal Salute Platinum Jubilee Edition Tasting Notes*
Nose: Juicy red apples, ripe strawberries, spiced orange, indulgent dark chocolate, peach tart, honey-roasted almonds and cinnamon.
Palate: Homemade blackcurrant jam, poached plums, fresh apricot, lavish caramel, stem ginger in syrup, dark toffee with warming festive spice of cloves and nutmeg.
Finish: Long and rich with enduring festive spice.
The Royal Salute Platinum Jubilee Edition will be released in June 2022 and will be available for purchase at selected specialist retailers with an RRP $20,000. For more information, visit royalsalute.com
*tasting notes from Royal Salute
[See also: Sotheby's Auctions Rare Brora and Port Ellen Whisky Casks]