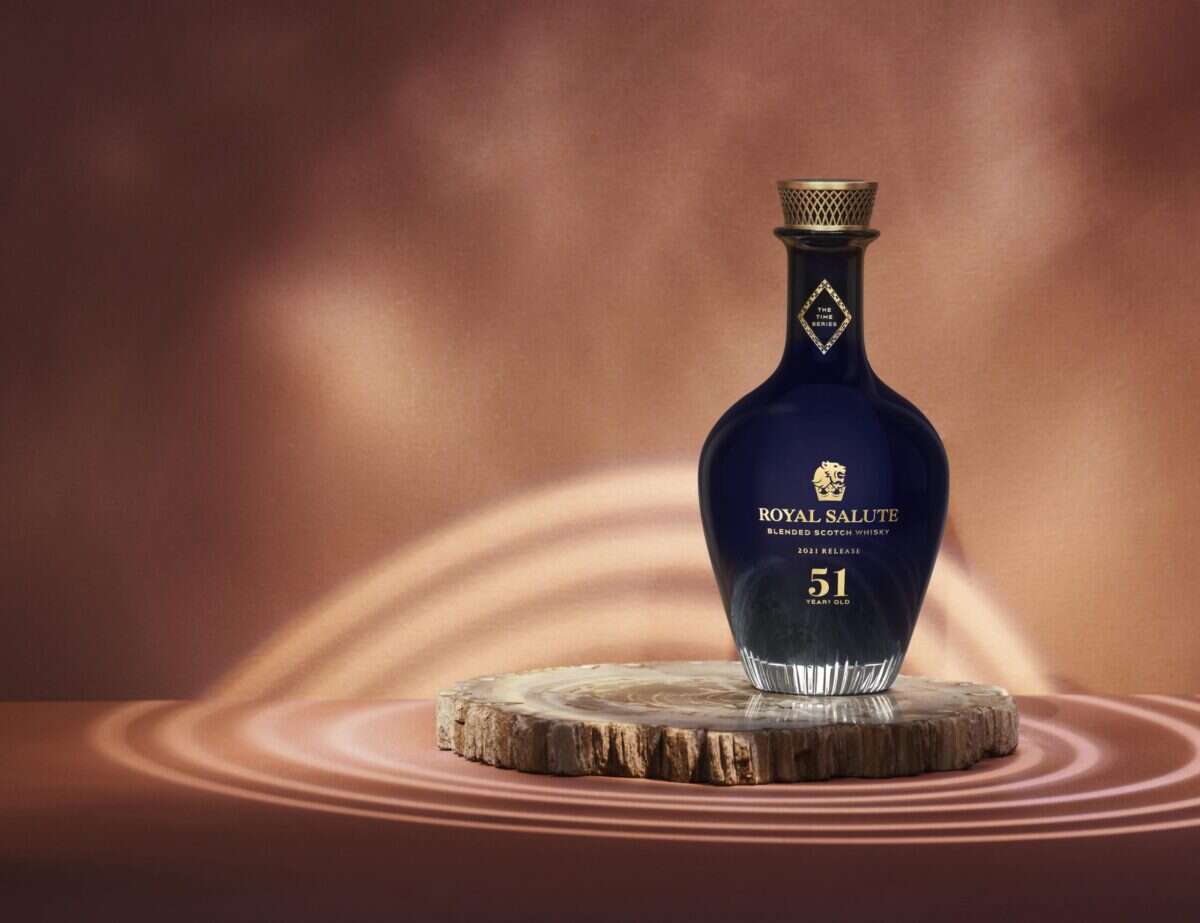 Royal Salute has added a new and exceptionally rare whisky to its Time Series collection. The 51 Year Old is not only one of the oldest blends Royal Salute has ever produced, but one of the most exclusive. Just 101 decanters of this new expression will be made available, underlining the scarcity of the liquids it contains.
The Time Series debuted two years ago with the release of a remarkable 52 Year Old whisky. The series focuses on the symbolic power of numbers. In the world of fine whisky, any age statement over 50 is powerful enough to garner attention. Though this expression is one year younger than the debut blend, avid collectors will notice the 51 Year Old is even rarer (the 52 Year Old was limited to 106 decanters).
[See also: Brora Reopens Doors to the Past, Ready for the Future]
Royal Salute's master blender Sandy Hyslop used only the oldest and finest casks available to him. With Royal Salute owned by Chivas Brothers, Hyslop had access to stocks from some of Scotland's finest distilleries. Strathisla, Longmore and Glen Keith – all notable Speyside distilleries – feature in the 51 Year Old, but collectors will be most impressed by the inclusion of ghost distillery Caperdonich, of which finite stock remains.
Hyslop said: "The Royal Salute Time Series 51 Year Old is an undeniably special expression that blends exceptional style with high-aged whisky. Crafting a Scotch of that age requires intense care and attention to ensure the cask characteristics are perfectly absorbed without being overpowering, and the moment I tested the final blend will stay with me forever; the masterful role that time has played over a minimum of five decades of slow maturation really blew me away. This release is a one-of-a-kind expression."
Tasting notes
While the number of distilleries in the blend is not disclosed, the whisky's floral and fruity flavor profile suggests Speyside forms the backbone. Bottled at a cask strength of 45.4% and non-chill filtered, the 51 Year Old has a freshness that is rarely experienced in a whisky of this age.
The finish is long and highly evolving. As with most whisky of this age, this is one to spend at least an hour. Time in the glass allows a more indulgent sweetness to shine through, akin to creme caramel and honey. A supremely complex liquid.
Nose: Sweet-wooded notes with hints of spice. Marmelade and lemon zest balanced with a floral base that suggests a Speyside-dominant blend. More time in the glass gives way to a sweeter profile of toffee fudge and toasted sugar.
Palate: Remarkably similar to a St Clements cocktail. Lemon and lime balance in harmony with fresh oranges. The spicy sandalwood notes come through after that initial citrus kick. Only then do those sweeter notes begin to appear.
Finish: Long and highly evolving. The initial wood spice begins to fade and evolves into warming cinnamon paired with sweeter notes of toffee fudge.
The decanter
While the quality of the liquid is always important at this level, many of the 101 decanters will be heading into collections. Whether it looks good in the whisky cabinet may be just as important to some. Each deep blue crystal decanter has been hand-blown by Dartington Crystal and is individually numbered, making each one unique. The presentation box (pictured above) has been meticulously built from five layers of oak to represent the five decades it took to create the blend.
Royal Salute The Time Series Year Old 2021 Release will be available from specialist global retailers from November 2021 for $30,000, royalsalute.com