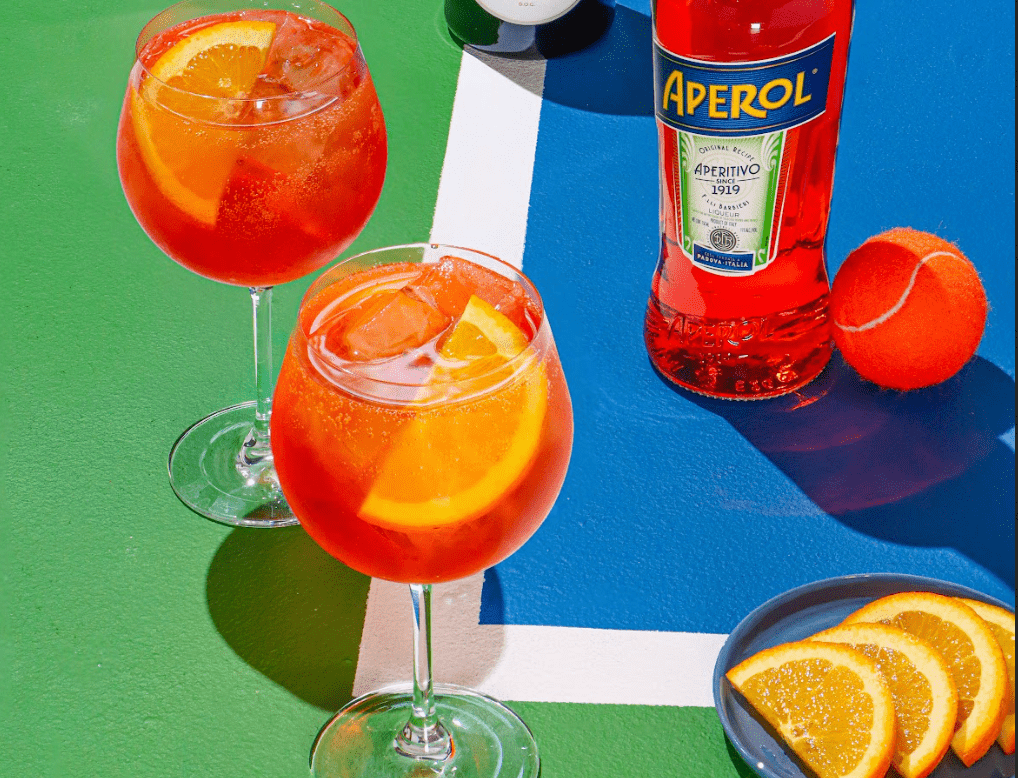 If there is a singular drink that screams 'summer,' it is surely the Aperol spritz. Not just a drink but a veritable institution, the Aperol spritz gained popularity as it is practically synonymous with Italy's aperitivo culture.
The vibrant orange drink was first created by brothers Luigi and Silvio Barbieri in Italy in 1919 after seven years of experimenting. Originally marketed as a health tonic due to its herbal ingredients (gentian, rhubarb and cinchona), it eventually evolved into a cocktail ingredient. 
[See also: The Most Beautiful Wineries to Visit in Italy]
And, just in time for the US Open, Aperol has partnered with the famous tennis tournament to bring a taste of Italy to Flushing Meadows.
Fans will be able to find Aperol in two locations: A bright-orange, indoor-outdoor patio bar located off the grounds' primary esplanade, just east of the main entrance to Arthur Ashe Stadium, and across the grounds near Court 5, where Aperol will be served from an authentic Italian Apé Truck. 
If you can't quite make it to Flushing Meadows, Aperol has also teamed up with Cocktail Courier to bring all the ingredients straight to your door.
The Aperol Spritz Perfect Serve kit will include all the ingredients you need to make the Aperol Spritz, including Aperol, Cinzano Prosecco, club soda, and two oranges. The kit serves up to 16 cocktails. 
The 3-2-1 Aperol Spritz 
Ingredients:

– Ice cubes 
– Aperol 
– Cinzano Prosecco 
– Soda water (served from siphon or chilled bottle)  
– Slice of orange 

Method:

In a stemmed balloon glass full of ice, combine three parts of Cinzano Prosecco followed by two parts Aperol. Add one part or a splash of soda water, stir gently if needed and garnish with an orange slice. The end result should be a uniform, perfect orange color.
See more Cocktail of the Week recipes here