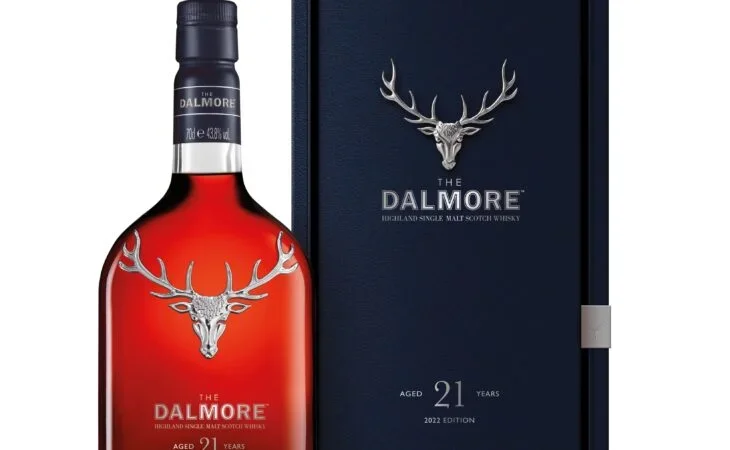 The Dalmore's revered Principal Collection has come of age with the revealing of the distillery's latest annual release, The Dalmore 21 Year Old.
Acting as a prelude to The Dalmore's range of fine and rare whiskies, the 21 Year Old has been imagined to act as a celebration in liquid form, with a distinct character crafted by the Highland distillery's careful and historic use of stills.
The Scotch whisky first rests in American white oak ex-bourbon barrels, before spending its final maturation period in specially selected 30-year-old Matusalem oloroso sherry casks, exclusively sourced for The Dalmore.
While the evidence of The Dalmore's favored sherry casks is immediately apparent, the extended aging has added a new level of depth to this latest expression. The nose is notably bitter with dark chocolate and coffee, while the signature spices become more savory, and what might usually be a candied orange on the finish is more like a bitter blood orange.
[See also: The Most Expensive Whisky Ever Sold at Auction]
"We talk so much about how we make whisky – the ingredients, the raw materials, the water – but I think we sometimes forget the most important ingredient in whisky is time," said whisky specialist Stephen Martin, of The Dalmore's parent brand, Whyte & Mackay, at an exclusive tasting.
"And The Dalmore 21 Year Old, the pinnacle of the Principal Collection, is such a shining example of this. It represents a coming of age at The Dalmore distillery … It's a fascinating whisky that acts a window into the potential that exists with old and rare Dalmore."
The 2022 21 Year Old joins seven other prestige whiskies in the Principal Collection, including the King Alexander III, which features a mixture of six different casks from around the world, and the award-winning 18 Year Old.
The liquid is presented in The Dalmore's classic short bottle, complete with the distillery's signature silver twelve-pointed stag emblem, reportedly bestowed by King Alexander III in the 13th century in recognition of service.
"The Dalmore 21 Year Old is a result of patience and craftsmanship which we're tremendously proud to celebrate," said master whisky maker, Gregg Glass. "We created this spirit for those looking for the finest of whiskies, whilst also creating an opportunity for those embarking on their whisky journey to try something truly inspirational and remarkable from The Dalmore."
Tasting notes
Nose: 
Earthy, with hints of coffee and bitter dark chocolate.
Palate:
Rich and full-bodied, with dark fruits leading into an unusually savory spiciness.
Finish:
The spices continue to linger, bolstered by sweet, juicy apple and fresh blood orange.
The Dalmore 21 Year Old is available for RRP £575 ($691).
[See also: It's Not Too Late to Invest in Scotch Whisky]