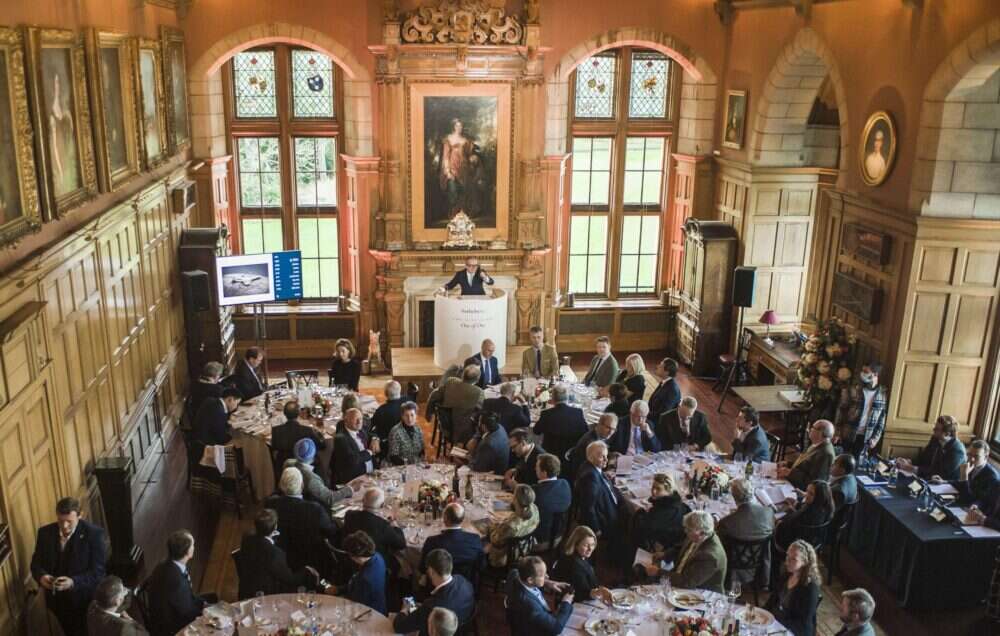 The world of fine whisky was served another reminder of its ever-increasing value on December 3 as the inaugural The Distillers One of One auction defied expectations to raise an astonishing $4.1m. The total amount was two-and-a-half times above the auction's low estimate as bidders from 24 different countries secured some of the rarest bottles of Scotch whisky in the world.
Over 40 lots from some of Scotland's most renowned distilleries were put under the hammer. Distilleries were asked to donate a unique, one-of-one item that cannot be replicated. Distilleries such as Bowmore and Glenfiddich came up with exceptional bottlings that caught the eye of serious collectors while others such as Talisker donated an entire cask of still-aging whisky.
Held at Barnbougle Castle by The Distiller's Charity, the philanthropic arm of The Worshipful Company of Distillers, the auction will see over $2.5m divided between four charity partners of The Youth Action Fund, which transforms the life chances of 16 to 25-year-old people in Scotland.
Jonathan Driver, Master of The Worshipful Company of Distillers, said: "The success of our first auction is so exciting and we are thrilled that we can continue to support more people for at least the next six years, thanks to our ongoing partnership with Sotheby's. This whole event wouldn't have been possible had companies of all sizes from across the Scotch whisky industry not come together in this amazing collective endeavor. It showcases just how extraordinary the people who work in the world of Scotch whisky are and we are privileged to have been the catalyst for this landmark sale."
Here, we take a look at the highlights from The Distillers One of One auction…
[See also: It's Still Not Too Late to Invest in Scotch Whisky]
Glenfiddich: The 1950s
Glenfiddich, once the proud owner of the most expensive bottle of whisky ever sold at auction, broke its own record after a set of four exceptionally-aged whiskies sold for just shy of $1.4m, the highest price of the 42 lots. With an original low estimate of $290,000, the price for the four bottles was pushed to record levels by determined bidders over 30 tense minutes. The winner received four expressions from 1955, 1957, 1958 and 1959, representing the last casks from Glenfiddich's 1950 stocks. The decanters have been handblown by Baccarat with a 24-carat gold neck and are encased in a high-tech cabinet designed and made by NEJ Stevenson. The cabinet is fitted with a high precision thermometer and hygrometer offering careful control of the environmental conditions. Innovative mechanisms will keep the cork from drying out, allowing for the owner to preserve the whisky for generations.
Talisker Cask of Distinction 1978
Heading into the auction, this exceptional cask from the Isle of Skye distillery had the highest estimate of any lot. Although it wasn't the top lot, it did manage to almost double its low estimate of $460,000 by selling for $860,000. This was the first cask to be released as part of Diageo's exclusive cask ownership program, which offers its rarest casks up for sale. The winning bidder is now the owner of a 43-year-old Talisker liquid that could age for many years yet. The lot also included a paired cask-end that has been turned into an original work of art by Turner Prize nominee Callum Innes.
Bowmore Onyx 51 Year Old 1970
One of the most striking decanters we've ever seen, the Bowmore Onyx  51 Year Old 1970 was always going to capture bidders' imaginations. And so it proved. The hand-blown, 1.4l black glass vessel sold for $532,000, beating its low estimate of $132,000 several times over. It was a new auction record for a Bowmore at auction and underlines the Islay distillery's standing among the world's most serious collectors.
Ladyburn David Bailey John Lennon edition
Even ghost distilleries were breaking auction records at this auction as Ladyburn set a new high mark for its remarkable 54 Year Old whisky labeled with a highly sought-after, hand-signed photograph by David Bailey of John Lennon. Ladyburn operated for just nine years across the 1960s and 70s, but its finite stocks have become heavily sought-after. This decanter sold for $108,000 against a low estimate of $20,000.
For information on all the lots, visit sothebys.com
[See also: Gordon & MacPhail Reveals Glenlivet 80 Year Old Decanter]