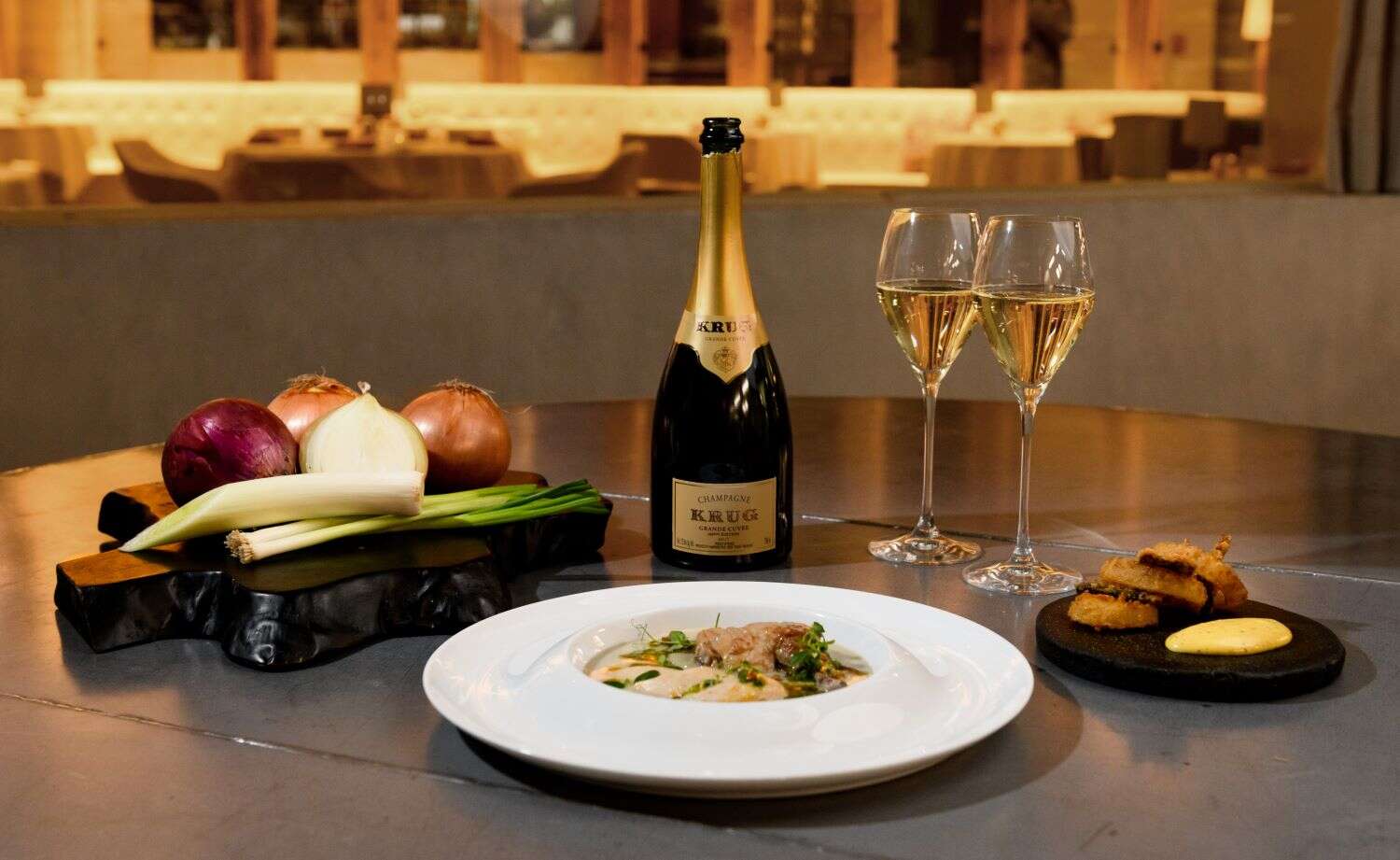 Champagne house Krug has collaborated with award-winning chef Gabriel Kreuther, famed for his eponymous two-Michelin-starred New York restaurant, to invite you to experience a taste of haute cuisine at home in the form of their inventive Gabriel Kreuther x Krug Single Ingredient meal kit. 
Launched to mark Krug Champagne's sixth annual Single Ingredient Program – a celebration of the individuality of a sole humble ingredient – the kit sees Kreuther pay a unique and playful tribute this year's star, the onion, with his elevated version of the classic French dish, coq au vin. But in true Krug style, the red wine has been substituted for champagne, creating the delectable Coq au Champagne. 
The recipe has been specially ensembled to pair with Krug Grande Cuvée, and the meal kit will give those in New York and the surrounding area a chance to construct the dish and enjoy the complementary pairing from the comfort of their own kitchen. 
[See also: The Best Champagne Brands to Try in 2021]
Available to purchase on Tock for $295, the Gabriel Kreuther x Krug Single Ingredient kit includes the ingredients for the chef's Coq au Champagne for two plus the recipe card, a bottle of Krug Grande Cuvée 167th Edition for pairing and additional specialty items to enhance the in-house dining experience. As part of the offering, those who purchase the kit will also have the chance to join Krug, Kreuther and culinary expert Sohla El-Waylly for a live cooking demonstration to recreate the recipe at home on Monday, February 22 at 6pm EST via Instagram Live on @KrugChampagne.
To mark the partnership with Kreuther and in support of New York City's efforts to end hunger, Krug is donating $5,000 to City Harvest, a charity close to the French chef's heart. 
Local NYC-goers can also enjoy the dish at Gabriel Kreuther Restaurant available on the menu to pair with Krug Grande Cuvée beginning February 19.
[See also: Ruinart Champagne Pioneers Second Skin Eco-Packaging]