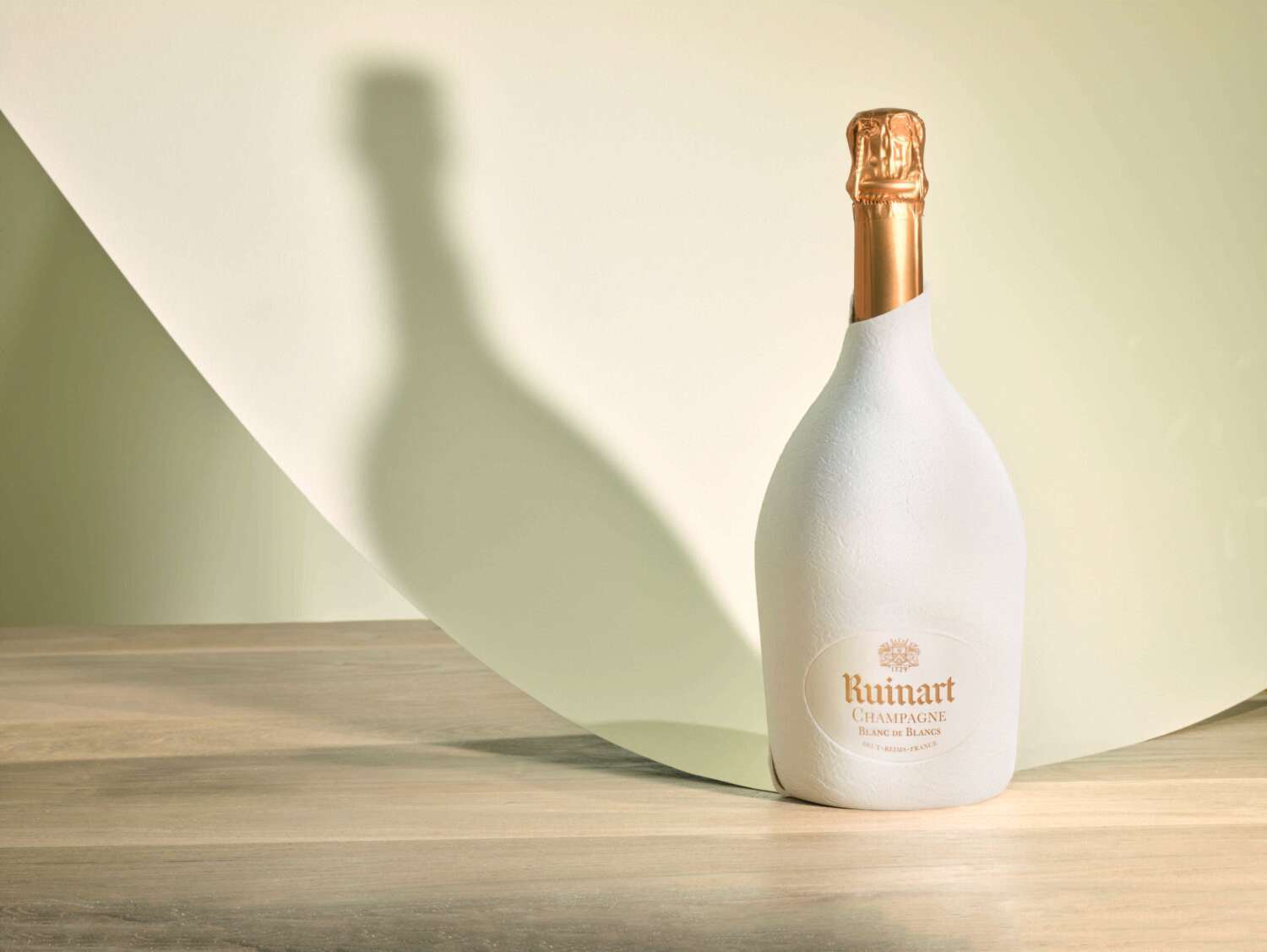 After nearly two years in development, Maison Ruinart, one of France's oldest champagne houses, has launched its revolutionary Second Skin eco-packaging, a plastic-free, 100% recyclable paper case, set for its US debut this April. 
This sustainable alternative is nine times lighter than the original box and reduces the carbon footprint by 60% in comparison with the current generation of Ruinart boxes. 
Like a second skin, the new case envelopes itself around the iconic, century-old curves of the Ruinart bottle. The chic design is intentionally silky yet textured to the touch, evoking the look and feel of Crayères – the historic chalk-pit cellars of the Maison in Reims, declared a World Heritage Site by Unesco.
[See also: The WOW Factor: Behind Porto's New World of Wine]
Created from paper from eco-managed European forests, the entirely recyclable cloak is the result of a partnership between the champagne house and its packaging manufacturing partners, Pusterla 1880 and James Cropper. Together they set about creating an eco-alternative to the standard box used to house champagne bottles that was both elegant and didn't take away from the experience or taste. 
"The challenge was to imagine a unique packaging that reflects the spirit of Maison Ruinart [and] is recyclable and leaves no waste behind," said Phil Wild, president at James Cropper. After rigorous testing and seven prototypes, the team developed a case that is both impermeable to any light and can retain its integrity even when placed within an ice bucket. 
The launch of the Second Skin eco-packaging forms part of a larger sustainability initiative by the champagne house that includes the introduction of solar panels and LED lighting, a zero-air-freight policy and a 98.7% waste-recycling record. Ruinart is also among a small but growing group of champagne producers that have been officially recognized for their commitment to sustainable production by being awarded France's Viticulture Durable en Champagne certification. 
[See also: The Best Bourbon Brands in the World]
Frederic Panaiotis, cellar master at Maison Ruinart, says: "Climate change is already happening in the vineyards. The champagne terroir is the source of our wines' excellence: we have a responsibility to protect and preserve this natural environment."
Ruinart hopes its new design will offer a sustainable alternative to an entire industry. That's something likely to please the Comite Champagne, which oversees the industry and has indicated its desire to have 100% of champagne producers Viticulture Durable en Champagne-certified by 2030.