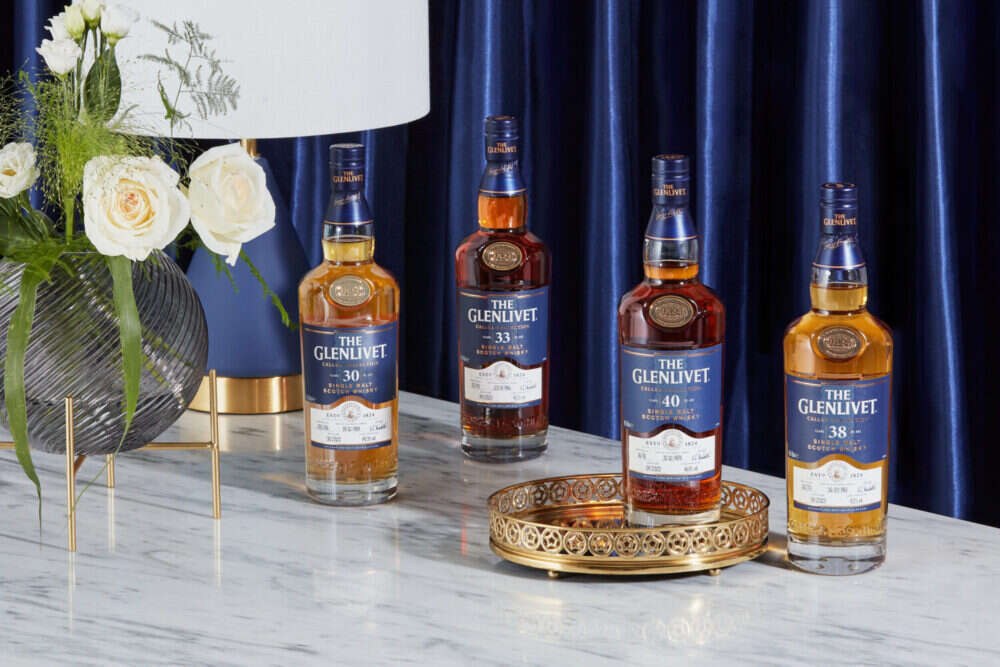 Scotch whisky fans have been granted an opportunity to boost their collection from the comfort of their own home after distilleries The Glenlivet, Aberlour and Scapa made their coveted Cellar Collection available online and over the phone for the first time. All part of the Chivas Brothers' portfolio, the three distilleries usually reserve these exceptionally rare liquids for those who can make the journey to the distillery, but due to Covid-19 restrictions, they are now available for delivery.
The Glenlivet Cellar Collection includes some of the oldest and most limited expressions ever released by the iconic distillery. Aged between 30 and 40 years, the four bottles in The Glenlivet Cellar Collection are bottled at cask strength and non-chill-filtered. Combined with their long maturation, they offer an intensified version of the Speyside distillery's classic characteristics – sweet and candied fruit notes followed by warm caramel and toffee palate.
As well as being exceptional drams to taste, their rarity makes them a fine collector's item. The 40 Year Old is limited to just 18 bottles, which makes it one of the rarest modern releases to come out of one of Speyside's major distilleries. While that is certainly one to put away for a special occasion, the 30 Year Old offers a similar sweet and spicy dram and a long finish. At a tenth of the price of the 40 Year Old, it is one worth opening straight away.
[See also: The Macallan 1926 Set for Whisky Auction Record]
The Aberlour Cellar Collection contains just two new releases, a 39 Year Old and 44 Year Old. Limited to 102 and 42 bottles, respectively (and priced accordingly), they are both likely to be coveted by collectors rather than drinkers.
Scapa, the least known of the three distilleries, has added three expressions to its Single Cask Vintage Collection, including an incredibly rare 1977 limited to just 12 bottles. The aged whisky has a complex nose filled with berries, honey and hints of coconut. The palate offers notes of sweet white grapes and tropical fruits followed by a gentle ginger nut finish.
Miriam Eceolaza, marketing director for malts at Chivas Brothers, commented: "It has been an incredibly challenging year, and we recognize it hasn't been easy for Scotch enthusiasts to travel to our distilleries in Speyside and Orkney. We're so pleased that we're now able to give Scotch whisky fans the opportunity to order some of the most exceptionally rare aged malts from our portfolio straight to their door.
"These collections are some of the oldest that have ever been bottled and released by The Glenlivet, Scapa and Aberlour. The exclusivity of these expressions is unlike anything we have ever released before, and we hope our fans relish the opportunity to taste real history with these delicious collections."
[See also: The Most Exclusive Whiskies in the World]
Also in the news: Whisky is Going Green
Chivas Brothers sparing you a trip to its distilleries is certainly a small step toward reducing the industry's carbon emissions, but the Scotch Whisky Association (SWA) has much bigger ambitions. This week, the SWA, which represents all distilleries across Scotland, announced plans to reach net-zero emissions in its own operations by 2040. By 2025, all new product packaging will be reusable, recyclable and compostable, and all distilleries must be within a responsible water use range. The SWA has also committed to increasing its efforts in wider conservation and restoration initiatives across Scotland.
The Glenlivet Cellar Collection, 2020
The Glenlivet 30 Year Old – $1,230 (240 bottles)
The Glenlivet 33 Year Old – $2,500 (90 bottles)
The Glenlivet 38 Year Old – $8,900 (30 bottles)
The Glenlivet 40 Year Old – $12,300 (18 bottles)
Aberlour Cellar Collection, 2020
Aberlour 39 Year Old – $13,000 (102 bottles)
Aberlour 44 Year Old – $17,000 (42 bottles)
To buy, contact The Aberlour Visitor Center: +44 134 088 1249
Scapa Single Cask Vintage Editions, 2020
Scapa 1990 – $2,500 (60 bottles)
Scapa 1979 – $17,000 (30 bottles)
Scapa 1977 – $20,500 (12 bottles)
To buy, contact The Scapa Visitor Center: +44 185 687 3269
*Prices have been converted from GBP and are approximate.