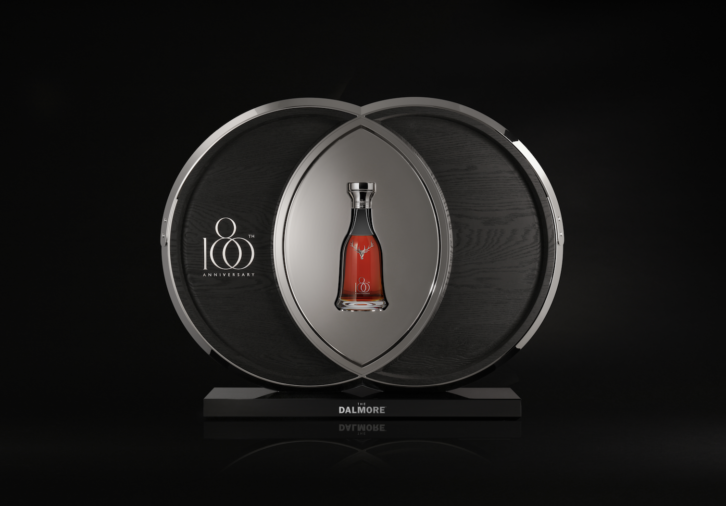 If the history of high-end whisky has been one of peaks and troughs, we are certainly living through the age of Everest. But even though demand is at an all-time high, distilleries cannot increase the supply of its most exclusive whiskies. The only way to level the market has been to increase the price.
Today, the oldest and rarest whiskies are the reserve of the super-rich, who are spending ever greater amounts to add exclusive liquids to their collections. Here, we take a look at the most exclusive whiskies in the world.
[See also: The Finest Rare Whisky and Spirit Releases of 2021]
The Dalmore 60 Year Old
Price TBC
The Dalmore unveiled a rare and limited edition 60 Year Old single malt whisky in December to mark its 180th anniversary. Master distiller Richard Paterson chose a liquid that reflects the enduring legacy of the distillery, its pioneering spirit and restless pursuit of the perfect whisky. Only three bottles have been produced, making it one of the most exclusive whiskies in the world.
Paterson, the genius behind many exceptional whiskies over the years, created The Dalmore 60-Year-Old by reuniting two extremely rare ex-sherry casks from six decades ago. The spirit was first distilled on June 7, 1951, and each whisky has been slowly evolving in its unique way ever since.
Paterson noted: "Over the course of the past 180 years, The Dalmore has constantly strived for perfection, setting the standards for many other whisky makers today. The Dalmore 60-Year-Old is a fitting tribute to the masterful talents of our distillers past and present, who have all helped to create an incredible body of work.
"For me personally, nurturing and caring for these two casks has been a true labor of love. The reunion of the two spirits has produced an unforgettable whisky that is truly greater than the sum of its parts."
The 60 Year Old does not have a price tag and was due to be going on tour in 2020 before being sold at auction. You can safely assume that you will need a six-figure sum to get close to owning one of only three decanters.
Midleton Very Rare 45 Year Old
$40,000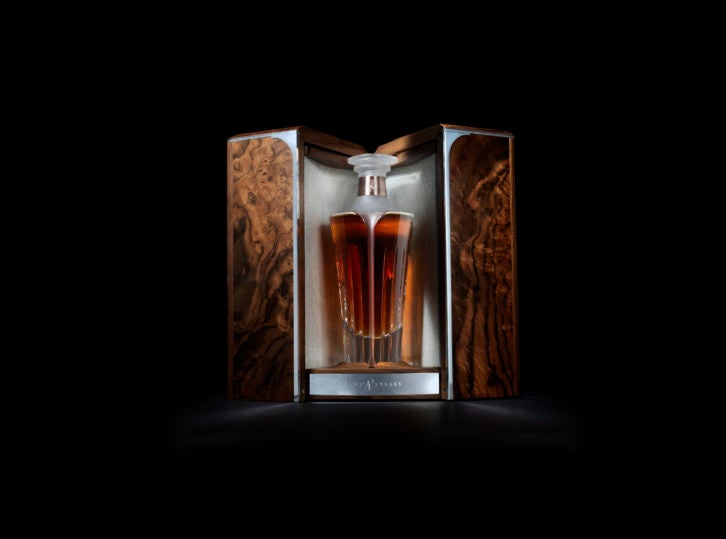 Midleton Very Rare began a new era for Irish whiskey with the launch of the oldest and most expensive series ever earlier this year. The storied company revealed the new Silent Distillery Collection with the first of six releases, a 45-year-old Irish single malt priced at $40,000 a bottle.
Chapter One was laid down in 1974 as part of a series of innovative trials from master distiller emeritus Max Crockett and was never intended for release. But demand for ultra-rare whiskey has grown exponentially in recent years, which left Midleton Very Rare sitting on a proverbial goldmine.
The extraordinary whiskey offers an intensely rich taste with peppery spices. It quickly softens to welcome a hint of licorice and honey. The spices then return to the fore and are slow to fade.
Chapter One is contained in a handblown and etched crystal decanter bottles, produced by Ireland's Waterford Crystal, with each of the bottles individually numbered. The bottle comes displayed in a wooden cabinet handcrafted by Irish designer, John Galvin, using wood up to 200 years old from ancient reclaimed whiskey vats.
Only 45 bottles were made available with a recommended retail price of $40,000 a bottle but some have already gone for well over that number at auction.
[See also: Behind Midleton Very Rare's Dair Ghaelach Series]
The Balvenie 56 Year Old (cask 5575)
$47,000
The Balvenie 56 Year Old was originally released as part of the distillery's DCS Compendium Series. The fifth and final chapter included five exceptionally rare whiskies and was valued at an astonishing $80,000. The 56 Year Old was laid down in 1962 and is the oldest ever released by The Balvenie. The year coincides with Malt Master David Stewart's first year in the industry and the entire collection is an ode to his lifetime of dedication to whisky.
The 56-year-old was aged in a European oak hogshead before being bottled in 2019. It has a typical Speyside profile with a bouquet of fruits and honey, and sweet toffee on the palate.  Just 90 decanters were released at a guide price of $47,000, making it one of the rarest releases in the world.
[See also: The Balvenie Completes Marriage Series with New 50 Year Old]
Royal Salute 52 Year Old
$30,000
In December, the proclaimed King of Whisky, Royal Salute, unveiled its latest limited-edition blend, the Time Series 52 Year Old Single Cask Finish. Only 106 bottles were made available at $30,000 per bottle.
This ultra-limited-edition blended whisky was finished in a single cask for 14 years, which gives it an exceptional richness and a soft and creamy texture. The liquid emanates an intensely fruity aroma on the nose with notes of ripe plum, toffee red apples and dark chocolate covered hazelnuts. The taste offers flavors of sweet orange marmalade with a hint of ginger and scented cloves with a hint of soft ripe pears in syrup and a tantalizing touch of licorice.
The whisky is contained in a beautiful Dartington Crystal decanter and presented in a specially-designed box that features five layers of wood, each representing a decade of the blend.
[See also: Royal Salute Reveals Time Series 51 Year Old Whisky]
The Macallan 72 Year Old in Lalique
$60,000
This extraordinary whisky is by far the oldest and most precious on the list and is presented accordingly in the most beautiful decanter from Lalique. The release was described as 'a collaboration of masters from across the fields of whisky, crystal, architecture, construction and craftsmanship'. It was limited to just 600 decanters and originally priced at $60,000 when released in 2018, but we have found at least one bottle for sale for $160,000. That is some rate of return.
The decanter has been designed to reflect the unique character of The Macallan distillery. The horizon of the decanter rises and falls to reflect the roof's clean lines and natural curves. It is also presented in a box inspired by the distillery's curved interior.
The liquid starts with a delicate peat smoke and soft vanilla on the palate before moving onto stronger sweet oak smoke. It moves onto delivery a medium and fruity finish with hints of citrus fruits and green apples.
[See also: Rich Cacao Fig Rob Roy by The Macallan]
John Walker Masters' Edition 50 Year Old
$25,000
Johnnie Walker waltzed into the luxury whisky market in late 2018 with its first-ever 50-year-old. The John Walker Masters' Edition is, of course, named after the blended whisky's creator. The triple-matured whisky was drawn from six rare and ghost distilleries that existed during Walker's lifetime. Only 100 bottles were released and getting your hands on a bottle today is no mean feat.
The John Walker is presented in a bespoke, individually numbered, rare double-cased black crystal Baccarat decanter and comes housed in a cabinet made by N.E.J. Stevenson, Cabinet Makers by Appointment to Her Majesty The Queen.
Johnnie Walker Master Blender Jim Beveridge said: "Each drop of this whisky has been hand-selected from some of the most valuable and precious casks of malt and grain whiskies to be found in our reserves.
"About 20 years ago, Johnnie Walker blenders recognized that these individual whiskies were very special and the decision was made to put them aside for special use, allowing each of them to continue to mature in their casks, knowing that, in time, something even more remarkable would emerge. Our goal was to pay tribute to the whisky masters who worked with these whiskies such a long time ago and, with the creation of The Masters' Edition, I believe we've done that."
[See also: Johnnie Walker Reveals Limited Master's Ruby Reserve]
Glenfiddich 50 Year Old
$32,000
This 50-year-old whisky was released in 2009 and remains the pinnacle of Glenfiddich's whisky making to this day. It is one of only two 50-year-old releases from the world's biggest producer of single malt Scotch. The liquid was drawn from two casks after 50 years resting at the distillery in Speyside. The two barrels were then combined for six months in an American oak barrel to marry it into one harmonious profile.
Just 500 bottles were made available with 50 bottles released per year over a decade. It was originally priced at around $12,500 but today retails for almost triple that. That is in part down to inflation and exchange rates but is mostly down to the huge increase in demand for high-end whisky.
Every bottle of the 50 Year Old is uniquely hand-blown and individually numbered in wax. The bottle is presented in a classic, hand-stitched, black leather case with accompanying hand-woven silk lining. The taste offers a classic Glenfiddich profile with vibrancy, zest, vanilla toffee and a gentle smokiness.
[See also: Glenfiddich and Mr Porter Partner on Limited Edition Whisky]
Hibiki 35 Year Old Blended Whisky
$38,000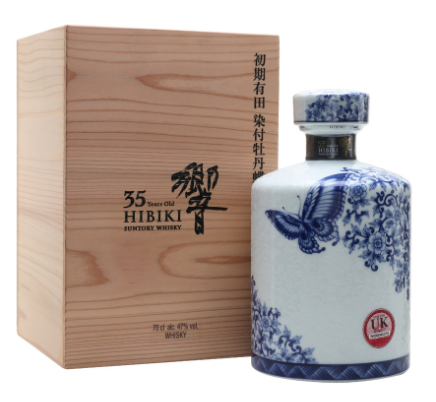 Japanese whisky has made extraordinary progress over the last generation and now produces some of the most sought-after liquids in the world. It may never have the same provenance of Scotch, but the quality is certainly coming close. Suntory is the oldest whisky company in Japan and today is widely recognized as the top producer of quality whisky. Its 35 Year Old Blended Whisky is arguably its best yet.
The bottle was released in 2017 in celebration of the 400th anniversary of the creation of Japanese porcelain. The whisky is fittingly contained in a beautiful handmade Arita ceramic decanter pottered by a notable Japanese potter. Its illustration was also designed by a famous Japanese artist, and now even empty bottles are auction for thousands of dollars. Only 150 bottles were released.