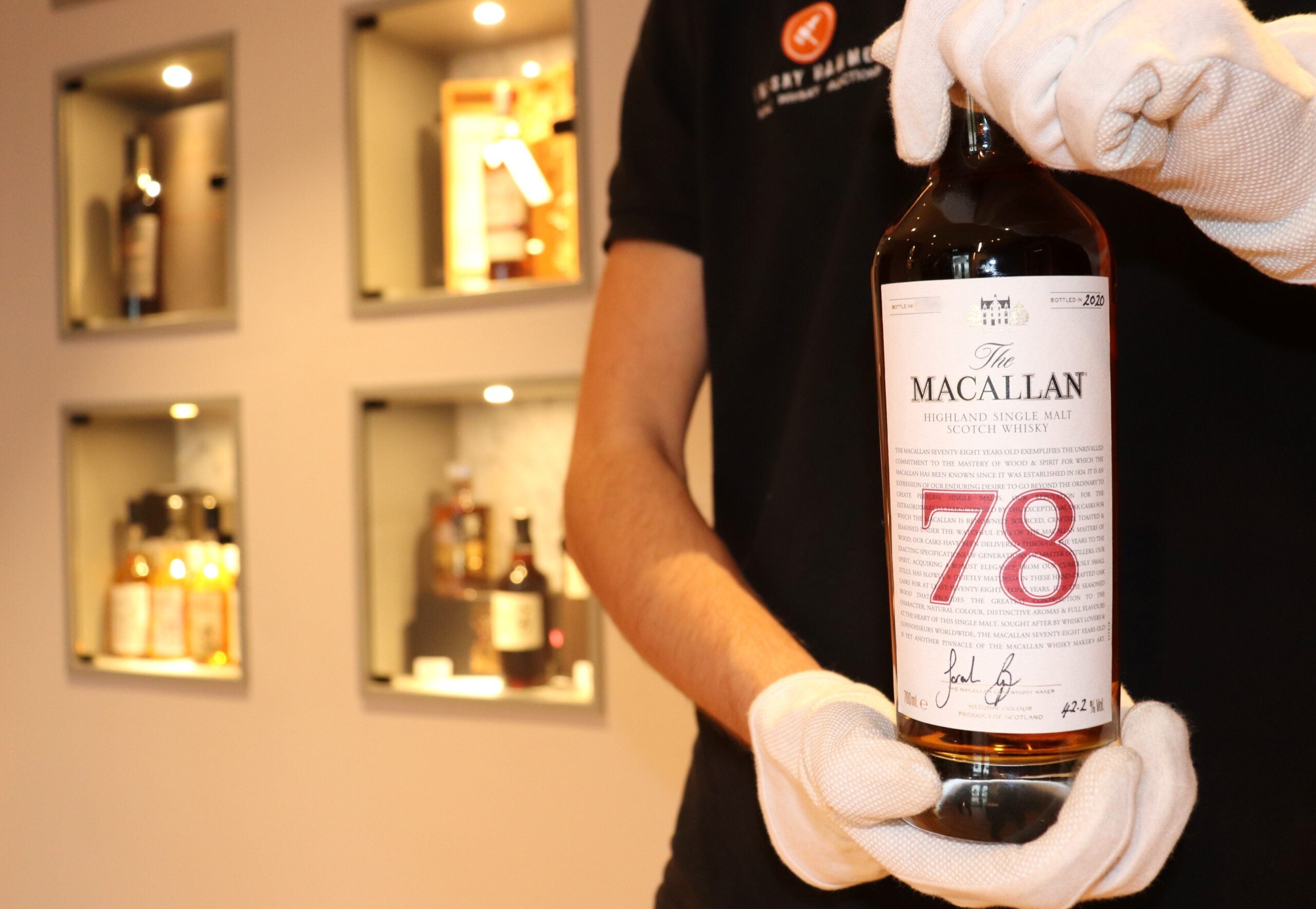 A bottle of the oldest whisky ever released by The Macallan is set to spark a bidding frenzy when it goes up for auction. The Macallan 78 Year Old is believed to be the oldest age-statement whisky ever to hit auction and is expected to sell for a significant figure on the online whisky auction platform, Whisky Hammer.
The new whisky forms part of the new Red Collection, a set of six highly-aged liquids from Scotland's most collected distillery. The newly announced set includes a 40 Year Old,  50 Year Old, 60 Year Old, 71 Year Old, 74 Year Old and the 78 Year Old. The last two are the oldest whiskies ever released by The Macallan and set a new standard for the industry as a whole.
Released in incredibly limited quantities, the 78 Year Old is likely to be one of the most coveted new releases of all time and inspire fierce bidding from across the globe. The auction begins Friday, October 16 with an opening price of £10,000 (approx. $13,000). The auction ends on October 25, by which time bidding is expected to be well into six figures.
Daniel Milne, managing director of Whisky Hammer, said: "We're really excited to be able to offer something as rare as this 78 Year Old expression from The Macallan Red Collection for auction and we expect a very high level of interest in this lot. The Macallan is one of the most well-known and loved Scotch whisky brands and is regarded globally as the epitome of quality and taste – add to this the thrill of the oldest single malt ever released by Macallan, the end result is a true icon in whisky history."
The Macallan introduced the new collection as "an exquisite range of distinguished and rare single malt Scotch whiskies, shaped by the actions of our founder Alexander Reid and key characters in our history, who have laid the foundations for our single malt today". It added, "This collection celebrates the rich range of reds present naturally in every step of our process".
This auction will be the first opportunity for collectors to get their hands on a Macallan 78 Year Old, but those who miss out will be granted another opportunity when another, even rarer bottle goes on sale at Sotheby's on October 31. Sold as a single set of six, this special edition features illustrations designed by Spanish artist Javi Aznarez. Only two of these sets exist: one is going to auction and the other is going to The Macallan archives. Offered as a single lot, the set is expected to fetch between £200,000 – £800,000 (approx. $258,500 – $1m).
Tasting notes for The Macallan 78 Year Old
Color: Sunset on the Spey
Nose: A fresh fruit medley of apple, peach and grape moving into fresh lime and verbena. Antique oak and soft leather move quickly into a luxurious dark chocolate and dried fruit sensation. The dried fruits are a balance of dates and raisins. Finally, a rich inviting vanilla cake.
Palate: Warming oak spice of nutmeg and ginger open into the rich dried fruits of raisin, prune, date and a hint of almond nuttiness. The oak rich whisky is warming yet dry with powerful treacle toffee and a baked apple sweetness.
Finish: A long thought-provoking finish, all of the flavors from the nose and the taste make an appearance in this finish….Remarkable.
ABV: 42.2%