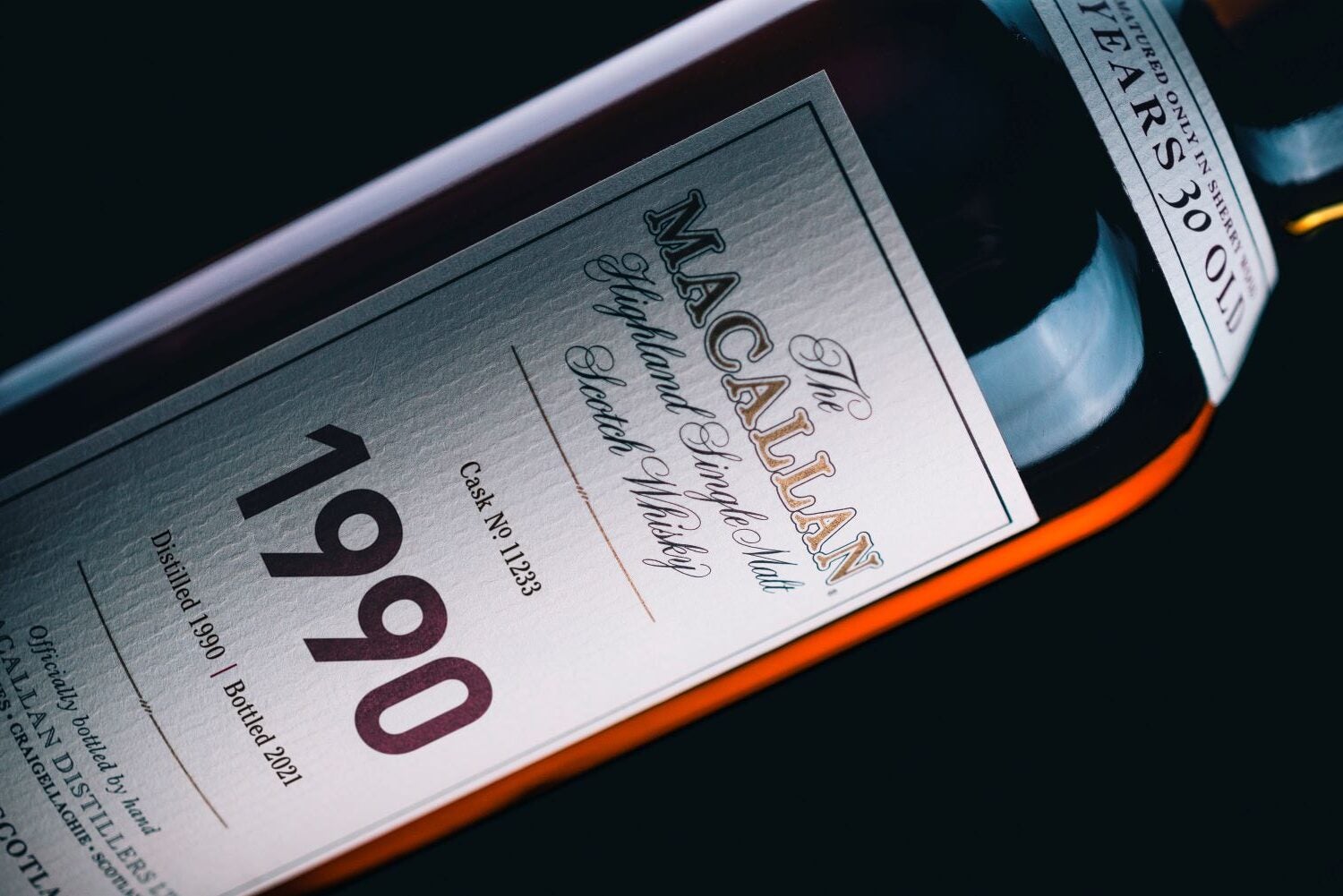 When The Macallan releases a rare whisky, you can expect a clamor from collectors the world over hoping to bag themselves a bottle of the Speyside distillery's highly-coveted liquid gold. And this couldn't be more true for its latest limited release, the 1990 Fine & Rare. 
Filled on June 7 1990, the whisky spent 30 years maturing in a single sherry seasoned American oak butt cask before bottling in 2021. Presented at its natural cask strength, it is the newest addition to the largest body of vintage-dated, single malt whiskies in the world: The Macallan Fine & Rare collection.  
First launched in 2002, The Macallan Fine & Rare Collection comprises of 58 individual and finite single malts traversing eight decades, from the legendary 1926, to the 1993 which was released last year. 
[See also: Bowmore Unveils the Myth-Inspired No Corners to Hide Series]
Kirsteen Campbell, master whisky maker at The Macallan, said: "The Macallan Fine & Rare Collection is inspired by our whisky-making legacy. These 58 unique vintages are products of nature's gentle process, undisturbed for decades in sherry seasoned oak casks. Held in the vaults of time, they were left to slumber as The Macallan's history unfolded and they have been nurtured by nature to achieve perfection. Fine & Rare 1990 will now join its distinguished predecessors and I am honored to play a part in crafting this incomparable collection."
The eye-catching rosewood hue of The Macallan Fine & Rare 1990 is down to the three decades spent in the first fill sherry seasoned American oak butt cask. The cask is also largely responsible for the whisky's unique aromas of sweet honey and vanilla followed by peach and raspberry tart, antique oak and caramelized apple. Orange, almond cake and a hint of leather develop on the palate, while the finish is long and complex, with a fresh and sweet twist and gentle spice. 
To capture the essence of the 1990 Fine & Rare, The Macallan called on the services of one of the world's leading fashion photographers, Tim Walker. The iconic British photographer collaborated with the distillery last year on a series of images depicting its Fine & Rare series throughout the decades, surrounding each bottle with items to reflect the era they were distilled.
Walker took a similar artistic approach to shooting the latest release. Placing the 1990 at the center of the image, the bottle is circled by musical instruments representing the grand opening of Glasgow's Royal Concert Hall, which arrived in the heart of the Scottish city in October of that year. 
Highly-prized, just 467 bottles of The Macallan Fine & Rare 1990 are available, each encased in a sustainably-crafted FSC certified European oak presentation box.  
The Macallan Fine & Rare 1990 Edition is available globally from November 8 2021 at The Macallan Estate Boutique, The Macallan global travel retail Boutiques and select bars and restaurants and exclusive retailers, $17,921, themacallan.com
[See also: Whisky's Carbon Problem: Can it Become Sustainable?]