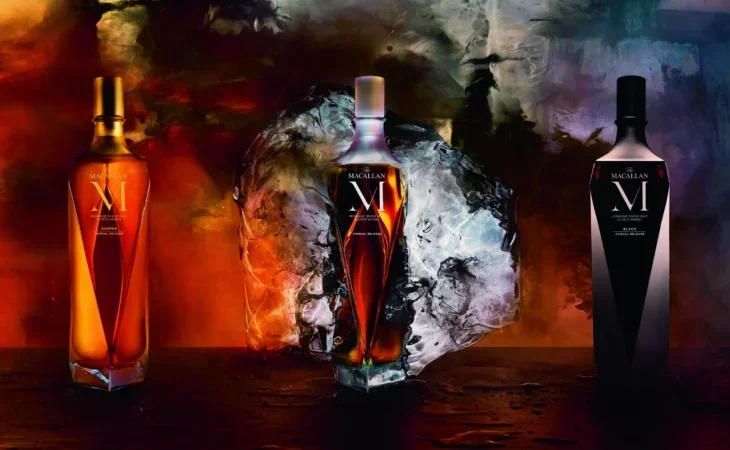 The Macallan has unveiled the 2022 iteration of its celebrated M Collection, featuring the previously released M and M Black, as well as the all-new M Copper Scotch whisky.
Released in celebration of The Macallan's Six Pillars (Natural Color, Mastery, Curiously Small Spirit Stills, The Estate, Exceptional Oak Casks and Sherry Wine) that together guide the making of its prestigious portfolio of Scotch whiskies, the M Collection acts as a snapshot of the diverse world of the prestigious distillery.
Paying tribute to the Curiously Small Spirit Stills that form a huge chunk of The Macallan's legacy and remain key to its whisky-making process today, the newly announced M Copper is housed within a copper-colored handcrafted Lalique crystal decanter. The liquid itself is (in contrast to its name) the color of spun gold, with a buttery palette that bursts with fruitiness, with a hint of sweet maltiness.
[See also: Kirsteen Campbell on Making the World's Oldest Whisky]
The Macallan M vs M Black
The Macallan M 2022 Release has been matured in a small number of hand-selected sherry-seasoned casks, and has a full-flavored character, rich with chocolate, dried fruit and spice. The rich, amber-hued whisky glitters from within a transparent decanter, chosen to reflect The Macallan's commitment to only using the finest, 100% natural ingredients.
The Macallan M Black, on the other hand, is released in celebration of the distillery's dedication to Mastery. Peated spirit from rare, black-ended casks has been matured in The Macallan's signature sherry oak casks, creating a subtly smoky whisky.
"Our Six Pillars foundation stones embody all that is unique to The Macallan, together underpinning the renowned quality and rich character of our whisky and The Macallan M Collection tells the story of these unique attributes," says Jaume Ferras, global creative director for The Macallan. "We are dedicated to uncompromised excellence, and proud to collaborate with Fabien Baron and Lalique to bring these extraordinary expressions to life, and with Nick Knight to create a dramatic visual world for the collection."
[See also: The Most Expensive Whisky Ever Sold at Auction]
As well as representing the Six Pillars in the liquid that they hold, each of the handmade crystal decanters acts as a visual representation, with six facets cut into each bottle. The decanters are housed within exquisite outer casings, made using sustainably sourced Scottish materials.
To celebrate the release, The Macallan has also partnered with renowned fashion photographer Nick Knight, who has released a series of photographs and a short film centered on the M Collection. Captured in his signature abstract style, the series captures the decanters in blocks of ice, referencing The Macallan's intrinsic connection to the natural world.
The Macallan M 2022 Release has an RRSP £5,000 (approx. $6,126); The Macallan M Black 2022 Release, £5,700 (approx. $6,984) and The Macallan M Copper 2022 Release, £6,250 (approx. $7,657).