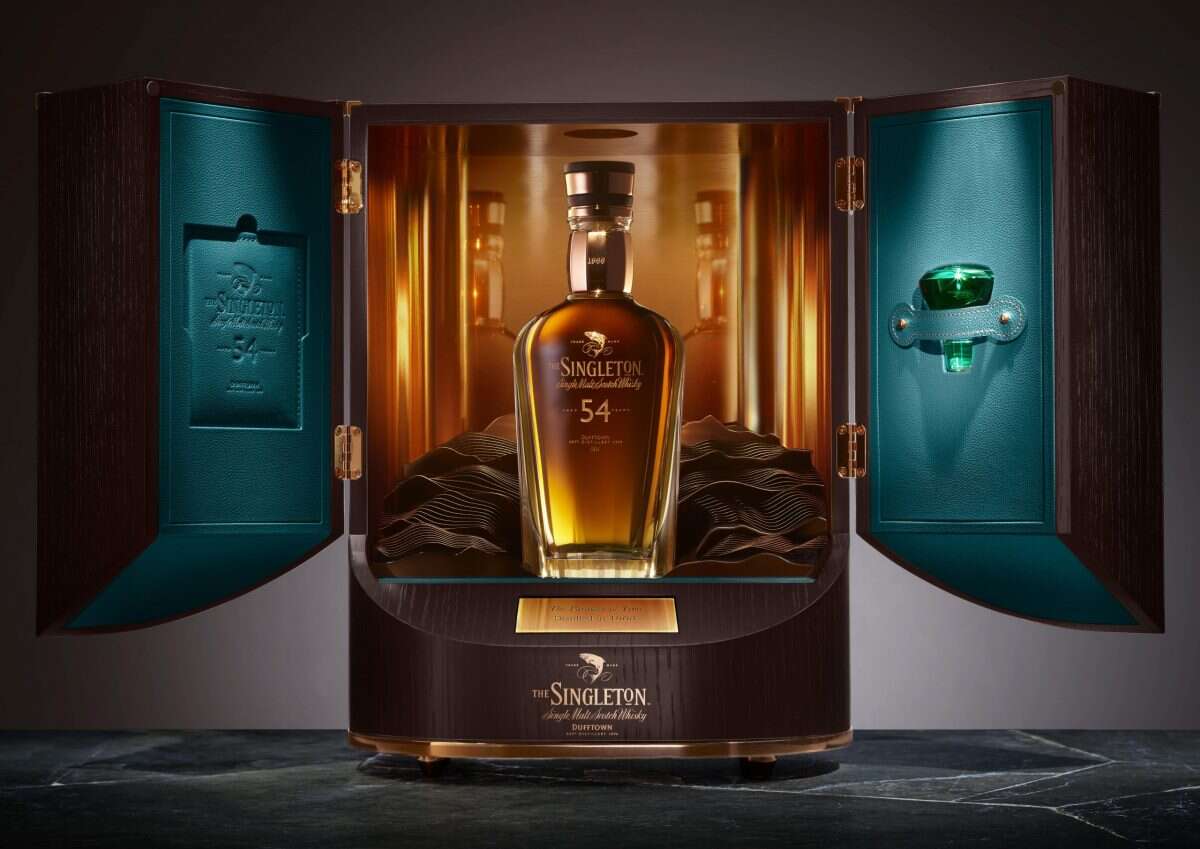 Diageo continued a busy spring in spectacular fashion last week with the unveiling of its oldest ever single malt Scotch whisky, The Singleton 54. The wines and spirits company has made waves in the whisky world recently with the release of Brora Triptych and Talisker's oldest-ever whisky. This latest release from its Dufftown distillery, The Singleton, shows the extent of its influence on the industry and the quality of its stocks.
The Singleton 54 becomes the second inclusion in the distillery's Paragon of Time Collection, which launched in 2019 with a critically-acclaimed 53 Year Old. This new edition comes from the last remaining cask from 1966 and is limited to just 235 bottles. That makes it one of The Singleton's rarest expressions to date.
Malt master Maureen Robinson, who has worked with Diageo for over four decades, has taken close care of the liquid from its early days and nurtured it into a complex whisky. The cask is not just a triumph of patience and skill, but one of the few remaining examples of slow-craft whisky creation.
[See also: The Most Expensive Whisky Ever Sold at Auction]
Robinson explains: "Originally filled in 1966, this European oak cask is the closest to the end of the old slow-craft period that we have ever released. The old distillers of the past laid down this cask and it is a privilege for me to be able to awaken their crafted spirits over half a century later with a final chapter from today. I see it as a beautiful balance of the old art of craft and using our modern finishing to present a precious whisky of layered, balanced and exceptional richness."
Robinson kept a close watch on the liquid as it aged in its original cask before making the bold decision to finish it in a single Pedro Ximenez-seasoned cask. For a whisky that was already full of richness and character, it was a risk, but Robinson's wisdom proved right. Having garnered further depth during that brief second maturation, before it was finally bottled at 44.1% ABV.
Each decanter is presented in a bespoke wooden cabinet that has been designed to mimic the mountainous landscapes of Scotland. The crystal decanter was hand-made by Baccarat craftsmen in France. The decanters were then fitted with intricate copper detailing crafted by Thomas Fattorini.
To mark the occasion, The Singleton will officially unveil the whisky at the home of time itself, the Royal Greenwich Observatory in London. The location acts as a powerful symbol for the influence of time.
The Singleton 54 will be available in the UK, USA, China, Singapore and Taiwan with an RRP of £28,850 (approx $40,900). thesingleton.com
[See also: The Best Scotch Whisky Brands in the World]