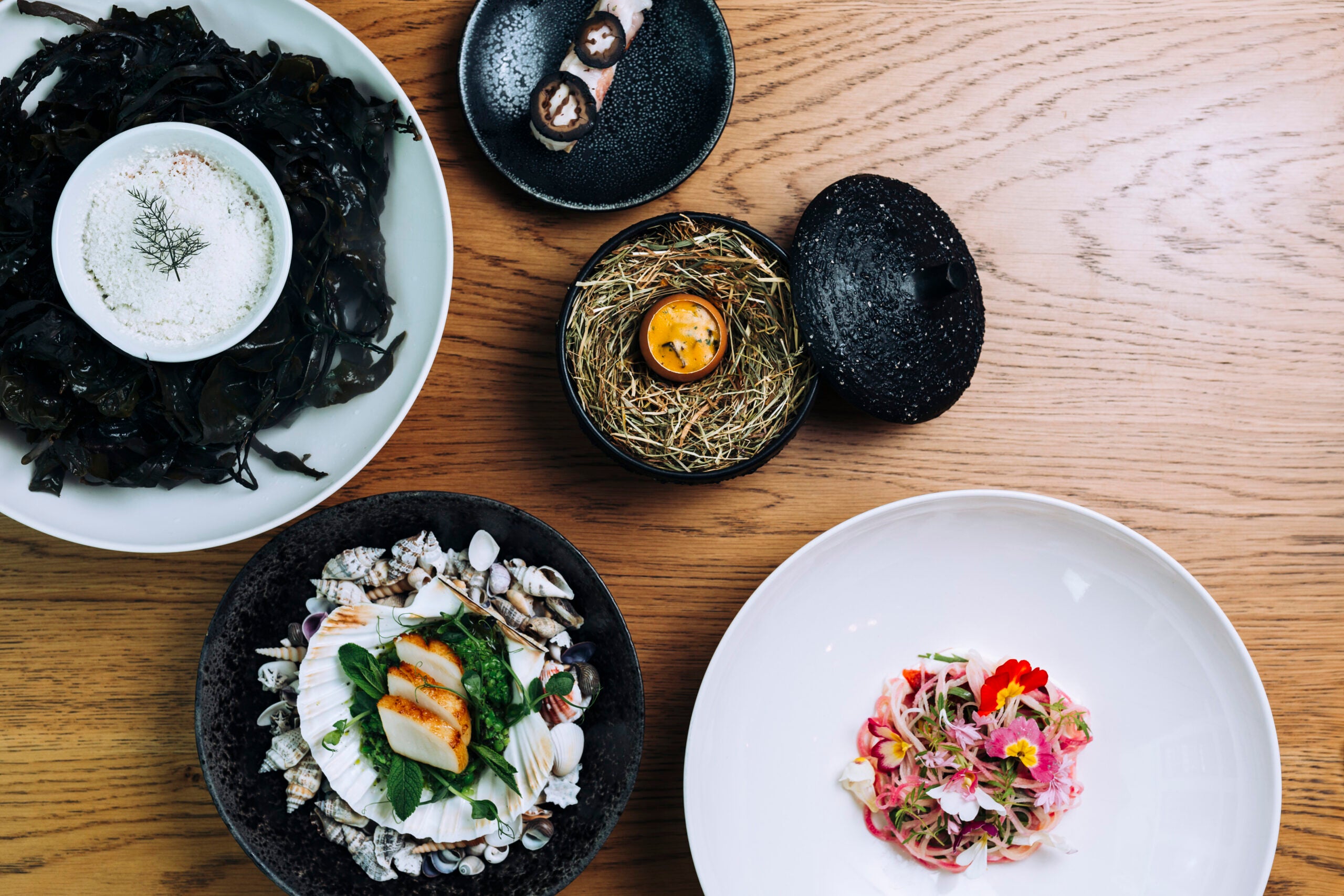 It's that time of the month again; Elite Traveler has compiled a list of the most exciting culinary experiences in the world for the month ahead. From Michelin-starred chef pop-ups to exciting hotel openings, we have covered it all. Here are the world's best restaurants for May.
Chelsea Barracks Kitchen
London, UK
Michelin-starred chef Ollie Dabbous will be spreading his wings this month, flocking the safe surroundings of his Mayfair restaurant Hide to open a pop-up, especially for the Chelsea Flower Show.
Chelsea Barracks Kitchen will open at the new development of the same name in Belgravia for one week only from May 21-26 to coincide with the annual flower show in nearby Chelsea Royal Hospital.
Dabbous has created a menu inspired by the Chelsea Flower Show itself and one that also celebrates the best of the United Kingdom's seasonal produce. It will also offer a more casual deli and bar for an all-day dining experience. Highlights include 'Candy-striped beetroot with marigold, toasted pistachio & Sussex Slipcote', 'Papillote of Gigha halibut' and 'Cornish mussels & yellow courgette in a nasturtium broth'. 
AMARA Limassol
Cyprus
Cyprus is not at the top of many people's lists when it comes to fine dining destinations, but it will make something of an impression with the official opening of the new hotel AMARA Limassol. The ultra-luxury destination is set to change the culinary landscape in Limassol with the introduction of three fine-dining restaurants.
The most notable of the trio will be Matsuhisa Limassol, created by acclaimed chef Nobu Matsuhisa, the man behind the growing Nobu restaurant and hotel chain.
Matsuhisa will be joined by Giorgio Locatelli, with whom he works alongside at Atlantis, The Palm in Dubai. His Ristorante Locatelli will serve traditional Italian dishes that emphasize the quality and freshness of seasonal ingredients.
The third and final restaurant will be a very Greek affair, championing fresh seafood and Mediterranean cuisine.  ARMYRA by Papaioannou will be headed by acclaimed chef Giorgos Papaioannou.
Chef's Table
Bangkok, Thailand
Located 61 floors above the mega-metropolis of Bangkok, Chef's Table has taken the Thai capital by storm since opening at the Lebua at State Tower in March.
The floor-to-ceiling windows offer panoramic views of Bangkok as you dine. For those with vertigo, the centrally-located kitchen means guests can watch their food being cooked by Vincent Thierry, a man with two three-Michelin-starred restaurant concepts to his name.
In Chef's Table, Thierry has every intention of adding a third three-Michelin-starred eatery to his resumé – he has already set the prices to match.
The tasting menu at Chef's Table with the vintage wine pairings costs $450. The menu includes dishes such as 'Flat oyster, caviar imperial de sologne and green apple jelly' and 'King crab tiramisu, marinaded tandoori fruits and mascarpone cream'.
L'Envol
Hong Kong
St. Regis launched its first property in Hong Kong this April, adding to the embarrassment of riches when it comes to luxury hotels in the region. But any great hotel must also offer great dining options and St. Regis are hoping to just that with the simultaneous opening of the restaurant L'Envol.
This is the latest work by Chef Olivier Elzer, who has accrued an astonishing 18 Michelin stars throughout a spectacular culinary career. The man himself has personally worked with the St. Regis team for over a year on everything from designing the kitchen, the dining room and, of course, creating the menu, which will serve the typical French Haute cuisine that Elzer built his reputation on.
Should guests want to dine on more local fare, they can choose to dine at Rùn instead. This restaurant will serve signature Cantonese cuisine created by the award-winning chef Hung Chi-Kwong.
marriott.com/hkgxr-the-st-regis-hong-kong/
The Woodsman
Straford-upon-Avon, UK
Following his success as co-owner of the Michelin-starred Harwood Arms, Mike Robinson will officially launch his new restaurant concept, The Woodsman, in the picturesque English town of Stratford-upon-Avon in May.
The restaurant is situated in the boutique Hotel Indigo, which is situated in a building that dates back as far as 1500. Head chef John Coates has created a 'field to fork' concept that makes best use of sustainable, seasonal and locally-sourced produce.
Dishes include 'Cotswold fallow deer pavé and suet pudding peppercorn sauce' and 'Fallow loin, smoked bone marrow and cavolo nero with peppercorn sauce'.
The restaurant will source all of its deer directly from Robinson's venison business, Robinson Wild Foods. There will also be a big focus on Sunday lunches with families able to feast on ribs of beef on the bone or chunks of sirloin barded with smoked bone marrow.
Lena at Mercado Little Spain
New York, USA
With the opening of the Hudson Yards development in New York came a raft of new restaurant openings. One that has certainly made an early impression Is Mercado Little Spain.
Masterminded by prominent chef Jose Andres, this food market brings the very best of Spanish cuisine to the heart of New York. There are several eateries within the market to choose from, but we recommend Leña, which focuses on the grilled food that dominates the food scene in the Basque Country and Asturias. Almost everything on the menu is cooked over embers, including vegetables, large cuts of meat and seafoods.
Once your meal is over, head to the many kiosks for dessert where freshly made churros or Corte Helado, an ice cream sandwich constructed to order.
MARCUS
Montreal, Canada
Spearheaded by award-winning Chef Marcus Samuelsson, MARCUS will provide world-class cuisine in the Four Seasons Hotel Montreal when it opens midway through May.
The restaurant gives guests a plethora of dining options from a casual lunch at the day bar to an elegant dinner in the dining room. There is also a stunning terrace that overlooks the city and an elegant night bar for after-dinner cocktails.
For the menu, Samuelsson will take advantage of the surrounding waters by using daily catches from Quebec's surrounding waters. Highlights include 'Chilled oysters with cucumber and apple' and 'Grilled salmon belly with maple and nori'.
Speaking at the hotel's launch, Samuelsson said: "I am so excited and proud to introduce the executive team behind MARCUS. Each team member has been carefully selected for their immense talent, dedication, and passion for food. They are all welcome additions to the MARCUS family."
fourseasons.com/montreal/dining