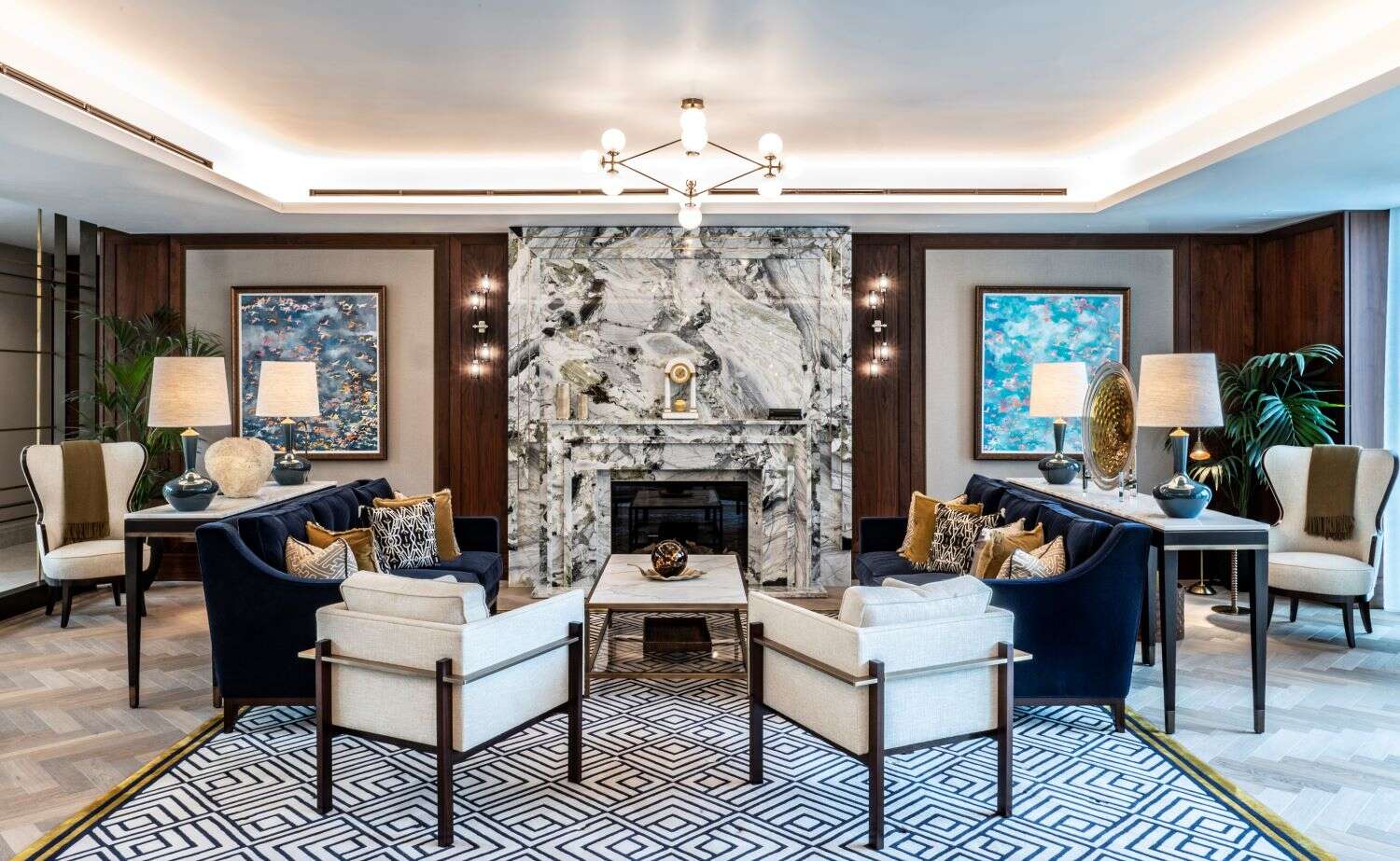 With a speakeasy bar, cinema. wine cellar and spa, Auriens, located just off London's irresistibly fashionable King's Road, sounds more like a glamourous resort than a retirement home. 
The prestigious over 65s development opened in September with a mission to redefine what it means to age gracefully, and as Auriens' general manager, Rupert Spurgeon, says, a lot of that is about choice. "It's about choosing the location, lifestyle and environment that suits the way you want to live in later life. It's about choosing to live somewhere beautiful and enjoying the finest service on offer. It's about knowing you have options, as your life and needs change [and knowing that] you can have the care you might need in the home you love," he says. 
"[Auriens is] somewhere that combines all the best elements of a superb hotel, a private members club and the best health and wellness spas – all within a few steps of their own home," adds Spurgeon, who is no stranger to the world of luxury himself, having taken the lead at the over 65s development after three years as commercial director of Mustique Island. And Spurgeon isn't the only one at Auriens with a track record in the high-end travel sector, with the team bringing collective experience from five-star hotels like Four Seasons, The Connaught, Claridge's and The Savoy.
A five-star feel also runs through Auriens' elegant interiors, which have been crafted by four leading design studios. Those studios come with an impressive portfolio of past clients including Rosewood, The Beaumont, Fenwick's and The Perrier Jouët Bar at Harrods. 
Auriens is part of a small but growing number of over 65 developments catering for a wealthy aging population. "The people living [are] trailblazers for a new form of later life living," explains CEO David Meagher. "In everything we do at Auriens, we believe in challenging the perceptions around age and later living."
So what does life at Auriens actually look like?
Residences
Auriens boasts a collection of 56 stylish one and two-bedroom private apartments ranging from just under 900 sq ft to 2,200 sq ft, many of which feature balconies or private courtyards overlooking the communal garden which has been designed by eight-time RHS Chelsea Gold Medal winner Andy Sturgeon.
Each residence has been very subtly future-proofed to cater for a range of requirements from the sleek kitchen cabinetry that adjusts in height, to voguish furniture cleverly designed with an older demographic without sacrificing style. 
[See also: Chelsea Barracks: City Living in Europe's Greenest Development]
Each apartment is available for lease, as opposed to sale with one bedroom apartments from £13,750 ($18,170) per month. According to Auriens, this is to offer residents security of tenure, whilst allowing flexibility should circumstances change.
Social Spaces
The apartments are complemented by a selection of curated spaces, designed as extensions of residents' homes. These include Culford's Restaurant and Bar helmed by head chef Matt Tsistrakis (former head chef of The Savoy and Simpson's-in-the-Strand.) The restaurant also features intimate private dining rooms and an atmospheric wood-paneled wine room for storing residents' favorite bottles. 
There are plenty of other inviting spaces for residents to come together from the chic bar to the relaxed drawing room. And with a calendar of exclusive events, residents can be as social or as private as they wish. 
Wellbeing
Health and wellness takes center stage at Auriens and as well as 24-hour on-site tailored healthcare (if needed), a gym, spa, swimming pool, hairdresser and barber are all on the premises. 
For those residents looking to transform their health and wellness, Auriens offers a variety of cutting-edge programs in partnership with Kyros Project, an industry leader in evidence-based health and wellbeing. 
[See also: Joali Being: A New Wellbeing Concept in the Maldives]
The highly personalized programs approach wellness for the over 65 demographic with the same techniques used to train Olympic athletes – focussing on training, nutrition and recovery. Led by Gideon Remfry, Auriens' Director of Wellness – named as one of the top 25 trainers in the world in Men's Fitness' Power List – and Ben Williams, a physiologist who is currently head of human performance for Sir Ben Ainslie's British America's Cup team, residents will be in very safe hands. 
Remfry says: "We work closely with Auriens residents, getting to know them and their personal requirement in addition to clinically assessing bio-markers of cellular health, stress, nutrition and inflammation. This enables us to create unique programs including the best elements of specific exercise, physical therapy, delicious food and relaxing spa treatments".
[See also: Chenot Palace Weggis Debuts Molecular Lab for Wellness]