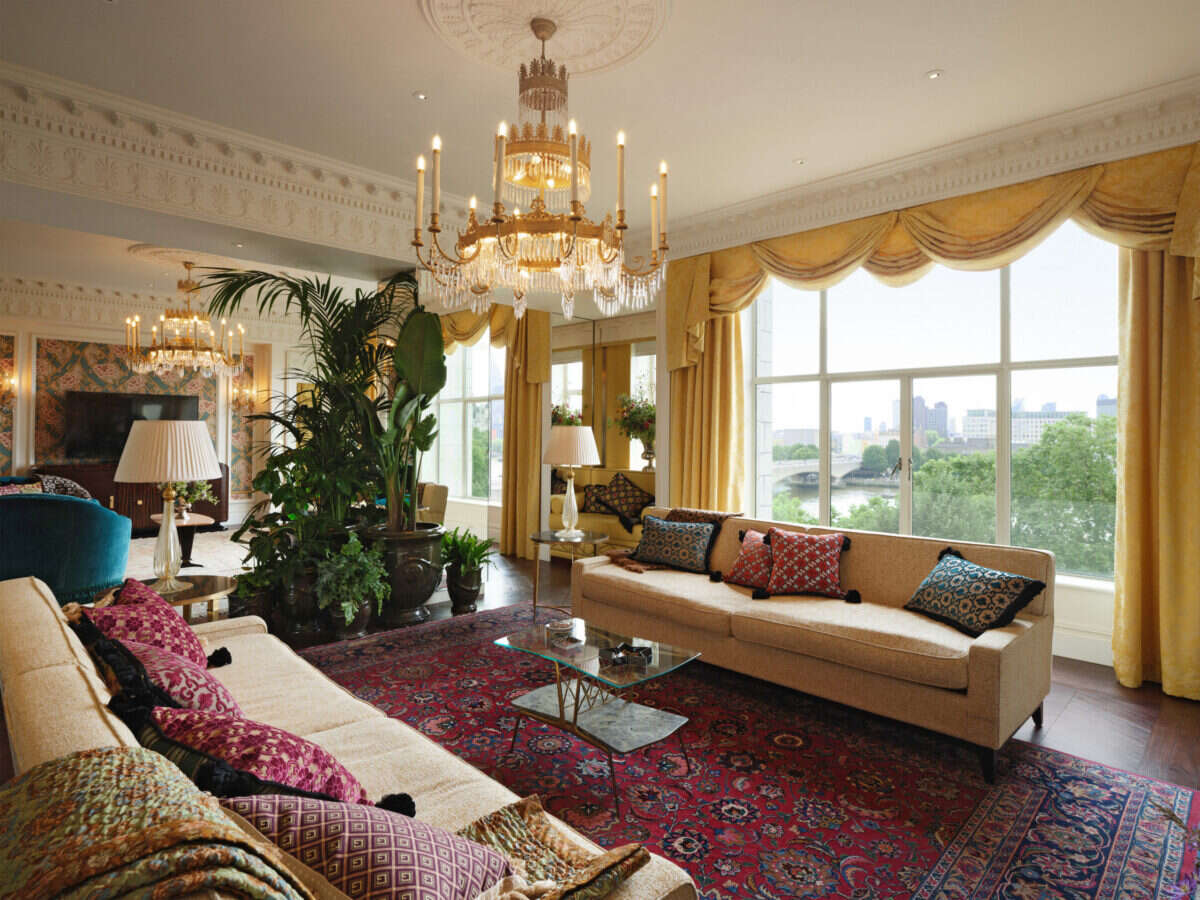 The Savoy and Gucci will always be inextricably linked. The founder of Italy's biggest fashion house, Guccio Gucci, worked as a porter and liftboy at the luxury London hotel in the early 20th century. It was there he refined his taste for high fashion and gained insight into the lifestyles of the rich and famous. Little did he know that 100 years later, The Savoy's Royal Suite would be reimagined to honor his company's centenary year.
With the help of Gucci and auction house Christie's, the 2,852-sq-ft Royal Suite has become a reflection of Guccio's world. The furniture, furnishings and decorative items have all be carefully chosen from the Gucci Décor collection. Art and antiquities curated by Chrisite's complement the unmistakable Gucci couture and the Royal Suite's timeless design.
All of the additional items in the Royal Suite will be available to buy through either Gucci or Christie's Private Sales service. It essentially makes the Royal Suite London's most exclusive shop floor, one that comes with beautiful views over the River Thames and a four-poster king bed.
[See also: The 15 Best Luxury Hotels in London]
Adrien Meyer, global head of Private Sales at Christie's, said: "This is a wonderful opportunity to partner with two iconic luxury brands and bring our Private Sales service to guests of this great London hotel. At Christie's, the ultimate luxury is to be surrounded by art. Together with Gucci, the Royal Suite at The Savoy will become the most exclusive place to stay in London."
A stay in the Royal Suite, which remains at its usual price despite the lavish redecoration, also includes a range of special amenities. Guests will find a range of Gucci gifts and amenities awaiting their arrival and have use of the hotel's Rolls Royce within a three-mile radius. A stay also includes a private shopping experience at Gucci's London boutique and a dedicated butler.
Franck Arnold, managing director at The Savoy said: "I'm so delighted that The Savoy is partnering with Gucci in such a creative way in the fashion house's centenary year. It's wonderful to bring alive our shared history to contemporary audiences, and we're excited to unveil a transformed Royal Suite, as well as providing guests with charming experiences and exceptional service that befit two brands with such global renown."
It promises to be a big finish to the year for Gucci, which made waves in 2019 after committing to going carbon neutral by incorporating more sustainable practices and investing in offsets. The Italian fashion house will reveal further initiatives with The Savoy later this year, having already launched its Aria Collection at the hotel in April.
Royal Suite by Gucci from approx $22,000 per night, including breakfast, a range of Gucci gifts and amenities, transfers, and a private visit to the Gucci boutique. thesavoylondon.com
[See also: The 11 Best Restaurants in London]