With over two decades in the industry, Teresa Tarmey is one of the world's leading skincare experts. She includes supermodels and A-list actresses amongst her clientele who pay upwards of $360 per hour for a signature facial from her London atelier. She shares her favorite luxury haircare products that keep it looking at its very best.
When it comes to my hair, I'm relatively low-maintenance with minimal effort. I color and heat style my hair and like the skin, hair also needs regular TLC to keep it at its very best. The products I use must work hard so I don't need to spend time styling.
Larry King, Good Life Shampoo
If you are anything like me and torture your hair with color and styling then your locks will thank you for some Larry King magic. Good Life Shampoo works to hydrate and strengthen your hair whilst also offering invaluable UV protection which is important for hair as well as skin. It also extends the integrity of your color and is especially effective on limp, dull or lackluster hair. The formula of green tea extract cares for your scalp, the biotin helps to improve structures and vitamin B5 helps to create a sheen on otherwise dry hair all without weighing it down.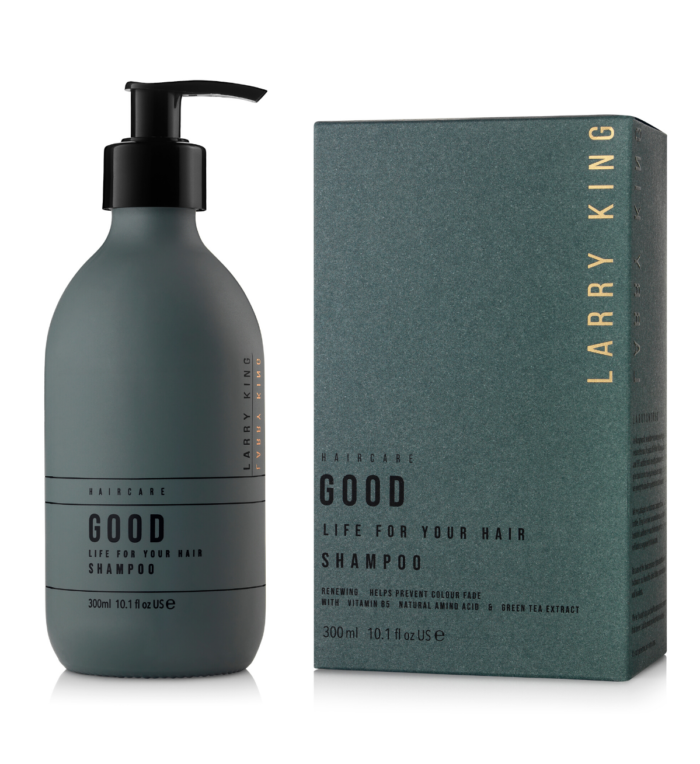 Sam Mcknight, Barely There Texture Mist 
This is a game-changer mist. I don't like to feel a product in my hair but sometimes I need a little lift. Sam McKnight is the king of the 'done, not too done' look and this is the perfect product for an effortless, sexy tousled style.
Lore Hair Mask
Perhaps one of the most transformative treatments for my hair is the Lore mask which is intensely restorative and packed with natural oils, essential acids and marine plant proteins. All these ingredients work hard to penetrate and repair each hair to strengthen and protect leaving the hair frizz-free, happy and healthy. It is used on dry hair, which I prefer, as you can work it into your tresses whilst replying to emails or soaking in the bath before rinsing it out. I love it so much I even stock it in my clinics.
Josh Wood Colour
This is a genius product that has been vital to me through lockdown and will continue to be handy as the wait for hair appointments is likely to continue… Simply put it is a paint-on color-to-cover-grey-regrowth using a blending brush. It is super easy to apply and lasts for around three washes. A great in-between appointment option especially if your hair grows quickly.
Byredo Hair Perfume 
I have always loved fragrance and specially formulated hair perfume is a novel another way to wear it. Layering scent is the best bet in terms of longevity and I've always liked to layer products for maximum staying power. In the summer I find a hair perfume can be used alone when you don't want a scent that is too heavy or overpowering. As always Byredo has created a beautiful scent for the hair which is non-drying and can match your regular perfume or of course try something new.