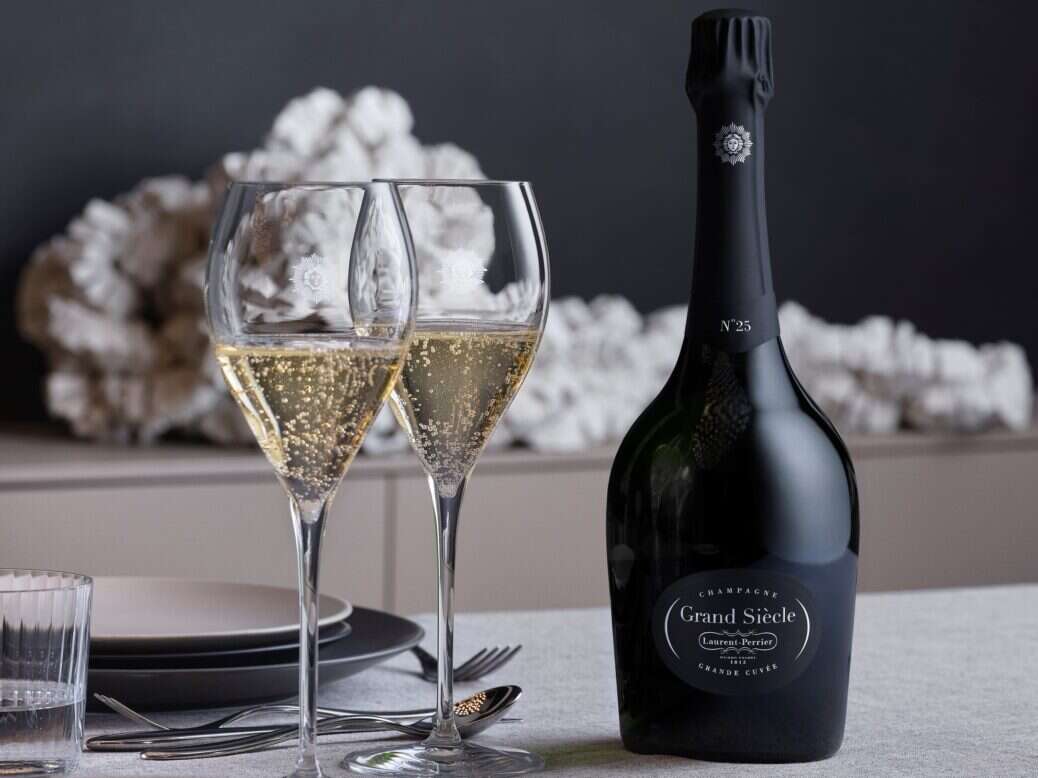 In the world of champagne, prestige cuvées represent the finest a particular house has to offer. The term vintage carries a certain gravitas in the prestige cuvée realm, but there is far more to excellent champagne than vintage alone. Indeed, Laurent-Perrier believes that focusing on a single excellent year will never be enough in the search for perfection. With Grand Siècle, Laurent-Perrier focuses on iterations rather than individual years.
Bernard de Nonancourt was one of champagne's great innovators. More than 70 years ago, he was boldly prepared to change long-standing traditional methods, suggesting that there was no such thing as "the perfect year". Rather than waiting for oenological stars to align, he believed the best champagne should instead be created through the art of assemblage, blending three different Laurent-Perrier declared vintages. This concept gave rise to Grand Siècle. It is a mindset and approach that Laurent-Perrier maintains to this day.
After being appointed chairman and chief executive of Laurent-Perrier in October 1948, Bernard quickly set to work on Grand Siècle, with the first iteration released over a decade later in 1959. Perfection, of course, takes time.
Excellence exemplified
In 1911, the Échelle des Crus system was formed as a way of denoting the price of grapes from certain villages and vineyards. While this system is no longer utilized to determine pricing, it is still used as a mark of vineyard quality.
Grand Siècle is produced exclusively with grapes that come from areas with the highest level of quality, defined as "Grand Cru".
Grand Siècle, the eponymous 17th century in France, was an era of great innovation, artistry and opulence. The period culminated in the construction of the Palace of Versailles, whose gardens were designed by the master gardener André Le Nôtre. His goal was to create a garden so perfect it could not possibly be the work of nature alone.
Laurent-Perrier has produced Grand Siècle with the same mentality, to create a champagne that nature could not. Continuing the pursuit of recreating the perfect year, Laurent-Perrier has released 25 iterations of Grand Siècle (in a variety of different formats).
Prior to 2019, Laurent-Perrier did not reveal the assemblage or the exact iterations. The releases of iterations N°24 in 750ml and N°22 in magnum were the first to indicate their iteration number on the neck of the bottle and specify the vintages in the assemblage, further cementing Grand Siècle as a prestige cuvée for true collectors.
The latest additions to the storied tale in Grand Siècle's history are the releases of iteration N°25 in 750ml and N°23 in magnum.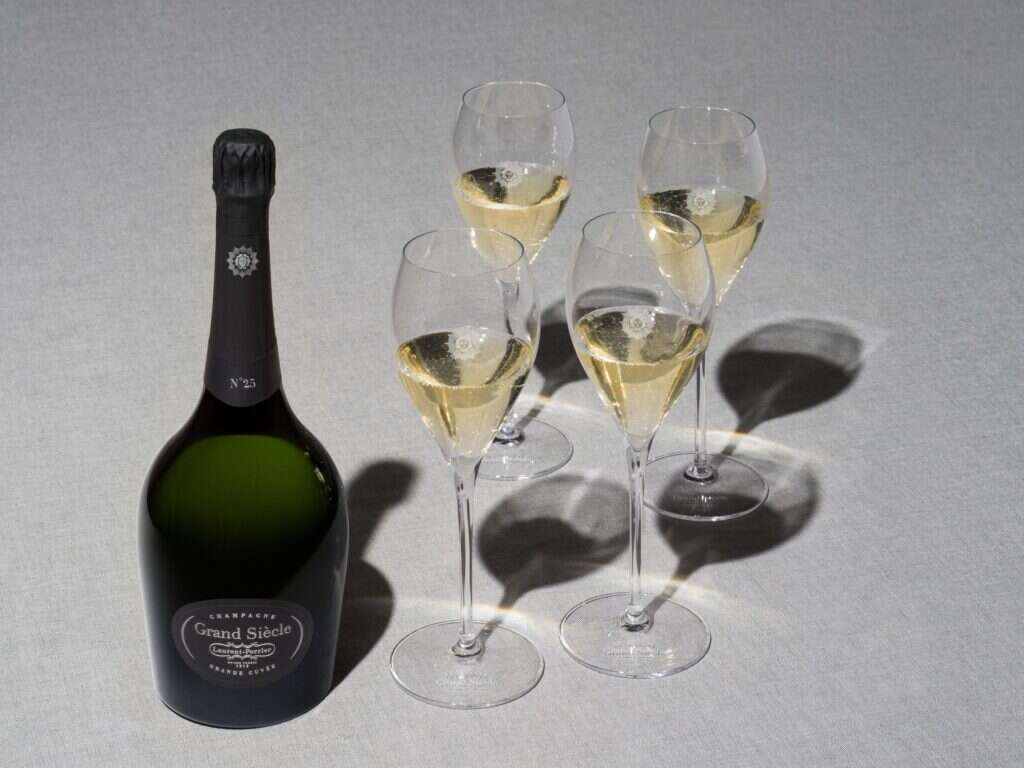 Grand Siècle Itération N°25
All Grand Siècle iterations are composed of three excellent vintages, with iteration N°25 being no different. The assemblage of N°25 is comprised of 65% 2008, 25% 2007 and 10% 2006.
Each vintage contributes distinct characteristics; 2008 is noted for its structure with excellent quality Chardonnay and Pinot Noir providing an incredible aromatic richness. The 2007 vintage is regarded for its freshness, the Chardonnay adding complex aromas of white fruits and citrus while the Pinot Noir is open and fruity with a dominance of yellow fruit. Finally, the 2006 vintage is highly regarded for its finesse adding rich complex Chardonnay and Pinot Noir with red fruit aromas.
The split between these two grape varieties is 60/40 between Chardonnay and Pinot Noir.
Iteration N°25 is sourced from nine of the 17 Grand Crus. The Chardonnay grapes are from Cramant, Avize, Oger and Le Mesnil-sur-Oger. While Pinot Noir comes from Ambonnay, Bouzy, Verzy, Tours-sur-Marne (the home of Laurent-Perrier) and Mailly.
Having spent 12 years on lees, Iteration N°25 is brilliant in character and has a white-gold color. The champagne has an intense nose of fresh citrus fruits that is followed by subtle aromas of grilled almonds and brioche.
The palate starts fresh and toasty, while the finish is persistent with notes of citrus fruit.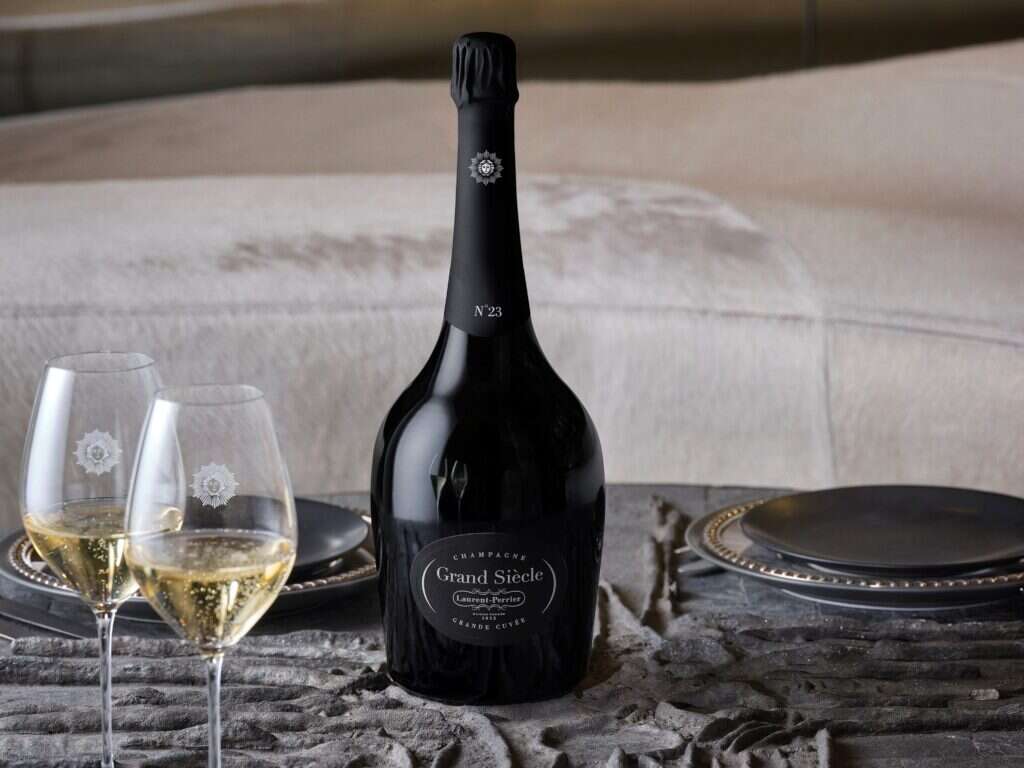 Grand Siècle Itération N°23
Unlike iteration N°25, iteration N°23 only comes in magnum. Aside from being the perfect size for parties and larger celebrations, a larger bottle allows the wine to develop more slowly over time making this the perfect bottle to add to your collection and keep for decades.
The assemblage for iteration N°23 contains 65% 2006, 20% 2004, and 15% 2002.
The 2006 vintage is highly regarded for its finesse as rich complex Chardonnay combines with the red fruit aromas of the Pinot Noir. The 2004 vintage is noted for its freshness and structure with fine and balanced Chardonnay and Pinot Noir that adds a red fruit aroma. Finally, 2002 is regarded for its structure with frank, intense Chardonnay and Pinot Noir with red fruit aromas.
The blend of grape varietals of iteration N°23 is slightly different from N°25 with 58% Chardonnay and 42% Pinot Noir and fruit sourced from 11 of the 17 Grand Crus.
The Chardonnay grapes are from Le Mesnil-sur-Oger, Cramant, Avize, Chouilly and Oger. While the Pinot Noir comes from Bouzy, Ambonnay, Mailly, Verzy, Verzenay and Tours-sur-Marne.
Iteration N°23 is an intense pale yellow color that includes highlights which evoke the freshness of spring. The nose is intense with mixed aromas of candied citrus fruit, honey, and summer flowers with a few toasted notes.
Grand Siècle Itération N°23 has been aged on lees for 14 years. It will soak the palate with the sensation of silkiness while the finish has the freshness of candied citrus fruit which bring length and tension.
Grand Siècle represents Laurent-Perrier's 210 years of history and pursuit of excellence, encased within a single bottle. For years Grand Siècle has rewarded the patience of its owners with extended post-disgorgement aging. The latest releases in bottle and magnum format are a must for all collectors.
For more information, visit grandsiecle.com or laurent-perrier.com
Visit the Elite Traveler x Laurent-Perrier Hub