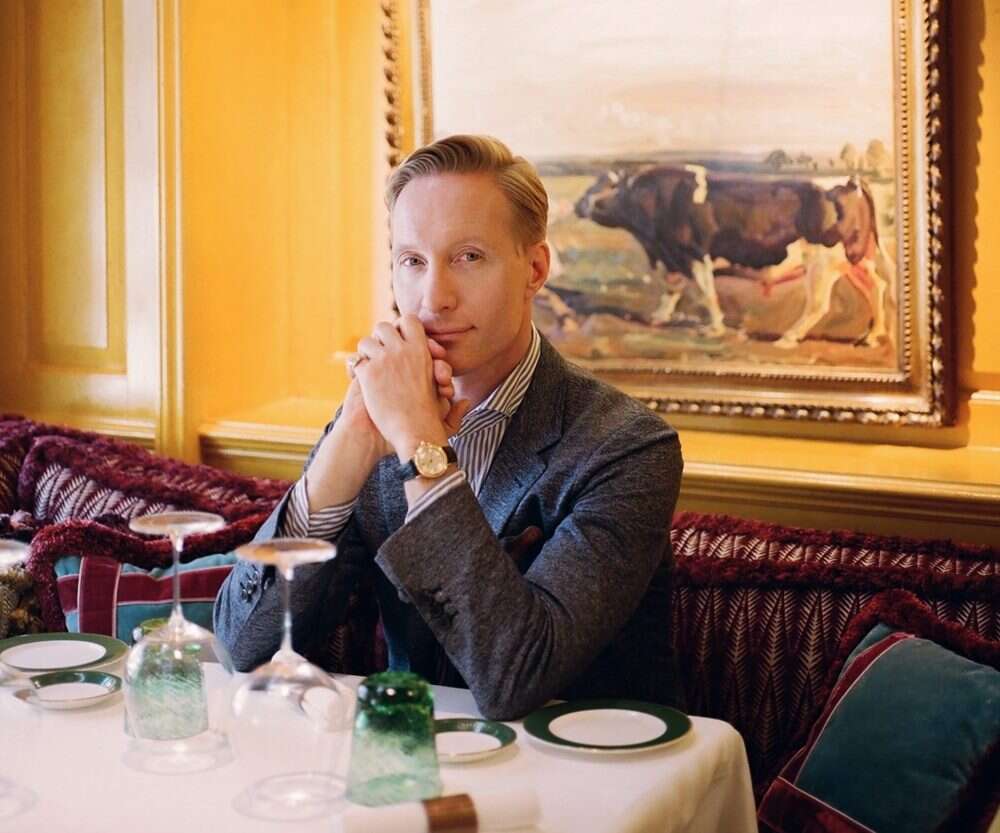 Award-winning interior designer Martin Brudnizki divides his time between London, the English countryside and New York. When he's not working (he's the creative mind behind Annabel's in London, The Beekman in New York, and Fortnum & Mason in Hong Kong) he can be found gardening or catching up with friends in some of London's most high-profile eateries.
The first thing I do is…
Depending on where I am, it's a very different approach. Five days a week I get up at 5:20am. If I'm in London, I'll get up, have a coffee — espresso, straight up — and head to the gym. But if I'm in the countryside I'll do other things like gardening and going for walks (I live in a national park so I like to make the most of it). If I'm in the country, I start working straightaway from my laptop in the kitchen or dining room, to check emails from the New York studio coming in throughout the night. Once the inbox is clear, I'll stop for breakfast around 10am — usually cereal, smoked salmon, scrambled egg and orange juice — and then go into the garden.
[See also: Travel Diaries with Photographer Gray Malin]
You can often find me…
Between London, my house in the countryside in England, and New York — when things were a bit more 'normal' I would be flying to visit the New York studio for face-to-face meetings on projects all the time. It's something that I've realized from this experience: If you're going to do business on two different continents, you actually have to travel, and you cannot get away with not doing it. Face-to-face time is everything. Especially when working with very emotive materials, you need to see things, touch them, talk to people. It's hospitality interiors…you can't do that on a computer screen.
When things were 'normal' I would head out for dinner with friends two or three times a week. If I'm in London, I like to head to places like Annabel's or Scott's for dinner and drinks, or something more casual like The Fox & Pheasant pub in Chelsea. I love a pub. In New York, my favorite haunts at the moment are the Little Owl and King in the West Village, and La Grenouille in Midtown.
In my younger years, I traveled to the Maldives and Asia for long-haul holidays. But as I've gotten older, I prefer a shorter travel time. Europe reappeared on my horizon a couple of years ago, and I love going to Greece and Italy because you can explore so many different areas. That being said, I love the Amalfi Coast and Positano, so we go back there quite a bit and stay at Le Sirenuse, and every year we go back to Venice around Christmas time and stay at The Gritti or the Danieli.
My work is…
Really varied. The first thing I do is have another coffee, then sit down with my assistant, and we'll go through the day to see if there's anything specific in the diary or things that need to be done. I'm in charge of reviewing everything, so I'm looking at drawings, designs, materials, prototypes, reviewing presentations we're doing and looking at the progress of projects. And then clients come in for new projects too, so they'll come in for a presentation or we'll go to see them and present to them in their offices. Really, I'm part of a big team of people who organize everything; I'm just another part of the process, and I fit in where I need to. It's interesting at the moment, because we've finished two restaurants in New York and a hotel in Los Angeles — you know they can't open yet. But I think when it comes to products — we've just launched my And Objects design collection (andobjects.com) — we're all finding different ways to manage our businesses. But when it comes to hospitality it's all about meeting and greeting, so I think it's going to have to wait.
I am usually wearing…
It depends what I'm doing, but I like to be well presented. If I'm meeting a client I'll wear a suit, but not a boring business suit — something maybe from Drake, with a little bit more personality — and I'm always wearing my Breguet watch. In the winter, I will wear a polo shirt underneath it, or perhaps a shirt and tie. I wear a lot of P Johnson shirts depending on what I am doing and who I'm seeing, and Missoni socks. Even at home, it can be thrown on, but it's very considered. It's about a respect for your profession, and a respect for your colleagues. You never know what you might be asked to do, and you need to be prepared.
Outside of work, I wear Carrier Company dungarees with knits when I'm in the garden, and dress appropriately for the weather in the countryside: My go-to pieces are my Barbour jacket and an Yves Salomon coat for when it's colder, plus my Hunter boots for walks. When I'm on holiday, I still dress quite well, but I might switch out a pressed shirt for a linen alternative.
I've had quite a lot of clothes for ages because I really look after them. A lot of my knits are old Yves Saint Laurent, for example, and I have a variety of things from Prada to Lanvin. When you look after them, they last, and I don't have to replace them as often. I have pieces that are almost 20 years old, and a cashmere piece that is still as perfect as it was the day I bought it, just by looking after it properly. One thing I have changed in the last five to 10 years is suits, so I do go to places like Drake's. I like to choose the fabric and have it tailored to suit me more, so that it is bespoke and something no one else has picked up. It makes it special.
I always find time to…
Get out in the garden. I'm very much a novice, but it's my area of exploration and learning, and I want to understand as much as I can. I did a lot of work at the end of last year, so I can't wait for spring to see it all come through. I love reading, too. In particular, biographies — I love A Curious Friendship: The Story of a Bluestocking and a Bright Young Thing by Anna Thomasson — and a mix of gardening books at the moment from Russell Page and Monty Don.