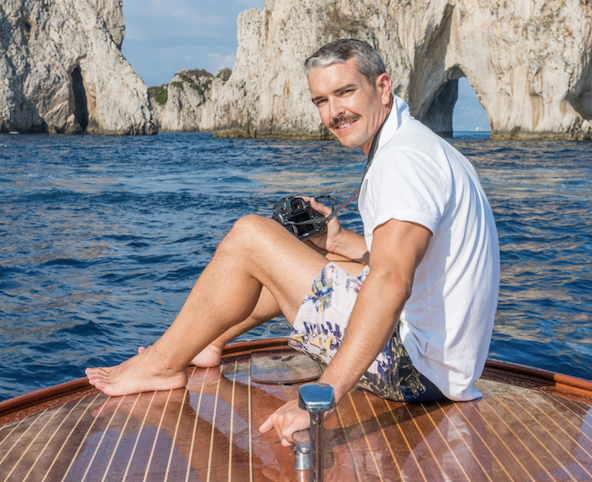 From his humble roots selling photographs at a swap meet in Los Angeles to working with global brands and selling a single image for $18,000, Gray Malin has become one of the world's most exciting photographers.
His work is easily recognizable — whimsical, dreamlike images of some of the planet's prettiest spots. He's shot everywhere from the remote and barren continent of Antarctica to the dramatic expanse of the Namib Desert, but he is perhaps best known for his dreamy beachscapes.
As Malin travels almost constantly, he is never without his Leatherology double-zip bag: "It just fits everything. I never travel without it."
And what might you find inside his supple leather bag? "Dr Lancer polish, cleanser and face cream. The magic is in the polish because your skin has a flush tone after."
Malin's latest project saw him spend a month on the road in Italy, capturing the Italian Riviera in all its glory, infused with his signature vibrant, vintage style. Naturally, he never visits Italy without something to shoot with, be it his iPhone (covered with the Gray Malin Positano Beach iPhone case, of course), a point-and-shoot camera or his trusty Canon.
Being on the go means easy, comfortable attire: "Hermès Izmir sandals are simple yet chic. They're comfortable as well as appropriate for the Italian beach club scene."
Malin pairs the sandals with printed shorts and a polo shirt for spending days living la dolce vita with an Aperol spritz in hand.
"When visiting the Amalfi Coast, it is a must to spend a day on the water. Charter a boat for the day and explore this celebrated coastline. Or for a day in Capri, I highly recommend renting two lounge chairs at La Fontelina. It is a magical way to spend the day."
Come nightfall, Malin heads to L'Ancora Della Tortuga in Cinque Terre for the freshest fish, exceptional views and a glass of crisp white wine. La dolce vita indeed.