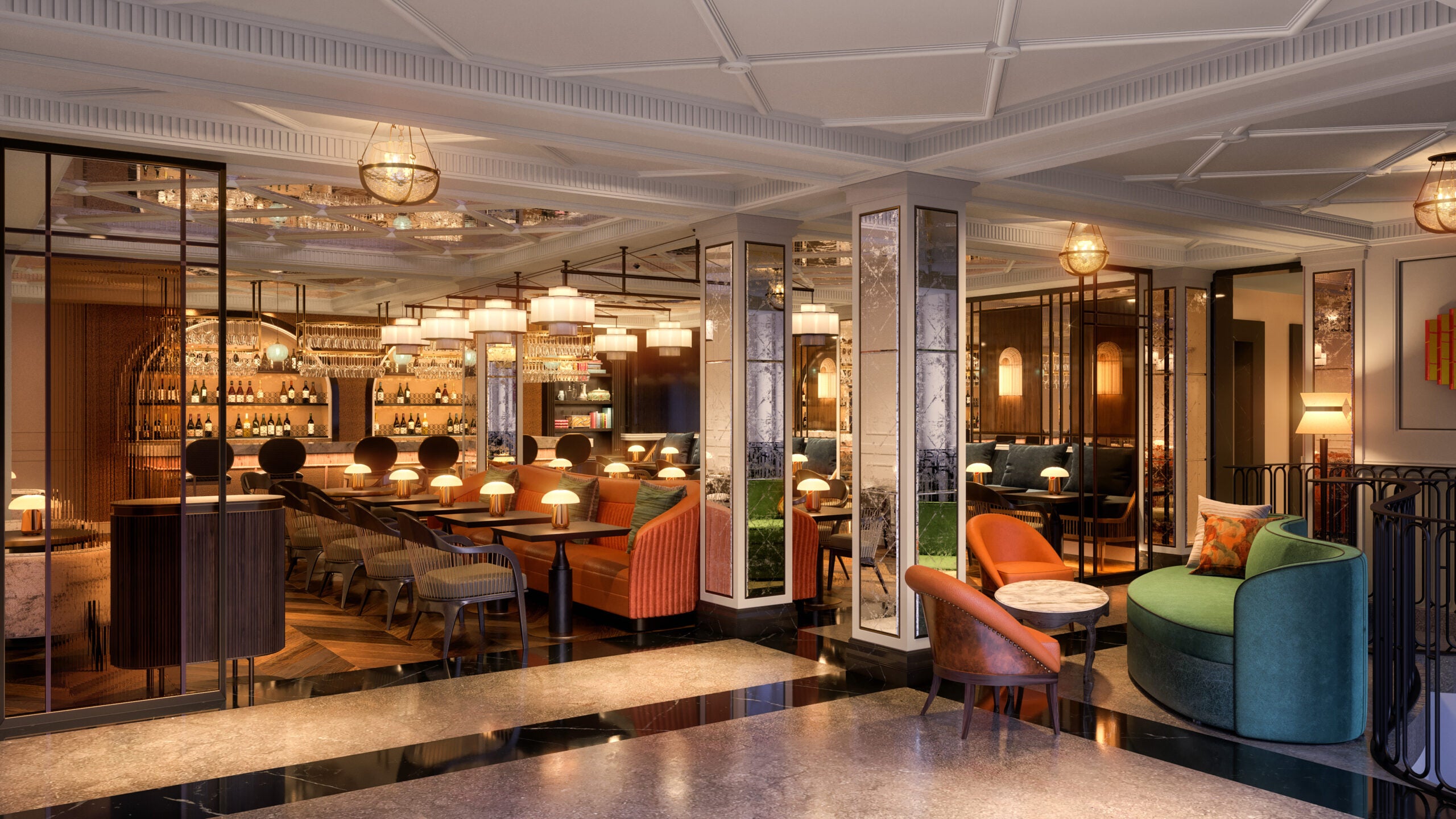 With executive director Andrew Stembridge at the helm, Iconic Luxury Hotels has gone from strength to strength – despite the challenges of Covid-19. The newest hotel in the portfolio, The Mayfair Townhouse, is set to open this fall, bringing a new lease of life to the London hotel scene.
Comprised of 15 Georgian townhouses, seven of which are Grade-II listed, in one of London's most prestigious addresses, The Mayfair Townhouse promises to add a new dimension to Iconic Luxury Hotel's traditional personality.
Bridging the gap between London's ritzy glamour and the city's more corporate hotels, The Mayfair Townhouse encourages its guests to expect the unexpected, with a surprise around each corner. Described as "Oscar Wilde meets Alice in Wonderland" the Townhouse pays homage to its historical location, with designer Goddard Littlefair incorporating eccentric and playful design into every area of the hotel.
However, despite London being one of the world's most desirable cities, there's no escaping the fact that, in the UK, it took the brunt of the Covid-19 pandemic. With an impressive number of hospitality accolades to his name, and over 30 years' industry experience, Andrew Stembridge has refused to let this get in the way of one of the years' most exciting opening. So how did Stembridge and his team navigate these difficulties, and plan to safely welcome guests to The Mayfair Townhouse?
Besides Covid-19, what's the biggest challenge you've faced as executive director of Iconic Luxury Hotels?
Over my career, I have developed a huge amount of resilience and therefore tend to take every challenge in my stride, seeing every bump in the road as an opportunity to reevaluate and recalibrate. Running independent hotels, with no big corporate handbook to follow, affords us the luxury of being able to react more quickly to challenges and make material decisions for the benefit our guests, the team and the business.
I view myself as being exceptionally lucky to be the custodian of some of the UK's most highly regarded hotels and we are fortunate too, that our owners, L+R Hotels, continue to invest heavily in our properties even during times of economic crisis.
You've received a lot of accolades and awards in your career – which are you most proud of?
Collecting awards on behalf of the hotels and the team is always a good feeling, however being voted as the 'Hotelier of the Year' in 2010 was definitely my proudest moment, especially as at the time I was the youngest recipient and to the best of my knowledge, still hold this record!
The Mayfair Townhouse is seeking to redefine what it means to be a London hotel – what exactly do you think defines a "London hotel", and how will The Mayfair Townhouse reinvent this?
I think strangely many London hotels have become rather unwelcoming in recent years, with slightly surly doormen and with every seat earmarked for revenue maximization, it often feels like there is an atmosphere.
We have been searching high and low to find the best possible team with hospitality in their hearts to ensure that The Mayfair Townhouse is the most welcoming hotel. On the Lower Ground Floor, you will find The Club Room which is dedicated to hotel guests and passers-by, serving a leisurely breakfast or brunch with none of the usual curfews, and then later on turns into an area where you can meet, relax or enjoy one of Chef Adam Simmonds specialties from the all day, eat anywhere menu.
Mayfair's hotel scene is famously exclusive – as the self-proclaimed 'new kid on the block', are you hoping that The Mayfair Townhouse will fit in or shake things up?
I wouldn't be bold enough to describe The Mayfair Townhouse as a disruptor however I do believe we have found a gap in the market in between the grand hotels, the corporate properties and the jaded independents, which will appeal to the independently minded traveler who appreciates style, luxury and good value.
What quirky element of The Mayfair Townhouse are you most excited for guests to experience?
The Mayfair Townhouse comprises of 15 townhouses, seven of which are listed, and this series of interesting ups and downs along a good proportion of Half Moon Street forms the backdrop for a very characterful townhouse experience.
Unlike most hotels of this size, the sense of arrival is understated and the scale of the lobby intimate, providing the stage for an exceptionally engaged team, who deliver the effortless and intuitive service for which Iconic Luxury Hotels is famed.
Two lead characters are destined to steal the show; namely Diana, one of a rare breed of female concierges holding the Golden Keys, and Pierpaolo Monaco, our head barman in the Dandy Bar who has dedicated his entire lockdown to researching the favorite cocktails from the Dandy Era.
Individuality and character is a defining feature across the Iconic Luxury portfolio – what do you look for in properties when scouting for new hotel premises?
It will probably sound like a cliché, however the buildings we choose need to be 'iconic' either in terms of their stature, history or location. Staying in a luxury hotel should always be an authentic experience, made up of a variety of key ingredients. If you start with an interesting property with its own stories to tell and an amazing location, then you are already well on your way.
How has the on-going Covid-19 pandemic affected how you planned to open a new hotel, and as a hotelier, what have you learnt from it?
Covid-19 has pushed the opening back by a few months, only because the building site had to close during the lockdown and hence we lost a bit of momentum. We are now very much back on track with circa 300 contractors on site – the finishing line is in sight.
Clearly the market we are opening into will be soft, however the fact that we are prepared for this has allowed us to ensure that we don't over recruit and has also meant that we can design Covid-secure features such as keyless entry to bedrooms and an app for guests to order cocktails in their room from their own personal devices.
As people's confidence in traveling begins to grow again, how is Iconic Luxury adapting its services? For example, are you trying to operate as normally as possible, or enforcing strict, and restrictive measures across your hotels?
We have always attempted to strike a healthy balance and we intend to continue with this approach. Ultimately, we are lucky that all of our hotels were already well set up for social distancing with spacious restaurants, numerous lounges and public areas and numerous bedrooms with external access, terraces or balconies.
Al fresco dining is option across the portfolio, and we have created new 'pop-ups' such as the pizzas in the kitchen garden at Chewton Glen, and a gin afternoon tea garden in the maze at The Lygon Arms. The Treehouses at Chewton Glen are particularly suited and even our 11 Cadogan Gardens in Chelsea has benefitted with private access to Cadogan Gardens, Muse Suites with street access and outside tables on the fashionable Pavilion Road.
Both Cliveden and Chewton Glen have outdoor swimming pools and other outdoor activities such as croquet and tennis. Technology has supported our Covid-secure efforts with tablets in every bedroom enabling guests to order everything from room service to a massage from the comfort of bedrooms.
That said our focus since we reopened has been very much about hospitality over hygiene and physical distancing not social distancing. Clearly hygiene has never been more important, however once guests are settled in we want the feeling of hospitality to be as warm and friendly as they have become accustomed to. Being in hospitality, we can stand further apart however we mustn't appear socially distant.
Finally, what aspects of hospitality and travel did you personally find that you missed the most during strict lockdown measures?
Although our provincial properties have been exceptionally busy all summer, thanks to the number of Brits "staycationing", closing the hotels and furloughing most of our teams was undoubtedly stressful and the weekly changes to Government guidelines have certainly kept us on our toes. Ultimately, I have missed the feeling of escapism and that quality family time that only comes when you step away from your daily routine.