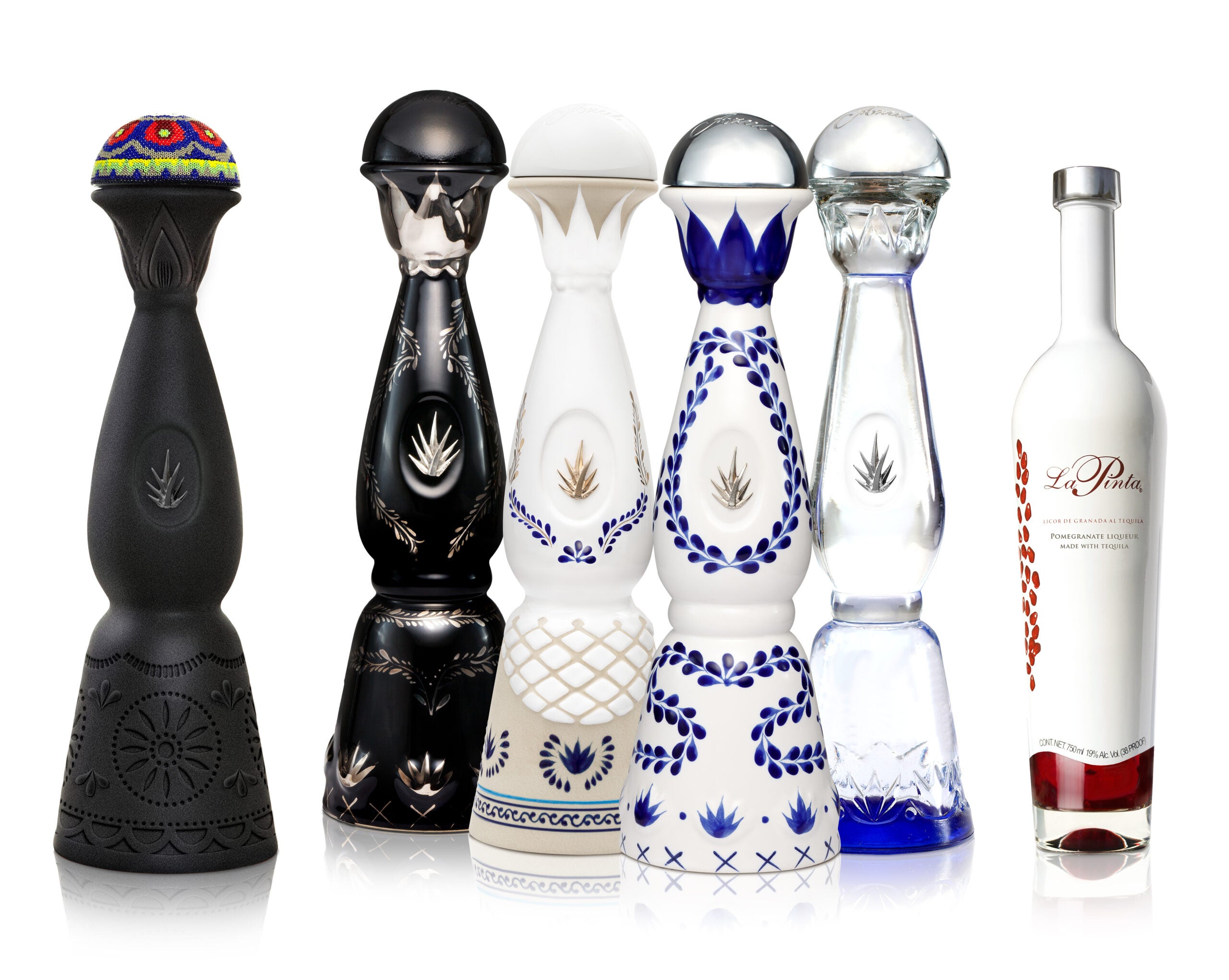 Gazing at the tequila shelf of a backlit bar, there's one bottle that is nearly impossible to miss. It presents itself as a work of art, with an eye-catching edge over even the most intricate crystal decanters. The aesthetic appeal of Clase Azul tequila comes from its elongated, curved shape with a hand-painted motif and silver bell topper, but this ornate design developed from a simple observation.
"I had the idea to make something different," Arturo Lomeli, CEO and founder of Clase Azul, tells me. "I was sitting one day looking at the leg of a gothic table, and if you look at the bottle, it's an upside-down gothic table leg. [Clase Azul] is a fortune of different steps aligning. I heard a long time ago a great analogy that says you can go from Los Angeles to Philadelphia at night and you just need to have 100 yards of light from your car. You don't need to have [the whole route] lit up, you just need to know where you're going to be in the next 100 yards. And that's what's happened with our company."
Born in Guadalajara (the capital of Jalisco where the majority of the country's tequila is produced), Lomeli says growing up with the region's popular ponche de granada drink was part of what influenced him to train as a master distiller. He began by making pomegranate-infused tequila in southern Jalisco before going back to school for a master's degree, where he faced the realities of a career in Mexico's growing tequila market.
"In order to compete, we had to have quality," Lomeli explains. "We had to have uniqueness and we had to have a competitive advantage. Clase Azul brings the inspiration of being hand painted — it's different in that it's not a common bottle. It's something that you can use after you drink. That's the most important idea that we had at the beginning: give the chance to somebody to have really good tequila, but also use the bottle. It's the idea of upcycling and not making more waste."
As Clase Azul flourished, Lomeli maintained a dedication to the greater good. In addition to its eco-conscious design, the brand employs local artisans to hand paint the bottles and provides them with meals and childcare services.
"The only thing I can do is change the things which are around me," Lomeli says. "We are planting our seeds to change the society, in terms of fair payment and developing possibilities for the people. The energy of the bottles is the energy of those people who believe in being different, evolving and transforming."
Last year I had the pleasure of celebrating Clase Azul's 20th anniversary alongside Lomeli at Public hotel in New York City. Sipping sunset cocktails by the rooftop bar alongside celebrities and tequila enthusiasts, it was a milestone event, but Lomeli shares that even after two decades he has no plans for slowing down.
"We're building a second ceramic factory and new tequila factory on 50 acres with a beautiful museum, fantastic restaurant and 11-room house," he reveals. "We are going to produce there, but every single thing we have in mind is about how you will experience what we are doing. You'll get the chance to paint a bottle, to harvest an agave, to see how the ferment tanks of the yeast are doing. There will be a farm-to-table breakfast. It's going to be fantastic."
While this new venture is undoubtedly what tequila dreams are made of, Lomeli adds that it's not a business-minded decision. For him, the development of this immersive experience — as well as the creation of Clase Azul in general — is a chance to share his passion with others.
"I'm very excited about it. If you look at the return on investment of a product like this, it's never going to make any sense. But because we are not a financial company, our measure of success is not money. Our measure of success is happiness. Our measure of success of sharing. Our measure of success is creating. And because of that we're going to make it, and I know that once we have that done, there's going to be just one luxury tequila and the rest."
At the helm of a premium tequila brand, Lomeli sheds some light on what makes the inherently Mexican spirit special.
"There's a certain magic in tequila and it comes from the plant," he says. "When you're drinking any other spirit — let's say rum, cognac or whiskey — you need to wait six months for the grape or the grain or the cane. The situation with tequila is that the plant has to grow for nine years, and then you use the whole plant. It's Mother Nature and it's so unique."
A true tequila, by law, must be produced only in designated areas of Mexico in accordance with standards detailed by its Appellation of Origin. Simply put, the spirit is named after a specific region — as with champagne and cognac — and producers must adhere to a set of characteristics surrounding geographic location for their output to be deemed 'tequila.' But not all tequila is created equal, and to illustrate this Lomeli makes a culinary connection. To him, "what makes a good tequila is like what makes a good chef," meaning it's essential to use the best ingredients and not cut corners in the process.
Clase Azul tequilas are made from 100 percent organic Tequilana Weber Blue agaves that are harvested and cooked in brick ovens for 72 hours. A custom yeast is then added to produce the desired flavor profile, aroma and smoothness across the tequila roster. The lineup includes Clase Azul Plata (Lomeli's choice for its simplicity), Clase Azul Reposado (ideal for dessert pairings) and Clase Azul Añejo, as well as the coveted Clase Azul Ultra laid in reclaimed sherry casks and adorned in 24K gold. The brand has also added a mezcal to the Clase Azul range, housed in a sleek, matte black bottle and made from Cenizo agaves.
From filtering sediment out of La Pinta in a garage to trading bottles of Clase Azul for a watch, Lomeli's metaphorical 'road trip' of a career has been a memorable one. Reflecting on 20 years of Clase Azul, Lomeli concludes, "I am a believer that if you do what you love and you do it the right way, you're going to be a success. It's a matter of enjoying the road. It's not about the destination."
For more information on Clase Azul, please visit claseazul.com. Check out the Clase Azul recipe included in our pick of tequila cocktails in this Cocktail of the Week feature.