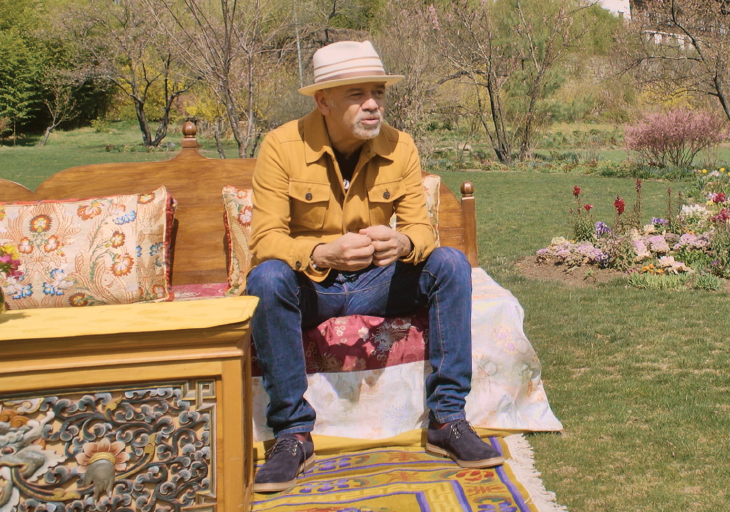 Since his first encounter as a teenager with the magical kingdom of Bhutan, French designer Christian Louboutin has been entranced with its architecture, art and people. He speaks to Kristen Shirley about culture, tradition and craftsmanship.
Is it possible to conquer the world with stilettos? If you're looking at the meteoric rise and enduring popularity of Christian Louboutin's ubiquitous red-soled shoes, the answer is a resounding oui. With more than 150 boutiques worldwide — according to the brand, that is more than any other French designer — and a business that is exploding thanks to the development of new categories, including handbags, an ultra-luxe beauty collection and wildly creative men's shoes, it seems there is no slowing down in sight for the world's most recognizable shoe designer.
Perhaps this is why he tells me that taking his time is his biggest luxury. Louboutin is speaking to me from his home in Portugal, fresh off the heels of Men's and Couture Fashion weeks in Paris, and he is already hard at work designing future collections.
In our conversation, I feel creativity dripping from his every word, whether he is discussing his inspiration and his travels, or as he waxes poetically on how personal everyone's individual definitions of luxury are. Considering the demands of being the creative force behind such an enormous business, it is easy to see how time could be his ultimate luxury, because to truly be creative takes time. Time to think, time to dream, time to make mistakes, time to find inspiration.
As the legendary fashion magazine editor Diana Vreeland famously said, "The eye has to travel." And travel he does. Louboutin has homes in Paris, La Vendée in western France, Portugal, Brazil and Egypt — and a very busy travel schedule. And through this globetrotting, he is always learning.
"You understand a lot about a country through the craftsmanship and the artisanship of the people. This is what I love. It's actually a tool of communication between people who are not necessarily speaking the same language." By actually connecting with these artisans, not just admiring their work from afar, Louboutin finds new sources of inspiration and new techniques to use. And a frequent stream of inspiration is a necessary requirement when one is primarily designing in a medium as limited and technical as a shoe.
It is not just inspiration that Louboutin takes with him from his journeys. In his travels he has discovered who makes the best of the best, and he brings those skills into his manufacturing. Above all else is the commitment to luxury in his business. In today's culture, where profits are sometimes prized over quality, his approach to finding and employing the best artisans stands out. The best lace comes from France, so his lace comes from France. India's embroidery is the best in the world, so his fabrics are embroidered in India. Italians have mastered the art of manufacturing shoes, so he produces his collections there. And of course, his Parisian sensibility informs each design.
With his newest collection, LouBhoutan, he combined a lifelong passion for the country of Bhutan with his commitment to supporting artisans. A trip to the country as a teenager led to a lifelong passion for Bhutan's unique culture, heritage, architecture and art. "Bhutan has something very special. First of all, it's a kingdom. So in a romantic way, it's really like a type of perfect kingdom. And it's also very high, in the Himalayas in the clouds, and it's closed [off] because it's a kingdom and it's in the mountains."
Its location alone is completely foreign and nearly the opposite of his French childhood. But the culture and striking mix of tradition and modernity are what truly captivated him. "They haven't been cornered by tradition…. They have been taking the best of modernity without forgetting the best of their own tradition. And it's not such an easy thing. Some countries are going from a very traditional and secular way of being and way of thinking to hyper-modern. Then in a way, some countries have lost their souls and have lost their way of being, and get trapped in a thing that they sort of don't understand."
It's easy to understand why Bhutan's majestic landscape, paintings, frescoes and detailed architecture captivated the designer: The sky is an incredible blue, puffy white clouds float among the peaks of the Himalayas and the vividly colored buildings' designs are incredibly detailed. "That's one thing I've always loved because, actually, I'm pretty much obsessed with details."
Bhutan's artistic traditions have a long and storied history. To honor their talent, Louboutin took a different approach when designing the collection by splitting the creation of the shoes in two: Bhutanese artists designed and created the platforms and wedges, and Louboutin designed and manufactured the uppers. "They had a vague idea of what I was doing and who I was, so they really worked around that in their way. Then after that, I worked around what they had done in my way. So it's my perception of Bhutan, which is basically mixed or married to their perception of a Parisian shoe designer. That was really the process: It was started by them and then came back to me."
The result is a collection of 13 shoes that blur the line between art and footwear. The pricing is correspondingly high — each shoe retails for around $3,200 — and, unsurprisingly, it took a long time to create each piece. "When you work with artisans, you really have to respect their way of thinking…. They do things according to what they find. They may want to reproduce it, or they may want to go further, or they're just not happy with the result and they need to do it again. This is the way it is, and if you cannot respect that, then you know, it's not worth it to work with artisans because their time is their time, and there is nothing you can do."
The Bhutanese artists' work is incredible. Some shoes have hand-carved wooden platforms with scenes depicting the incredible landscape and flora of the kingdom, while others feature architecture-inspired designs and swirling arabesques. All are beautifully hand-painted with the vibrant colors seen throughout Bhutan's charming streets. It is fitting that the designer unveiled LouBhoutan during Couture Fashion Week in Paris, where designers present the highest expression of their métier. The collection honors his vision, passion, creativity and commitment to craftsmanship — and they were made in the spirit of his ultimate luxury, time.