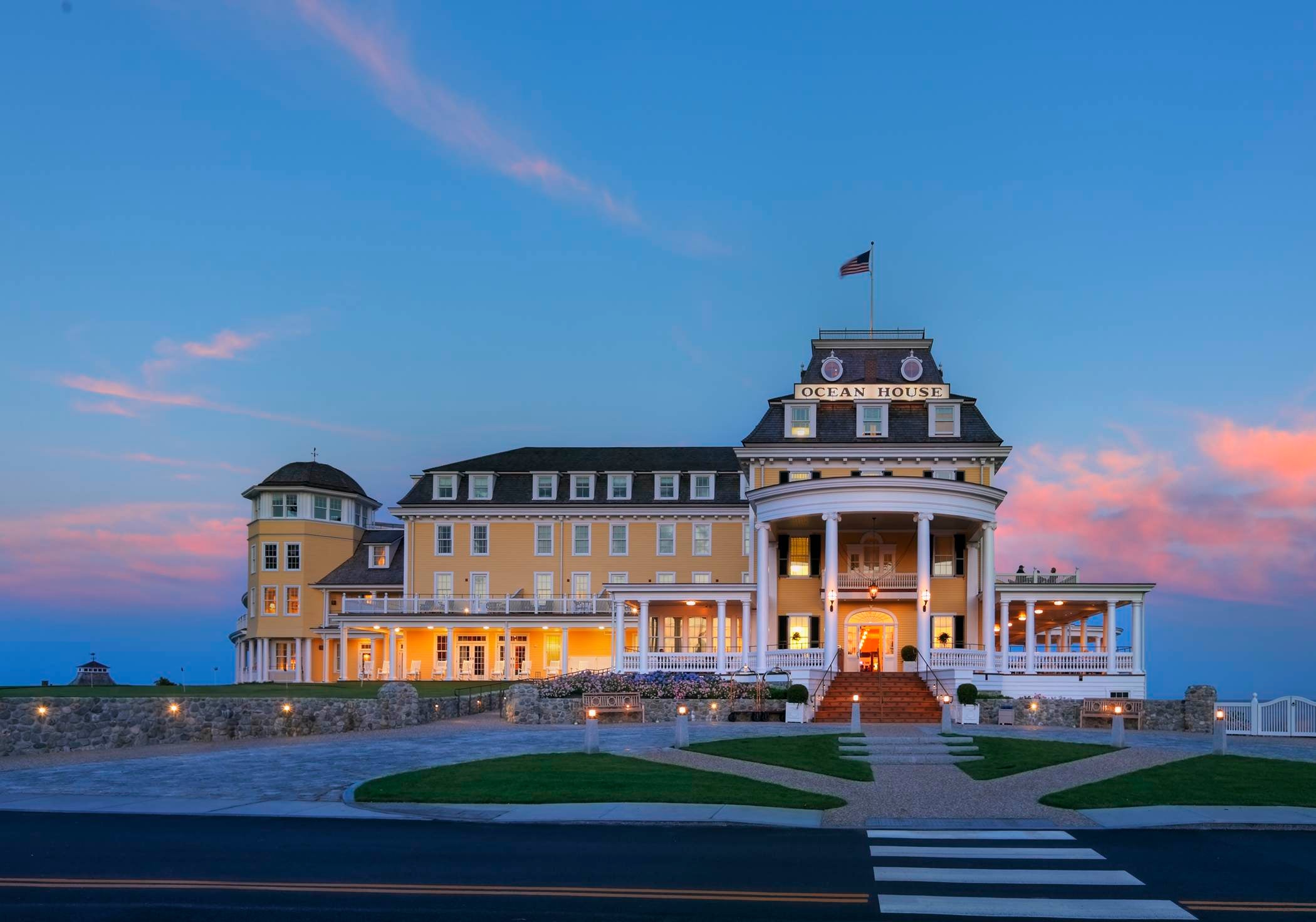 With over a century of history behind it, Ocean House is one of the USA's iconic luxury hotels. Many of its guests come not only for the world-class service but also to feel its storied past. While its age is a draw for many guests, it also represents a challenge for Relais & Châteuax: How do you provide a five-star service for the modern guest while retaining that sense of history?
As President of both Ocean House and Relais & Châteaux North America, Daniel Hostettler has played a key role in bringing the hotel into the 21st century. From its $140m restoration in 2010 to the unique challenges of a post-Covid-19 world, Hostettler speaks to Elite Traveler about how to know what to change and what to keep.
What inspired you to get into the hospitality industry?
As a child my father was the CEO of an international firm, so we traveled quite a bit. I always enjoyed immersing myself in hotels, especially the lobby, where all of the activity and energy came alive. I also loved to cook, so it seemed like a natural progression to pursue a career in hospitality. I'm extremely competitive and detail-oriented so of course I was drawn to luxury hospitality as I perceived it to be the best of the best.
What does Relais & Châteaux mean to you?
Relais & Châteaux hotels and restaurants have delivered an unparalleled level of hospitality and authenticity for over sixty years. Owners, innkeepers and chefs who are part of the association share a passion for preserving local heritage and providing unique and memorable experiences for guests. Now more than ever, some travelers will be looking to avoid big-box hotels in favor of smaller, more remote, owner-operated operations where they will feel a higher degree of care and safety.
Ocean House has such a rich history. With the rebuild, tell me about retaining that sense while making it an elegant spot for the modern traveler?
Saving, rebuilding and reopening Ocean House in 2010 was a labor of love. We invested more than $140 million and five years to create a property that would be one of the best in the world. We wanted to honor the traditions of inn-keeping and classic five-star hospitality, while providing that latest in technology. During the rebuild process for Ocean House, we saved more than 5,000 artifacts, which are part of the property now. Even the lobby fireplace was taken apart, stone by stone, numbered and put back together.
Today's Ocean House provides the latest technology for guests including easy Wi-Fi access, iPads in guest rooms with interactive hotel information, news subscriptions and menus for effortless in-room dining. Other convenient technological touches include an electronic do not disturb system. We also have computer chips in our in room dining carts, which notifies our staff if a cart is placed in the hallway, so it can be immediately removed. We now even have the Molekule, an air purifier proven to destroy airborne viruses and bacteria, that is in each guest room as an added measure of cleanliness.
Can you also tell me about the art throughout the hotel – what is your inspiration for this?
Art is a pivotal part of the Ocean House experience, inspired by our owners Deborah and Charles Royce who are avid collectors. Our art experience includes museum-worthy exhibits, the largest private collection of Bemelmans in North America, an art exploration for kids, lecture series, seasonal events and even the Yankee Artisan in Residence Program at Ocean House.
In total, we feature more than 250 pieces of work and 25 artists at Ocean House. To help coordinate our programs and collections, we have a dedicated director of art education. This year we added a museum quality self-touring program, where guests can borrow a head-set and tour the hotel art while listening to descriptions of each piece and personal anecdotes from Deborah Royce about their acquisition along the way.
What are some details that you teach your employees to look out for that others may not?
Our goal at all of our Ocean House Management properties is to deliver memorable experiences without being asked. To do that, we coach our associates how to learn and act upon our guest's preferences. Our associates can then personalize guest experiences and go above and beyond to surprise and delight them. We call them WOW moments.
What are some of the most rewarding aspects of your job?
One of the most rewarding parts of my position is giving back to the community, and helping people who need it the most. Historically we have given back to the community through donations, holding a major gala each year, giving Christmas gifts to children in need and other initiatives. In recent years we've been able to expand our efforts in meaningful ways. For example, we formed the Ocean House Fund for Charitable Giving, an organization that focuses on helping families and children, and providing foodways for those in need. Funds are raised through events and creative activations like our Fondue Village at Ocean House and the Pondhouse at Weekapaug Inn. Employees nominate good causes and organizations, and the final selection of grants are made by an all-employee committee.
In 2020, we have been able to help our communities in additional ways as a result of Covid-19 and school closings. Our teams are working together on our Food Truck, Off the Menu, to distribute complimentary lunches to local children in need and members of the protective services three days a week. The program has been very well received and we have expanded it to help even more community members.
Hospitality is a demanding job – and being a Relais & Châteaux is even more detailed. What are some of the traits you look for when you hire employees?
We hire for personality and then train for skill. We seek employees who possess a strong spirit to serve. We can teach you the fundamentals of waiting, cooking and cleaning, but we cannot teach you to smile and give you the desire to provide excellent service — that has to come naturally, which is what we look for.
What advice do you have to younger people hoping to break into the industry?
Be committed. It doesn't pay to work hard and become successful in something you don't enjoy doing. It's best to determine if your personality, ambition, and work ethic are aligned with what the industry requires. In addition, there are no shortcuts in this business. You have to focus on what is required of you to be successful.
What is a five-star customer experience in your own words?
Everyone has his or her own definition of luxury, but ultimately the guest determines what luxury is, not the hotel company. It's not about brick and mortar anymore. Luxury is how well you deliver the experience that an individual guest is seeking, at that exact moment in time. Luxury can be anything – service, a view, something you don't expect, something more then you expected. It's the wow factor that goes beyond expectations. It can be as simple as cleaning the guest's glasses at turndown and leaving a cleaning wipe, or replacing an empty pack of gum in the guest's car.
You are always five steps ahead of the guest in knowing what they want and expect. How does one develop this skill over time?
Anticipating needs is a strong part of our culture. We practice it every day. It's the little things that make the big things possible. Only close attention to the fine details of any operation makes the operation first class.
Do you look at what your competitors are doing? How do you learn from them?
Yes, I am always curious to see what luxury brands are doing, but I also look beyond hotels at other aspects of the luxury industry. I will say one thing that surprises me right now is how many hotel executives are just sitting back passively and letting this crisis happen to them. At Ocean House Management Collection, we take the long view, seeing it as an opportunity to make changes and improvements and, most importantly of all, prepare to open at the same peak level and with the same exacting standards we maintained in the days before Covid-19. We understand that people are seeking safety, trust and flexibility from their travel destinations, and we are fortunate to have such beautiful properties and settings. We will reopen our hospitality operations with a plan that puts the health and safety of our guests and associates first, including appropriate social distancing and sanitizing processes.
Tell us your predictions for travel post-Covid-19 — how are your processes changing, what will you implement that you didn't before?
We developed an extensive list of processes and protocols for each of our departments, and we're calling it the OH Well program – stay well, dine well, play well, including all areas from arrival to departure. As part of this plan, we've added Molekule devices, an air purifier proven to destroy airborne viruses and bacteria, to all guest rooms and suites at Ocean House and Weekapaug Inn, which provide an added layer of protection for both our staff and our guests. I foresee the industry trending in this direction and finding added measures to ensure guest safety, beyond the standard protocols that existed pre-Covid-19. It is more than shifting procedures, but incorporating research-backed tools and resources to provide an added degree of assurance.
How are you reassuring guests to feel safe when they come to Ocean House?
We have a long list of loyal guests, who come back year after year, and even multiple times each year. We are proactively sharing our OH Well plan with them, to ensure them that we are a safe escape, just a drive away, for when they're ready to travel again.
How will travel change?
For 2020, we're seeing the emergence of several trends:
1. An increased interest in drive markets
2. Demand for destinations with beautiful outdoor settings and activities
3. A desire for extra space where guests can spread out and enjoy e.g. suites and cottages
4. Greater demand for longer stays. For example, our average stay currently is four or more days, which is higher than previous years
5. An interest in exceptional, novel food and beverage experiences — with appropriate social distancing of course.
How can people support the hotel while still being in quarantine?
Dream and plan ahead for your next getaway. Join us digitally, and be inspired on social media. We look forward to welcoming you back this summer, and serving our treasured guests again.