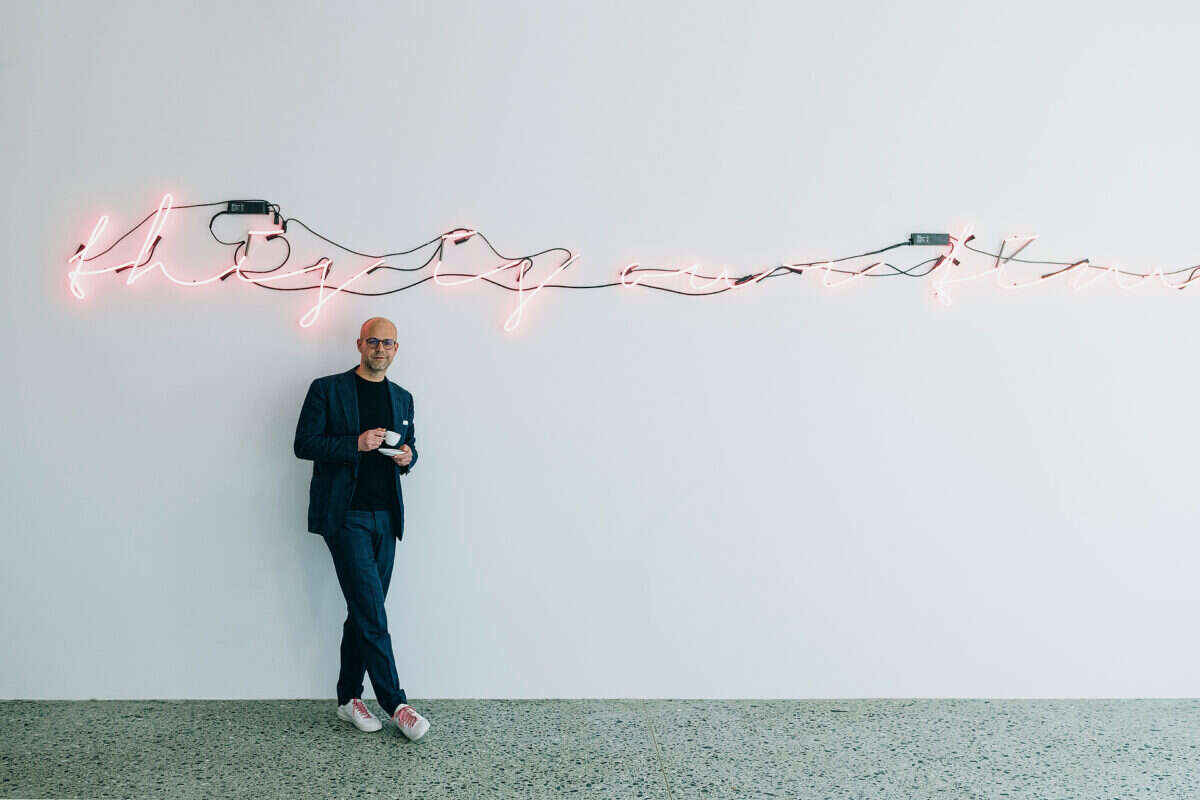 Institut auf dem Rosenberg is arguably one of the best schools in the world. A state-of-the-art private boarding school in Switzerland, it offers students individualized education that prepares them not just for graduation, but for what the outside world will look like in the future.
Founded in 1889, Rosenberg has been steered throughout its lifetime by the Gademann family — fourth-generation Bernhard Gademann is currently at the helm as headmaster and director. Previously a student at Rosenberg himself, Gademann went to university in the UK before moving to New York, where he worked in finance and technology.
His father (who was headmaster before him) sadly passed away in 2009. It was at this point that Gademann and his wife Anita (now the school's head of innovation) needed to decide if running Institut auf dem Rosenberg — with its 230 students, ranging from K1 to Grade 12 — was a challenge that they wanted to take on. "It was very quickly clear to us that we wanted to do it," Gademann says, talking to Elite Traveler from his home on campus. "However, it was important to us that we take the school into the 21st century, which I believe we have achieved."
As a family business that has been educating future world leaders for over 130 years, Gademann is acutely aware that Rosenberg is steeped in tradition. "It's great to have roots, to know where you've come from and cherish that tradition," he says, "but we understand that there is a thin line between traditional and dusty. We take a very forward-thinking approach, and we would never follow traditions for the sake of it."
[See more: Carlton Hotel St Moritz, Switzerland]
This forward-thinking nature can be seen in the team that works at Institut auf dem Rosenberg; teachers are known as the 'artisans of education,' and the attitude towards innovation and experimentation more closely resembles a start-up than a traditional school. This quick thinking and the ability to adapt was also paramount in Rosenberg's reaction to the start of the Covid-19 pandemic in early 2020.
"We were the first school in Switzerland to send students home, which was in late February," Gademann says. "We were seeing flights shut down and border closures… We announced the news at midday. Four hours later, 50% of the students had departed — it showed that the parents were ready and happy to bring their children home."
"Three days later, we moved online," he continues. "We developed new timetables for the students. The day before we went live, we realized we had a bandwidth problem — as we normally do everything via Wi-Fi — and spent until 3am hardwiring every single computer in the school. We had a help desk ready for any issues. We taught online for two-and-a-half months."
After this, Gademann and his team agreed that they would invite all the students back for the summer term and to stay over the summer to make up the time missed earlier in the year. "The vast majority of the students came back," he says, "so they actually ended up receiving more face-to-face education in 2020 than they would in a normal year."
Compared to many traditional schools around the world that shut their doors for months in 2020, Institut auf dem Rosenberg's flexibility and dedication to its students' education during the pandemic is commendable. Gademann admits that it is "much harder to keep going than to call it quits," but argues that for him, it's about "leading by example. It was very important for us to say to our students: Here's a challenge. Here is adversity. What are we going to do about it?"
Having attended Institut auf dem Rosenberg when he was young, Gademann admits that his time at the school has had a big impact on his personality and his outlook, which he now uses as headmaster to improve Rosenberg and prepare for its future. He says there are many reasons why being able to attend Rosenberg was a "valuable experience."
"One thing is the diversity in terms of nationality and backgrounds — we have over 50 nationalities at the school," he says. "But another type of diversity we have is students who are maybe third-, fourth- or fifth-generation wealth, and those who are first-generation wealth. There's always a risk that family enterprises or offices, at some stage, forget their origins. To preserve that hunger, that interest and background, is really important."
"I always say to our graduating class, 'remember this: You're privileged, and that's a beautiful thing. But you're sitting in a seat here today because someone in your family decided to take a massive risk. They decided not to be ordinary, and it's thanks to them that you're here today. So that means you owe something to your family — and you also owe something to society."
Thankfully, the students at Institut auf dem Rosenberg naturally have an understanding and sense of their responsibility, according to Gademann. Many of the school's charity and philanthropy events are produced thanks to the students' initiative, and every project at Rosenberg has a sustainability aspect to it.
In fact, the school's approach to sustainability goes as far as having its own experimental facility, known as the Future Park. It began with a Climate Garden project featuring two domes: One is set to the climate of Switzerland today, and the other predicts the climate of Switzerland in 2085. Part of the reason for the Future Park is to allow students to ask questions and predict what life could look like in the future.
"We often don't know the outcome of a project [at the Future Park]," Gademann admits. "If students have a question that we don't have the answer to, our artisans are not afraid of saying: 'Well, that's a great question. I don't know the answer, so let's find one together.'"
The Future Park is also home to an autonomous farm bot that does everything from watering plants to removing weeds — and Gademann notes that this is one of countless robots on Institut auf dem Rosenberg's campus. "We have many [robots] at the school," he mentions. "Little ones like arms and robot kits for younger students…. We also have three industrial-grade robots that are usually only used in industry and a Boston Dynamics robot called Spot."
Spot is particularly interesting — students always have curious reactions to meeting the robot, and there are myriad ways that it aids learning of all kinds. For example, Gademann says, "Primary school kids immediately have an emotional connection to the robot. And it's fascinating to look at a robot like that and ask our future artists, what does it mean for art? Could the robot paint something? It's important for us to take a 360-degree view on this — we're not a tech school, we're a school for the 21st century."
It's not just within the Future Park that the school is preparing for, well, the future. Gademann is very focused on the ways that our world may change, and how he can help prepare his students for what entrepreneurship will look like in 15 years time. He argues that our future lies with intelligent machines, which means having to decipher what skills humans need to focus on.
"The world is changing rapidly; machines can be trained and programmed to understand complex problems and solve them," he says. "So it's creativity and problem solving — the interpretation of data — that will become key skills for the future, regardless of the industry."
With this in mind, Institut auf dem Rosenberg has recently launched a new qualification that students can obtain as part of their education called Humanix. Gademann explains that the new program has been designed to "give students all the skills and understanding they must have for the world today, in order to seize the challenges of the future and be successful. We want our students to be the drivers and shapers of the future."
It's not just the students that are learning at Rosenberg, either. Gademann admits that working with these future leaders and entrepreneurs has helped him and his team stay in touch with trends and fresh concepts. The school's artisans are just as willing to learn and grow as the students they teach, helping the school stay ahead of the curve.
"I think this is the first truly enlightened generation," Gademann muses, as our conversation comes to a close. "Young adults today are quite idealistic — it's a beautiful thing to see. In the '90s, when we were growing up, art and culture were so cynical. It was all about sarcasm."
"They want to do better; they have an understanding of their responsibility and they want meaningful things," he continues. "Young adults nowadays want to be much more authentic. There is a desire to make a real difference. They've learned that if you believe in a thing, you should stand for it — and whatever the issue, we now have so many more tools than the generations before us to address those problems. So I think there's a real chance they will succeed — and I truly believe in that."
[See more: The Alpina Gstaad, Gstaad, Switzerland]
This article appears in the 04 Mar 2022 issue of the New Statesman, Spring 2022