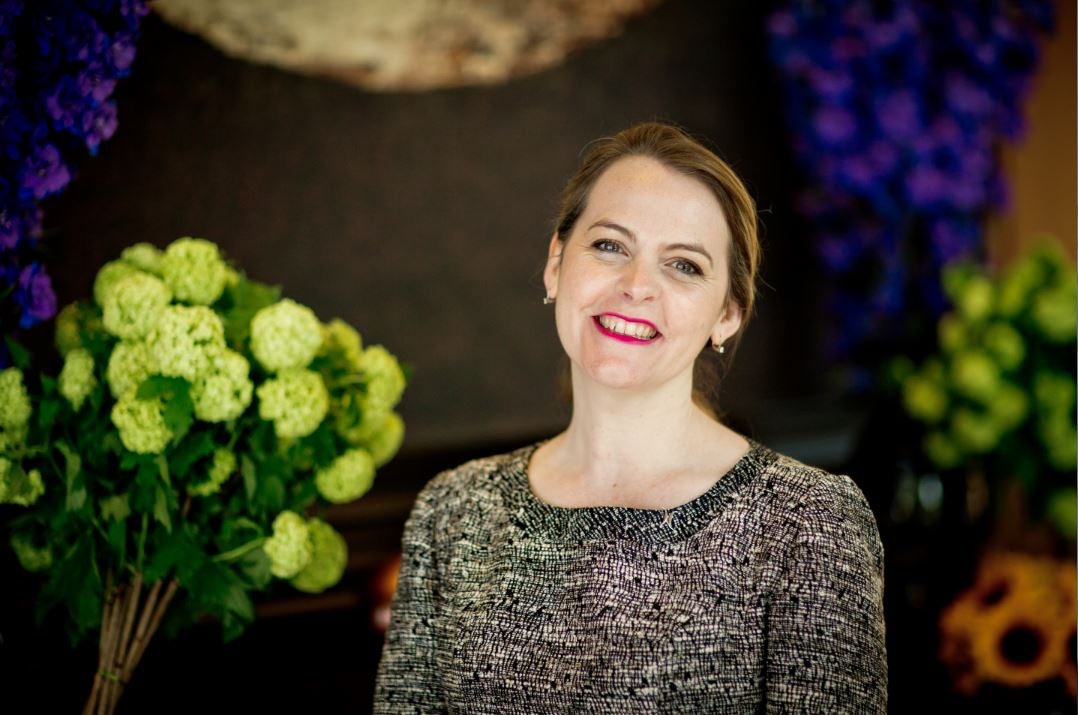 By Lauren Jade Hill
Director of operations for Dorchester Collection's contemporary Mayfair hotel, 45 Park Lane, Emily Freeman, gives us an insight into what distinguishes this luxury hotel and what we can expect to experience there in the coming months, from art showcases to an exclusive pop-up at CUT at 45 Park Lane by chef Wolfgang Puck.
What makes 45 Park Lane stand out among other luxury hotels?
45 Park Lane is situated in the enviable location of Mayfair, making it the perfect location for guests wanting to explore Hyde Park and central London. The hotel has just 45 rooms and a Penthouse Suite, providing guests with a place for a relaxed and luxurious stay, with a vibrant and passionate team on hand. We are also proud to be home to renowned chef Wolfgang Puck's first restaurant in Europe, CUT at 45 Park Lane, which serves fantastic modern American food in a contemporary environment.
What would you say is behind the success of the hotel?
First and foremost, the success of 45 Park Lane is down to our team who make guests feel like they are home away from home; we are always listening to our guests and thinking of innovative ways to make their stay memorable. We have a rotating art series of exhibitions showcasing the works of up-and-coming and established artists in our public spaces, including the lobby and BAR 45. There is always something new and exciting for our guests to see.
What role do you play within the hotel?
My main role is to mentor the team, providing direction and allowing them space for development. Aside from this, my day to day role is to enjoy meeting the guests and constantly learn from their experiences and expectations. There's a lot of listening involved in my role.
What aspirations do you have for the hotel going forward?
We want to continually improve our service offering to ensure that every guest leaves with a desire to return. We also value our team so we work on ensuring that they enjoy their roles by providing opportunities for learning and development.
How does 45 Park Lane reflect the destination it's in?
45 Park Lane opened with a spectacular showcase of art by ten of Britain's leading artists adorning its guest rooms, hallways and restaurant. Work by top British artists – such as Sir Peter Blake, Patrick Hughes, Bruce McLean, Joe Tilson and Brendan Neiland – features on each floor, including Sir Peter Blake's 'Dancing Girls over Rotten Row' in The Penthouse Suite, and all 16 of Damien Hirst's limited edition 'Diamond Dust Psalms' line within CUT at 45 Park Lane. We recently had an exhibition by Lhouette, an artist who is leading the way in a new wave of young British artists. In addition to art, we have a great partnership with British haute couture fashion house Ralph and Russo, and their Mayfair Boutique is situated just a short walk from 45 Park Lane. We showcase Ralph and Russo's beautiful shoes and bags in the hotel.
Tell us something we may not know about the hotel.
Guests staying at 45 Park Lane can navigate Hyde Park using the hotel's Brompton Bicycles which are in our signature color, purple. In addition to 45 Park Lane's status as an established British art emporium, the hotel can also arrange unique art experiences for guests including personal exhibition tours by the exhibiting artists themselves, private lessons with a selection of the artists, or an art journey beginning in 45 Park Lane's Library with an art curator from Ackerman Studios introducing guests to the art within the hotel and providing insights into London's art scene.
Other unique experiences include our Bloody Mary Trolley during Sunday Brunch whereby guests can have their own bespoke cocktail made by their table, or they can choose from our Bloody Mary Menu, which includes a hearty beetroot based option. At CUT at 45 Park Lane we have a carefully crafted wine list which complements the menu with distinct international selections and a natural emphasis on American wines, including Wolfgang Puck's very own Wolfgang Puck-Schrader "Beckstoffer Georges III Vineyard", Napa Valley, of which only 80 cases were made.

What's coming up in 2017 for the hotel?
We continue to invite exciting artists to the hotel, and next up is the exhibition 45RPM, which is a collaboration between royal artist Christian Furr and 'Godfather' of rock photography Gered Mankowitz. We are also excited to announce that chef Wolfgang Puck will launch a pop-up of the renowned Spago at CUT for four days from Wednesday, June 28th. For four days Wolfgang, in collaboration with Spago's chef de cuisine Tetsu Yahagi and CUT at 45 Park Lane's executive chef David McIntyre, will take over the kitchens to serve a Spago-inspired menu such as the renowned squid ink garganelli served with Maine lobster and the Emmental cheese soufflé. It will be great to get the three chefs together for this exclusive pop-up.
The Dorchester Collection, 45 Park Lane, was the winner of the Best Boutique Hotel category in the European Hospitality Awards 2016.