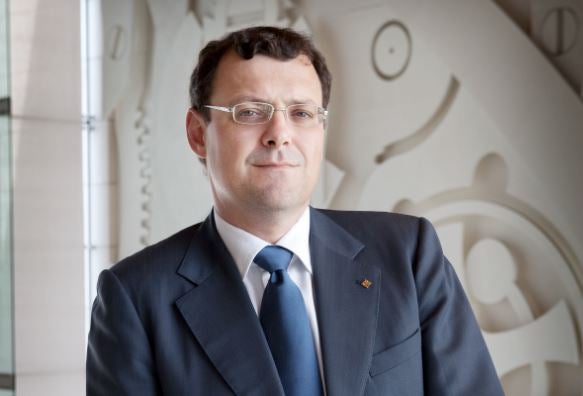 Patek Philippe has been crafting timepieces to the most exacting standards of excellence since 1839. Roberta Naas talks to Thierry Stern, the fourth generation of the family to run the business.
Thierry Stern, president of Patek Philippe, has a tall order to fill. As head of one of the oldest independent family-owned watch brands in the world, he must continue its legacy and not only bring the company through another generation of precision and innovative new technology, but also position it properly for at least another 150 years of watchmaking excellence.
Since its inception, Patek Philippe has systematically built an empire – one graced with collector-owners such as 1920s moguls Henry Graves and James Ward Packard, who vied to acquire the most complicated watch in the world; silver-screen celebrities such as Richard Burton; artists like Andy Warhol; and a host of social and political leaders. Patek Philippe has been at the forefront of pioneering technical inventions, holds more than 80 patents and continually leads the way with new materials and new systems that surprise and delight watch lovers around the world.
"I know it is important, especially in today's market, to be very innovative with products," says Stern. "One of the best pieces of advice [my father] ever gave me was not to rush, to always think about the product first, to take the time to excel and be creative, and to offer the one thing our customers really want that may not exist in our line."
Stern grew up in the watch world, "playing" in the Geneva-based factories and following his father Philippe and grandfather Henri around. The Stern family has owned and operated the brand since 1932, and Thierry's rise to president in 2009 is part of the company's long-term vision to control its destiny. The goal, according to the 46-year-old Stern, is to continually demonstrate to retail partners and end consumers alike that Patek is there for them, that the brand offers a philosophy of quality and trust through thick and thin.
"The watch world may be going through difficult times right now, but we have never left the side of our retailers or followers to run to another country that may be stronger economically. It is our plan to grow our relationships in each market according to its abilities through strong times and challenging times," explains Stern. "This is the way we can establish long-term trust and strong relationships, and continually instill confidence in the quality of our watches."
Stern is incredibly passionate when he talks about the brand. To him, Patek Philippe is a unique blend of heritage, exceptional quality and a vision for the future. "It would be easy to rest on our laurels, but that would not be fair or right," he says. "There is always room to be creative and keep improving."
This is a creed Stern takes seriously. While each generation of the Stern family has made it their business to listen to every minute repeater made in the workshops, Thierry Stern is exceptionally passionate about this single task. He has developed a checklist by which he grades the sound, tone and strength of each and every chiming watch built, and he is not afraid to send a watch back to the drawing board if it doesn't meet his discerning expectations.
"Each [watch] must be perfect when it leaves here; there is no exception," says Stern, who has been known to send an imperfect watch or two back – not just for rebuild but to its demise. This means having it completely taken apart, melting down the case and starting from zero. "We can do these things because we are family owned; we don't have shareholders pushing us to get the product out. We can focus on quality. This is the
strategy that works for us.
"Our collectors expect the best from us, and we must deliver every single time," says Stern, who notes that American collectors differ from most others in the world in that they are typically more inconspicuous. "US collectors only share their watches or collections with others who they know can enjoy them too. They are quieter, more discreet – a lot like Patek."
Stern says he enjoys interacting with customers and frequently travels the world, visiting retailers and meeting with Patek Philippe lovers. In fact, our interview took place in New York City, where the brand recently opened a shop-within-a-shop at Wempe jewelers, on prestigious Fifth Avenue. Wempe underwent a major two-year-long expansion and selected Patek Philippe as one of its anchor boutiques. "It shows the level of trust and the strong relationships we have built," says Stern.
In addition to opening this new boutique within Wempe in New York, the brand announced the upcoming Art of Watches Grand Exhibition 2017 to be held in New York in July. It was Thierry's grandfather, Henri, who pioneered the mid-20th-century move to open a distributorship in America, making Patek one of the first brands to establish offices and start a long-term relationship with US retailers. So the plan to bring the exhibition – which takes several years to prepare – to New York is a perfect fit.
"America is the biggest market for Patek, and since we also have such a long tradition here, it was the right choice," says Stern. He noted that he followed family tradition and spent several years living in America and learning the market throughout his years of training within the brand. As such, he has garnered an intimate inside look at the market and is building special US-exclusive products that will make their debut during the exhibition.
In addition to specially made watches for the US market, the exhibition will be a grand-scale representation of Patek Philippe in New York. The brand is taking the entire space of Cipriani 42nd Street for two weeks in July, transforming it to showcase a small museum of historic products, a dedicated room to listen to the chiming and minute-repeater watches, an archival library and more. Watchmakers and artisans will be brought in from Switzerland to demonstrate their work.
"Nothing like this has ever been done on such a large scale before," says Stern proudly. "We are excited to bring Patek Philippe to New York. There will be something for everyone. Even the collectors who know Patek well will be thrilled to see the amazing layout, the insight and, yes, the specific pieces for the US market."
Stern is correct in saying that no other brand has ever staged such a huge event open to the public free of charge. The brand will bring in more than 400 watches – current and archival – including some of the rarest and most expensive watches in the world. At a time when most of the industry seems to be suffering a bit in a challenging geopolitical economy, Patek Philippe simply stays its ground, continuing to place the emphasis on innovation and service, and positioning itself as the brand to trust, generation after generation.