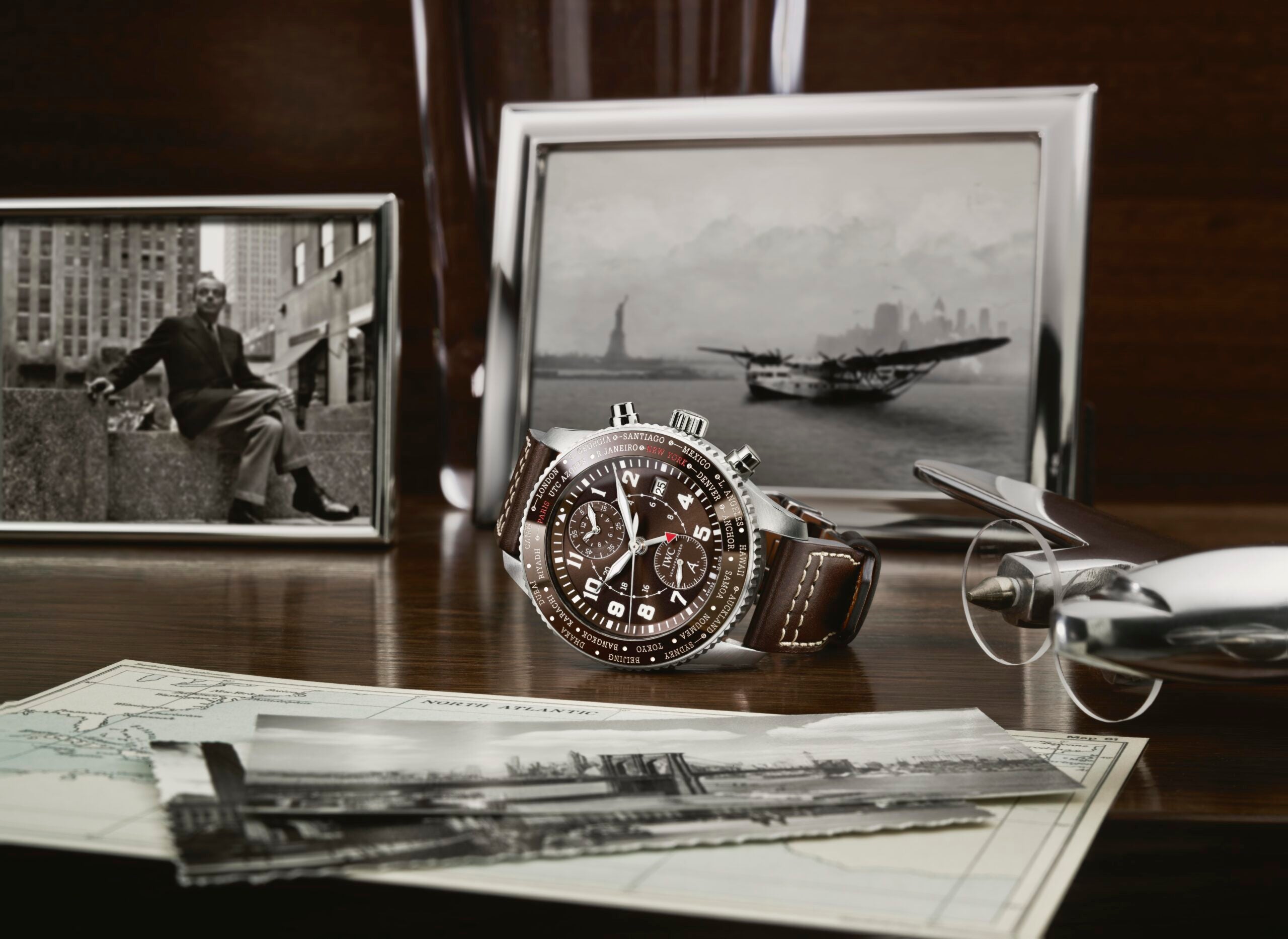 Since IWC Schaffhausen was founded in 1868, the Swiss watch brand has been synonymous with aviation, creating the world's most exceptional pilot's watches and aviation watches in history. The brand once created watches for the British Army during World War II and has since been a reliable timepiece for pilots through the decades.
With that, IWC celebrates important pilots who have made – and are making – history, including this year's 'The Longest Flight.' Since 2007, the brand has created various timepieces celebrating one of the most accomplished authors and aviators, Antoine de Saint-Exupéry. The French author and pilot is most known for writing the world-renowned children's book, The Little Prince, but also his role in the first flight from New York to France in 1939 in a large seaplane that decreased travel time between Europe in the United States from three days to 20 hours and ultimately enabled commercial line service between the two continents.
IWC launched a limited-edition chronograph this year to celebrate the 80th anniversary of this flight, called the 80Y Timezoner Chronograph "80 Years of Flight to New York." It was in New York after this flight that he wrote The Little Prince. This marvelous timepiece will be limited to 80 timepieces, and the proceeds from the sale of the first watch will go to The Antoine de Saint-Exupéry Youth Foundation, which supports children's education.
Elite Traveler spoke exclusively with IWC creative director, Christian Knoop, on his creative expertise and continuous inspiration for creating new watches for IWC.
Tell me about how IWC became involved with honoring Antoine de Saint-Exupéry.
At IWC we think we have a long history with pilot's function. This dates back to the 1930s when the former owner's two sons acquired their pilot's licenses and inspired the father to do pilot's watches. This was ignition point of doing watches for professional pilots for IWC. We worked with several people in the Royal Airforce for many decades, and back in the 1990s, IWC was actually the first brand to establish the archetypical pilot's watches in the context of luxury.
In 2006, we started working with the foundation Antoine de Saint-Exupéry, which is managing the heritage of this famous pilot and writer and recreated several editions of past watches, which were dedicated to either Antoine de Saint-Exupéry and his book The Little Prince, which were huge successes.
For the 80Y Timezoner Chronograph, we started talking about this nearly two years ago when the foundation told us about this trip to New York and that he was nominated to be one of the celebrities on this flight. It was the first flight of its kind with this big seaplane from France to New York in preparation of line service they wanted to establish between France and the US. And Saint-Exupéry was not only known as a pilot, he really was a celebrity in France, so he was nominated to be on board the plane. At the time [in 1939], it took 20 hours or something like that [to get from France to New York], which was a record speed back then.
What is special about this new watch?
The watch is dedicated to this story and this flight to New York. This watch is a timezoner, which allows you to jump between the time zones. This why we've highlighted Paris and New York on the outer city ring to support the story. And this timezoner is an IWC patent, where you can press this outer ring and move the hour hand. You move it from Paris, which is at, say, 12 o'clock, and if you then move it to New York, it's six times earlier and so you jumped within a fraction of a second between the cities you want to read the time in. You have an inner circle that's a 24 hours indication, which allows you to read if it's morning or night. Even if you cross the date line, the date will also change. So when you go back and forth around the world, you can read any time or any time zone.
As creative director, how did you approach this design?
The watch comes in a stainless steel case with the tobacco-brown calf-leather strap and also a brown dial and brown ceramic bezel. This is an aesthetic we established in 2006 already, its the design code for the Antoine de Saint-Exupéry line, which will always work with the brown and the special typography and special detailing. This one was limited to 80 pieces, comes in the stainless steel case and features one of our manufacture chronographs. It's combining one of the most elaborate movements we have in IWC with the unique case function, which contains several patents that we hold at IWC. And then we have on the backside an engraving of that famous seaplane, the Latécoère.
To speak to a modern customer you have to do something which is new. To have the history but also be able to tell the story here and now using media and the latest technology helps bring that story to life.
What does the watch symbolize for the wearer?
It stands for a very functional product that can be used in different moments of life, especially traveling a lot because a timezoner is a very functional and very useful watch. But then seeing that, it also transports an amazing story of Antoine de Saint-Exupéry and one of the most famous writers and pilots in the world and to coming to the US and opening an era of new travel and air travel at the time. It's a really interesting moment and a really powerful story to keep in mind.
Tell me about the foundation in which the watches benefit, and why is this specific organization important to IWC?
The foundation does an incredible job in working with young people, supporting the libraries and schools around the world and fighting literacy. We are happy as a partner choosing to support this project. This also inspires actually both ways: It's not just that we donate something, but we still look to tell the story and keep the memories alive about Antoine de Saint-Exupéry as a creator of an incredible heritage.
And I'm still impressed how relevant these stories are. I remember a couple of years ago when we launched the first The Little Prince edition in Asia. People love the story so much that this the starting point of the completely new angle in this partnership to have, not only the Saint-Exupéry watches, but also The Little Prince watches as part of our collection tells me how relevant the works Antoine de Saint-Exupéry still are and how much they speak globally to our customers. And a younger clientele still find this relevant. The Little Prince is among the most accomplished and the most translated books in the world. So that's proof how important still the message of Antoine de Saint-Exupéry is.
Tell me how the planes and watches coincide together.
When you see the layout, this kind of two-level layout, with cabins and bathrooms on the lower level and the lounge area, everything was specially designed. I mean, they had all the furniture, all the cutlery, everything was designed to fit this luxurious plane. This makes it very, very advanced, and actually everything needed to be ultra-light so the plane was made with an aluminum construction. They're using the latest materials [at the time] but still created a luxurious ambience. I find this interesting with the planes and also with the watches that both combine technology and beauty in an incredible way. Each finds a good balance between the technology inside, the innovation, the functionality and the aesthetics.
How are you trying to attract new – and perhaps younger – consumers through your work as a creative director?
We see growing interest in mechanical watches with younger clientele because this is a counter movement to global and digital worlds. People like to have something that is physical, which stays with them, while also connecting to or linking to memories. What you have inherited, or you purchased with your first salary, stays with you for a longer time. Especially in the younger generation, where you have fewer products, people are more mobile; they don't want to accumulate lots of furniture and cars, but the mechanical watch is something which really captures these emotions and is relevant. Also, there's a sustainability aspect to it, which you keep for a long time and can be repaired, which is completely eco-friendly, not plastic and not disposable, like a digital item, which is replaced every year or every two years. This generation is very well aware of the environmental impact of every product, and this is an advantage we have with a product like this, which is handmade, only metal and a little bit of leather or vegan alternatives.
How do your customers influence the design?
We have several examples of our customers expressing their opinions, on formats like a forum, about the product which has influenced recent productions. For example, we re-launched the pilot's watch, and in 2016 we brought back the "9" back on the dial, because it was one of the problems we picked up with our customers. Or they didn't appreciate the triple date that we had in the 2012 watch, so we moved it back to a single date and we relaunched an aqua timer in 2014. The previous collection didn't have any titanium, and titanium is very much a part of the history of IWC and our competence as a case manufacturer, so we brought titanium back, and we corrected it. We respond to that and build that relationship with our customers and collectors. Thanks to technology and close personal relationship, it helps us really to connect with these customers. We listen and take these comments on board and develop the product and the collection in the direction that reflects this.
What are some ways you're innovating with IWC?
Every new product, every collection we're walking a fine line between the past and the future. We have to respect the past, we have to respect the design codes and the DNA of the brand, but also we have to introduce new elements, innovations, new materials, new technologies and new functions to keep surprising our customers. If you go too much towards the history, we repeat ourselves, we become boring, we become vintage. If we go too advanced, it might not be identifiable as IWC or as a specific collection. It's finding a good combination between both that is important.
We have certain territories where we're building very strong innovations on the movement side, especially calendar movements, with chronographs. And we recently introduced a new material which combines our know-how in titanium and ceramics. We have been known as a pioneer in ceramic and titanium watches since the 1980s, so we have certain innovation territories where we keep evolving and keep innovating.
IWC in New York, +1 212 355 7271, iwc.com