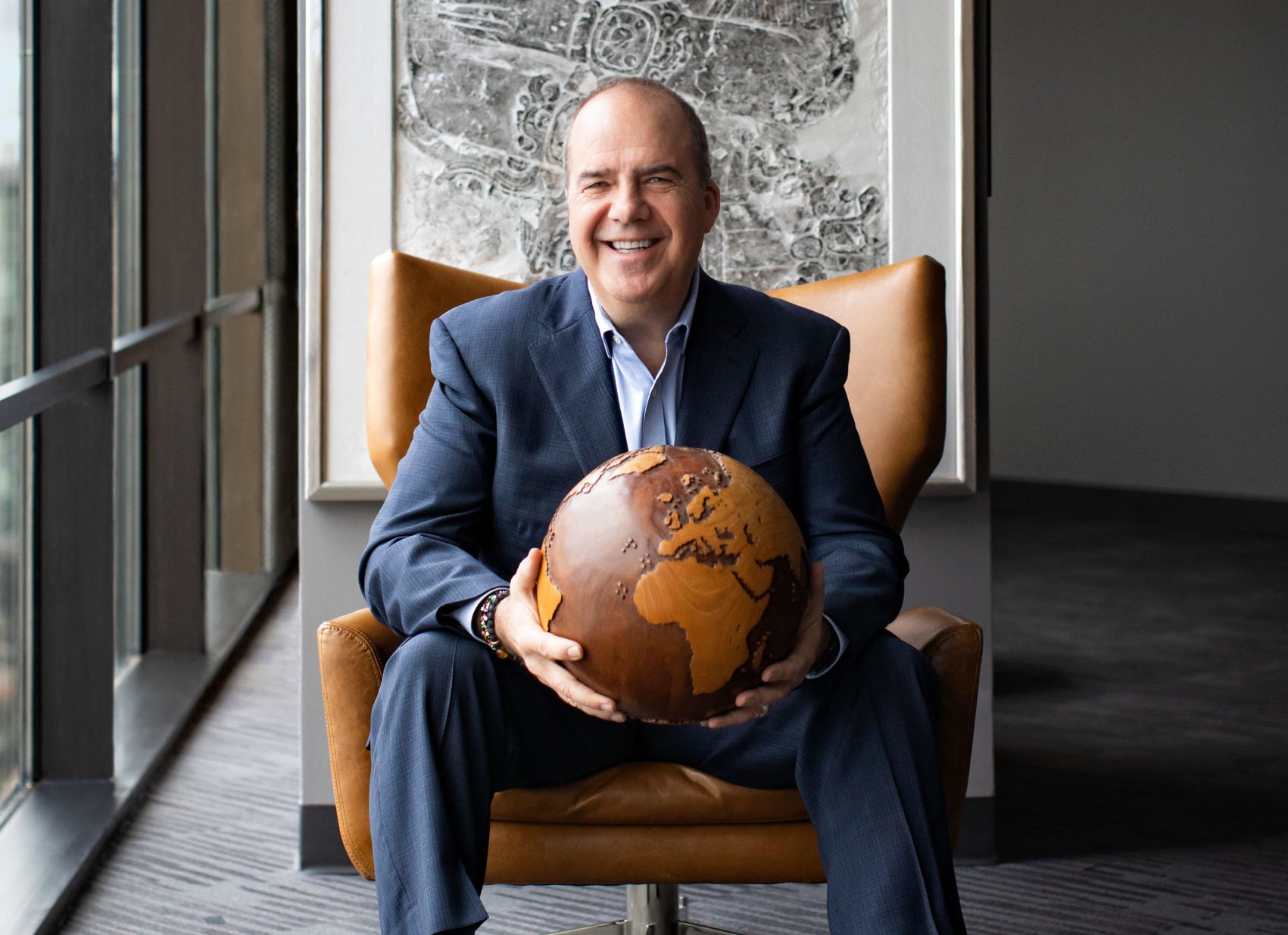 Following a record-breaking 2019, Virtuoso, the world's leading global network of agencies specializing in luxury travel, was expecting similar success in 2020. The Covid-19 pandemic may have put a halt to that impressive growth but the company is still planning for the long term.
We spoke to the company's CEO Matthew Upchurch before the outbreak started in earnest, to find out how the company continues to attract more members every year and get insight into the biggest trends in luxury travel.
How did you initially become involved in Virtuoso? What were you doing before?
You could say I was born into the business thanks to my father, Jesse Upchurch, whose legacy is rooted in travel and tourism. He acquired a high-end tour operator that operated globally, Percival Tours, and built it to into a leader in its field. His passion for photography led him to launch some of the first photographic safaris to parts of the world travelers hadn't traditionally ventured, like Africa and India. To make these new destinations more comfortable, he introduced some novel ideas – like adding air conditioning to the motor coaches. He was a conservationist at heart, a member of the 1001 Club with WWF, the Chairman of the African Fund for Endangered Wildlife where he donated land in Nairobi that the Giraffe Center next to Giraffe Manor sits on now.
I then lead the drive to purchase an organization called Allied Travel, the nation's oldest agency co-op established in 1950 by a group of independent luxury-focused agencies. In 1986, we merged the two companies into Allied Percival International, which served as the basis for the network we have today. The insight and experience I gained from working both sides of the business led me to realize this is an industry based on human connections. We're all interdependent and share a common goal, which is ensuring our clients have the best travel experiences possible. That fundamental belief serves as the cornerstone for Virtuoso.
This year marks the 20th anniversary of our rebranding to Virtuoso and the global network we are today has grown beyond anything I ever imagined. I'm proud that we've stayed true to our core values and our lane, focusing on an industry-leading membership that specializes in luxury and experiential travel, even as we've expanded the network to over 20,000 travel advisors across more than 50 countries. Our preferred partner portfolio comprises 1,800 of the best hotels, cruise lines, airlines, tour operators, destinations, and every other segment of travel – the most storied travel brands in the world and many for whom we're the largest producer.
For travelers, it means we're able to leverage our significant buying power of $30 billion in annual sales and negotiate benefits that bring tangible value to them, from more than $500 per stay at a partner hotel up to several thousand dollars on select cruise lines, as well as leverage the one-to-one relationships that enhance the experience for clients.
Tell me about the community between travel agents, clients and families that you've helped create
I love that you've used the word "community" because that's exactly what we've worked to create. The connections born from this community run deep and are rooted in trust – agency-preferred partner relationships, advisor-client relationships. And as their trusted ally, our job is to bring them all together.
I want to clarify that ours is a network of travel advisors rather than travel agents. That may seem like semantics, but there is a distinction in the level of consultation and care that comes from a professional travel advisor relationship versus one that is more transactional. It's why our clients come to us. By bringing people together who not only love to travel, but who know that having experiences and interactions with the people you meet along the way, it enriches life in unimaginable ways. While we are in the travel space, Virtuoso is about enhancing human connections. Travel is better when it's personal because you can't take the human out of humanity.
In your own words, what does it mean to be a Virtuoso partner/company?
Virtuoso is a by-invitation-only network and we look for the very best when bringing in new partners. Thankfully, it's not a decision that rests solely on our shoulders. Every partner division, from hotels to cruise lines to air, has an elected committee of Virtuoso advisors who help guide the application process. We're a member-driven organization, and that means that every decision is intended to benefit our travel agencies, their advisors and, ultimately, their clients.
Our preferred partners go through a thorough vetting process, ensuring they are the best in class. They offer a higher level of service, a richer experience and more added extras for Virtuoso clients. Once partners come into the network, it means they can start forging better and stronger relationships with our members, which translates into more business for them. We have some partners who tell us they wish they could fill their entire hotel or ship with Virtuoso clients because our advisors do such an exceptional job of matching the right product with the right guest.
The Covid-19 pandemic has hit the travel industry in a huge way. What is Virtuoso doing to counter the effects of the crisis?
The Covid-19 pandemic is like nothing we've ever seen. It's brought the travel and tourism industry to a standstill, and new figures released by the World Travel and Tourism Council show that even under the best case scenario – where travel opens back up by October 2020 – the job loss will be somewhere in the neighborhood of 98.2 million and the economic loss will total in excess of $2,686 billion. The enormity of this crisis is felt on a global scale by everyone – the industry, every business that relies on tourism, and the travelers, themselves.
Virtuoso is a small business that is designed to help other small and mid-size businesses compete with big corporations on the world stage. That mission hasn't changed because those businesses need our help now more than ever to keep their doors open and to prevent a few key players from taking over the industry. While it will be bad for business if that happens, it will be worse for travelers. Fewer players in the market means less choice, the inability to personalize experiences and potentially higher fares. If we don't keep these small businesses alive, the travel landscape will become dominated by the equivalent of big box stores.
On the client side, our message since the outset of this crisis has been simple: Dream Now, Travel Later. We know there is pent-up demand with people eager to get back out there. Travel is interesting because it has a triple bottom line. There's the anticipation you feel from planning, the excitement of the actual trip, and the joy created by a lifetime of memories. While we've all been sitting at home for the past several months, it's the dreaming of future travel and memories of past trips that have sustained those of us with wanderlust. And it's that very premise that led us to create a new version of our Virtuoso Wanderlist program, allowing people to virtually explore every corner of the world, dream and plan future trips, and share them with the people they want to travel with as well as their travel who can make it all happen. We rolled out this new version of Wanderlist in May and have seen firsthand how much people are looking forward to that next trip.
Do you anticipate any long-term changes to the company as a result?
I anticipate it will take a long time – months, if not years – for the travel industry to fully rebound. And Virtuoso will be no exception, unfortunately. Like others, we've had to reduce our staff and learn how to prioritize the deliverables that provide the most benefit for our entire network.
Prior to the pandemic, we were already in the process of changing our structure to become a product-based company. While those plans were accelerated, it did provide the opportunity to restructure now so that we're in a better position when we come out of this. We will be leaner for some time, but I do feel like we're set up to perform at a higher level in what we bring to our members, partners and clients.
How will the Covid-19 pandemic change the way your customers travel, both short- and long-term?
Travel has been interrupted in unprecedented ways. We've never seen every single border closed and the rules for reopening vary by country, and even by state within the US, making it tangled web for travelers to navigate. It's well documented that close-to-home travel will return first, but this is an important first step to rebuilding consumer confidence. It's also important in establishing expectations because the experience is not going to be the same right now. There is reduced staff and diminished service and amenities. Only time will tell if travelers will be willing to accept these parameters in exchange for paying close to the same rate they would've paid six months ago, because the one thing we're not seeing is the typical post-crisis fire sale.
Long-term, there will be a renewed sense of purpose behind every trip, whether it's direct service-oriented or a way to recharge and destress after what we've all experienced. We're already seeing increased interest in wellness travel and family travel, two areas that indicate how people are now prioritizing what's most important. Whatever the motivation, it is vitally important that people continue to travel. The livelihoods of people, the welfare of endangered species and the preservation of some of the most delicate environments in the world depend on it. Our hope is that governments have used this downtime to recalibrate so that over-tourism is replaced with responsible tourism. If that happens, we will have some silver lining to this crisis.
What value do travel advisors give to clients, especially the ultra-high-net-worth audience?
Warren Buffet has a saying, "price is what you pay, value is what you get." Travel advisors bring value to their clients on a multitude of levels. They bring years of experience, knowledge and connections that the average person could never amass on their own. Their collective reputations are leveraged for their client's benefit. They quiet the noise, cut through the digital clutter and both save their clients time on frustrating research and while also enhancing the fun part of dreaming. The collaboration with their clients creates personalized experiences in unique destinations because no one ever calls up and says, "I want to go where everyone else is going this summer," or it allows travelers to see old favorite places in a new way.
The average luxury traveler spends $9,897 per year on travel. For the average Virtuoso client, this jumps to $20,645 a year, while we have some clients who are magnitudes more. But we cater to anyone who wants to save time and money and is focused on value and excellence. It's not just the value of the trip, it's valuing the advisor who delivers individualized attention, someone they can trust guiding their decisions and travel experiences that create lasting memories.
What are you most proud of in your career?
This business has evolved and expanded, and if you had told me this is where we would be in 30 years, I'm not sure I would've believed you. What I'm most proud of, though, is that we have created a path for both young people and career-switchers to enter the travel advisor profession and we've made it an attractive, viable option for them. We've seen established advisors rally around these newcomers, mentoring them and helping them establish their careers.
There's no doubt about it, this used to be an aging profession. And when Bill Gates stood up and told people they could throw away their travel agent's phone number because of Expedia, many of the pundits wrote us off. To have a strong, thriving network of more than 20,000 advisors is a testament to the value still placed on genuine human connections and service. I wanted to be able to look my kids in the eye and say with complete confidence that being a travel advisor is a career they should consider, and I feel we've accomplished that goal. The fact that we welcome more millennials and even Gen Z advisors every year, means we are attracting new clients who are of these younger generations.
Do you have any favorite destinations you travel to with your family?
Any time I get to see a destination through my children's eyes, it becomes a favorite. Last year we spent three weeks in Africa, which is someplace that is deeply personal to me. It was the first visit for my two youngest sons, and they were mesmerized by the people, the culture and, of course, the wildlife, big and small.
There are others that speak to me – Mexico, where I grew up until age 11; Australia, where we have good friends – these have been great family trips. We also went on a service trip to the Ecuadorian Amazon through ME to WE, which brought us even closer as a family. I highly recommend it.
Why do you love to travel?
Travel pushes you out of your comfort zone and unlocks a completely different part of your mind that makes you more receptive to new people, new cultures and new experiences when otherwise you might be guarded, missing out on the beauty of life. Travel changes your perspective of the world and your place in it.