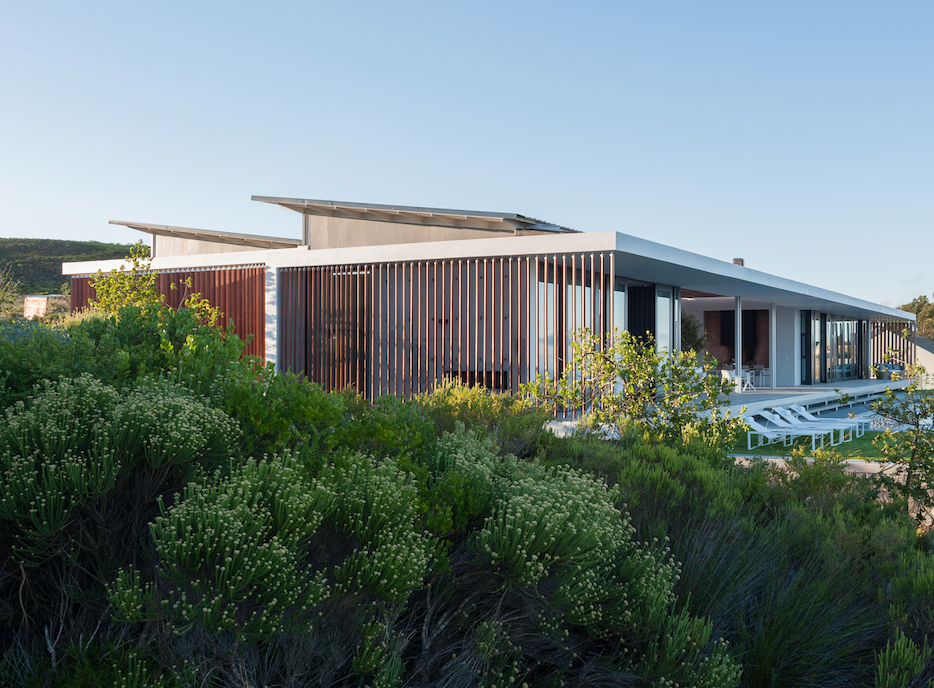 Giving back while traveling allows you to connect on a deeper level with the planet, local communities and philanthropists aiming to improve the world in which we live. We may not be able to travel right now owing to the Covid-19 crisis, but once life returns to normal we all need to be kinder to each other and to travel more responsibly. Elite Traveler has rounded up the best hotels and lodges around the globe that allow guests to actively participate in and charitable programs that do good.
Grootbos, Villa 2, South Africa
Located just two hours outside of Cape Town, the eco-friendly Grootbos helps protect more than 6,000 acres of one of the world's six floral kingdoms (regions recognized for their diverse plant species), the Cape Floral Region in the Fynbos Biome. Situated among colorful rolling hills filled with exquisite flora, the enchanting Grootbos property seamlessly blends into the landscape and has a beautiful modern design.
The four-bedroom Grootbos Villa 2 can only be rented for exclusive use, and it has a private infinity pool, kitchen, sauna, large gym, entertainment room, airstrip, wine cellar and indoor-outdoor living — all with views over the stunning landscape. Outdoor adventure reigns supreme: Go on a botanical-focused 4×4 tour to see more than 800 types of plants, including newly discovered species; forage for food (later on, a private chef will cook your bounty); visit beehives with a resident beekeeper; go horseback riding; or indulge on a private wine tour.
Giving back
Lifelong philanthropist Michael Lutzeyer has dedicated more than two decades to conserving land in the Fynbos Biome. In 2003 he founded the Grootbos Foundation to further protect this critically endangered area's flora and fauna, and also educate, employ and support local communities.
During your visit, plant trees as part of a reforestation program, go out in the field with entomologists, prepare meals for children and families, or partake in an after-school activities program or the youth-development canoeing program. Nearly 11,000 people benefit each year from the Grootbos Foundation's work.
Elite Tip: Travel less than half an hour to the coast, where you can go shark-cage diving, or whale watch from the beach.
Rate: From $50,000 for five nights
Contact: Nicola Shepherd, founder of The Explorations Company, n.shepherd@explorationscompany.com, +1 855 216 5040, explorationscompany.com, grootbos.com
The Datai Langkawi, The Datai Estate Villa, Malaysia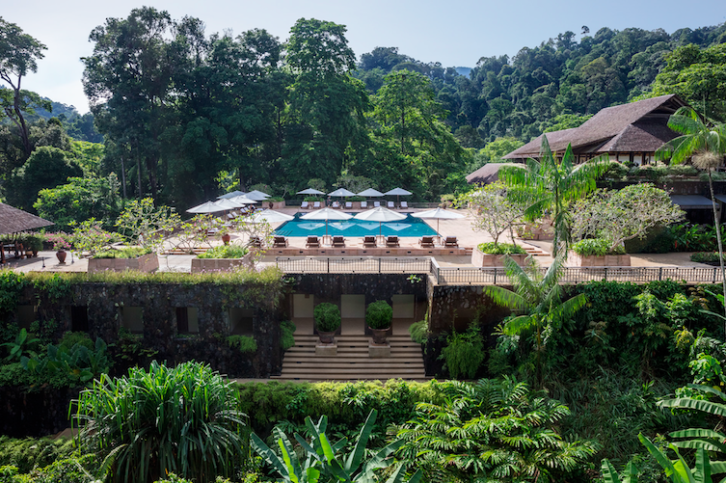 Located on an island off the western coast of Malaysia, The Datai Langkawi comprises nearly 65 acres of rain forest and beachfront. Many of the hotel's structures are bona fide treehouses, sitting on high stilts above the rain-forest floor overlooking the Indian Ocean. The property recently underwent a $60m renovation, which included the addition of its most spectacular villa, The Datai Estate Villa. It is one of the largest hotel accommodations in Asia and, like the rest of the hotel, is perfectly interwoven among the rainforest's trees.
The 37,670-sq-ft private retreat is surrounded by lush foliage and is near a stream; it has five bedrooms, two pools, a spa-treatment room, gym and two spacious living rooms, and it features locally sourced materials and a soothing color palette. You are a short walk from the hotel's five restaurants and the outdoor spa, which has a treatment menu that changes regularly. Guests can partake in cooking classes, golf and sailing adventures, as well as exciting hikes and wildlife experiences run by the resident naturalist.
Giving back
To help protect the beautiful natural ecosystem, The Datai Langkawi launched Fish for the Future, which helps strengthen marine life through coral-rehabilitation projects, increasing the fish supply and creating artificial reefs. The resort recently launched The Datai Trust, which will implement programs to preserve local flora and fauna with the help of the community. This year, the resort hopes to become completely plastic-free, and it will continue turning organic waste into garden soil via the Organic Wealth Center.
Rate: From $12,000 per night
Contact: Nur Diyana Nor Aminudin, marketing coordinator, diyana.aminudin@dataihotels.com, +60 4950 0500, thedatai.com
[See also: The Top Eco Lodges and Suites in the World]
Four Seasons Resort Seychelles, Four-bedroom Residence Villa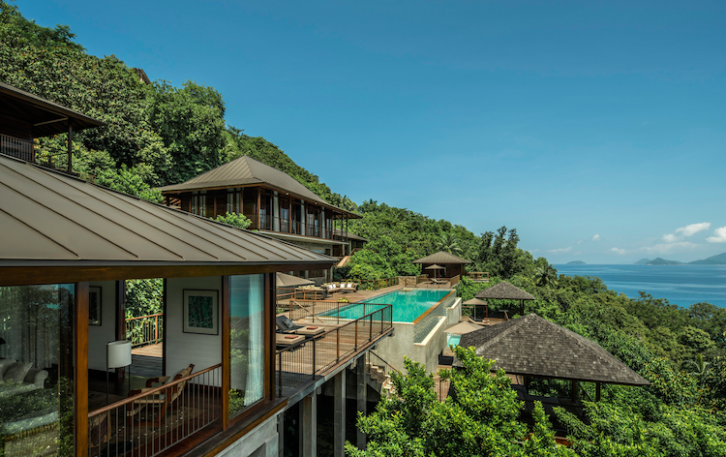 Dominated by rugged coastlines, pristine beaches, flourishing tropical greenery and exciting wildlife, the Seychelles' unique beauty begs you to disconnect from your daily life to enjoy its natural thrills. One of two Four Seasons in the Seychelles, this resort is perched on a granite hillside with beautiful views over the Indian Ocean. The local culture shapes most of your experiences here, from the Indian and Creole restaurant, Kannel, to the Pan-Asian restaurant, Zez, to the holistic spa using local ingredients.
The Four-bedroom Residence Villa is the ultimate hideaway on the property, tucked far away from prying eyes and spread over multiple levels. The villa celebrates indoor-outdoor living: Doors in the living spaces are replaced by wispy curtains, and the design elements — like wood-beamed ceilings — honor the surrounding natural environment. There's a large private pool, outdoor dining spaces, a lounging deck, kitchen and a full staff readily available, so you don't have to lift a finger. There's also a cottage accessed via a private pathway if you're traveling with friends.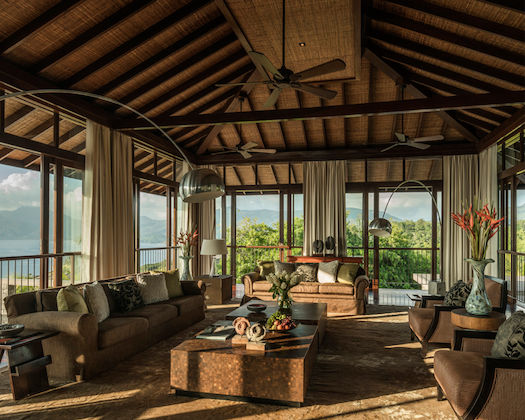 Giving back
Help the resort maintain its commitment to sustainability by partaking in its Reef Restoration project for Petite Anse beach. Scuba dive with one of the conservationists to collect coral fragments along the ocean floor, which will then be checked for disease and bleaching by marine biologists before being reattached to steel arcs in a coral nursery. Here, the coral will grow and recover before being transplanted back to the reef. After you leave, you'll get updates on how the coral is faring. Coral is particularly important in this region; it protects coastlines from erosion due to strong waves and tropical storms and provides habitats for a multitude of marine organisms.
Rate: From $6,530 per night
Contact: June Mweu, reservations manager, june.mweu@fourseasons.com, +248 439 3333, fourseasons.com
Six Senses Uluwatu, The Retreat, Bali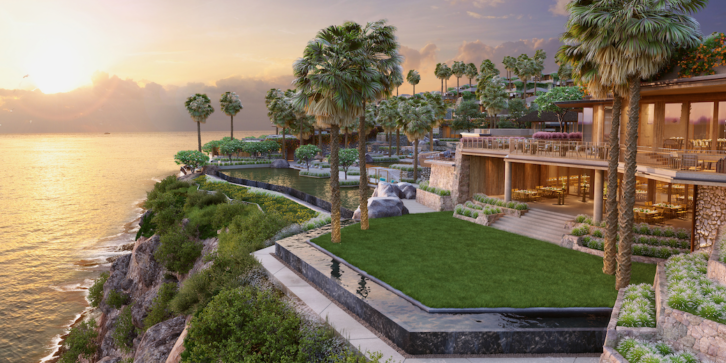 Bali is the ultimate destination for pure relaxation, and Six Senses Uluwatu encourages you to disconnect with the stressors of your daily life and immerse yourself in its natural, pristine environment. The resort sits atop a steep cliff in Bali's southern region and has dramatic views of the ocean and surrounding ancient temples. If it's privacy you seek, The Retreat feels like a resort within a resort.
The 39,015-sq-ft cliffside estate has four bedrooms, two living rooms, three large private pools (one with an infinity edge), outside decks with daybeds and a dining area, wine cellar, private bar, kitchen, meeting rooms, a gym, and gardens and greenery weaving throughout. The zen-style estate uses natural materials to connect you with Bali at every turn, but it has a modern, open-plan aesthetic with floor-to-ceiling glass doors seamlessly connecting you to each terrace and pool. Like other Six Senses properties, wellness permeates this resort, whether it's taking a private outdoor yoga class, experiencing a mindful spa treatment, or indulging in fresh, local cuisine at one of the resort's four restaurants.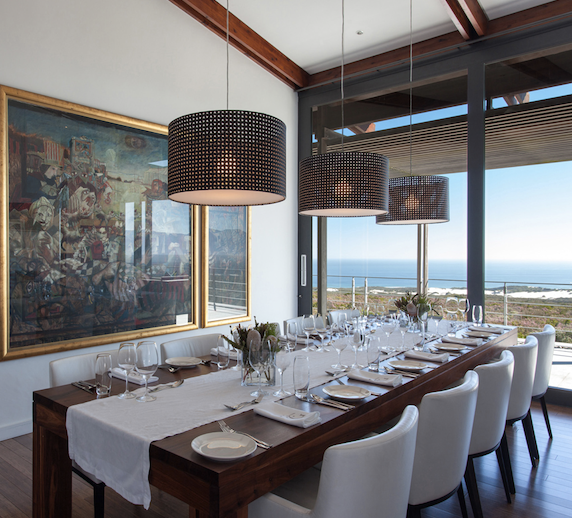 Giving back
Six Senses is Bali's only World Green Council-certified resort, achieved through its sustainability initiatives, like eschewing plastic bottles, reusing cooking oil for biodiesel and growing organic vegetables. The resort also supports the local Yayasan Kasih Peduli Anak orphanage and sells the children's handmade dolls; the profits provide food and education for homeless youth. Wildlife is also important to Six Senses' conservation efforts, and the hotel works with the Begawan Foundation to help protect Bali's endangered and only endemic bird, the Bali starling, by providing food in the foundation's breeding center.
Rate: From $12,140 per night
Contact: Fadhlan Karim, director of sales and marketing, fadhlan.karim@sixsenses.com, +62 361 209 0300, sixsenses.com
[See also: The Most Spectacular Remote Hotel Suites in the World]
Jean-Michel Cousteau Resort, Presidential Villa, Fiji
One of the world's most famous conservationists and oceanographers, Jacques Cousteau, inspired generations to protect and preserve our environment. His son, Jean-Michel Cousteau, followed in his famous father's footsteps by devoting his life to helping the environment. In 1995, he founded the eco-resort, Jean-Michel Cousteau Resort in Fiji, often noted as one of the most environmentally friendly hotels in the world.
The intimate resort has only 25 accommodations, all overlooking the picturesque Savusavu Bay, and the most spectacular is the Presidential Villa. Designed with natural materials, including thatched roofing, stone walkways and plenty of lush greenery, the resort's indoors and outdoors are woven together in perfect harmony.
The villa has a private pool, hot tub, kitchenette and two separate decks. Villa guests receive a one-hour Bobo massage during their stay, and cocktail hour and hors d'oeuvres each evening at sunset. While here, indulge in classic Fijian cuisine, enjoy the spa's treatments using local ingredients, and explore the ocean with the resident marine biologist, Johnny. Join Johnny on his coral-reef assessment dives or snorkeling. Avid scuba divers will delight in the once-in-a-lifetime diving trips offered by the Cousteau Dive Center.
Giving back
Not only does the resort work with Cousteau's Ocean Futures Society organization, which educates people on taking care of the ocean, it recently introduced a volunteer program for guests. Guests can visit the local school, Buca, where they can bring books for elementary-school children or become a pen-pal to one of the pupils, which improves students' literacy; plant mangroves in the resort's surrounding waters; learn about the giant clam repopulation project; or buy produce and local goods from farmers at Savusavu Farmer's Market, which provides valuable income.
Rate: From $2,920 per night
Contact: Bartholomew Simpson, general manager, info@fijiresort.com, +1 800 246 3454, fijiresort.com
Singita Pamushana Lodge, Malilangwe House, Zimbabwe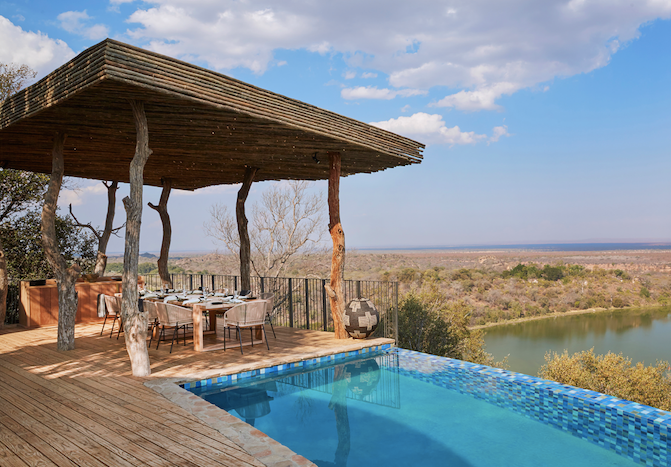 Perched on a sandstone ridge within 130,000 acres of Zimbabwe's Malilangwe Wildlife Reserve (home to the highest concentration of endangered black rhino in the world), Singita Pamushana Lodge has eight stunning suites that are seamlessly integrated into the terrain. The resort overlooks the Malilangwe Dam, stone-covered mountains and lush trees, and it honors the region's tribal history, particularly the Shangaan culture, through its decor and architecture. The thatched-roof designs, geometric-patterned artwork and pillows, leather-and-silk decor, pottery and tile inlays all reference the local culture, and a soothing color palette of olive and tan mimics the natural surroundings.
The Malilangwe House, perfect for families or groups of friends, has a private infinity pool, expansive outdoor dining deck and a lounge area with near-panoramic views of the surrounding landscape. Join guides and trackers on game drives or safari walks to see cheetah, hartebeest, wild dog, lion, leopard, elephant, rhino and buffalo. There are also wine tastings, fishing excursions, sunset cruises on the dam and jaw-droppingly beautiful stargazing experiences.
Giving back
Each Singita property has wonderful philanthropic initiatives that support local communities, and Singita Pamushana Lodge works directly with the Malilangwe Trust, which helps protect children and wildlife and also preserves Zimbabwe's rich culture and land. Partake in the Trust's meal-preparation program, which feeds about 19,500 children each school-going day throughout the entire country. You can also adopt or become a partner with certain projects, such as anti-poaching or alien plant control programs, and help fund them to completion.
Rate: From $14,445 per night
Contact: Hazel Stuart, reservations manager, reservations@singita.com, +27 21 683 3424, singita.com
Suján Sher Bagh, The Royal Burra Sahib Suite, Rajasthan, India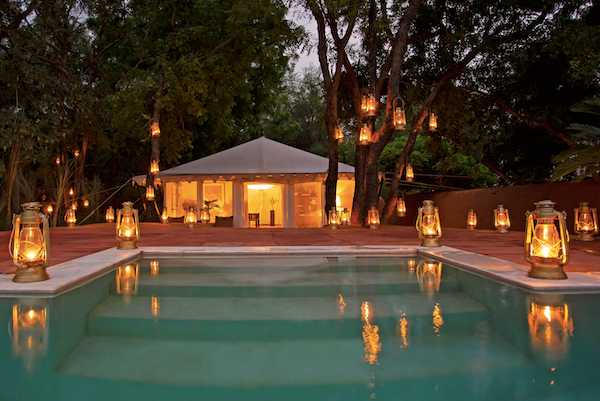 Suján Sher Bagh, a Relais & Châteaux property in Rajasthan, India, is a 12-tent luxury camp near Ranthambore National Park, famously one of the best places in the world to watch tigers in the wild. Inspired by safari campsites in the 1920s, each hand-stitched sleeping and dining tent is decorated with royal furnishings, muslin, satin, and incredible art and photography.
Of all the hotel's accommodations, The Royal Burra Sahib Suite is the most opulent. The 1,584-sq-ft, air-conditioned tent has a king-size bed, a spacious lounge and an outdoor veranda overlooking a private, heated swimming pool. Allow your butler to tend to your every need, whether it's organizing game drives to see the glorious tigers; an outdoor massage underneath swaying neem trees; hikes to Unesco World Heritage Site, Ranthambore Fort; a cooking class; or a traditional Indian dinner at sunset.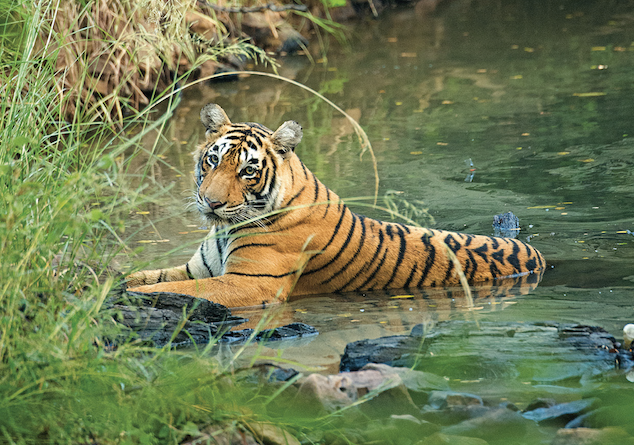 Giving back
The owners of Suján Luxury Camps and Palaces have been active with their conservation efforts since 1974. Guest conservation fees and personal donations have helped to preserve and protect local culture, environment and wildlife — three key elements of Suján's mission. This property is committed to sustaining India's tiger habitats in Karauli and Sawai Madhopur by supporting anti-poaching programs, such as the Village Wildlife Volunteer Program. Suján also supports education and sustainability initiatives, and has a program that offers free primary health care in the local community. The company has protected 12,850 acres of wilderness across India and supports several NGOs with similar missions.
Elite Tip: If you want to explore more of India, book Micato Safaris' bespoke Essence of India tour. The luxurious trip takes you from New Delhi and Ranthambore to Jaipur and beyond, and includes a stay at this incredible camp. The trip will teach you about Indian culture, wildlife and history. micato.com
Rate: From $1,530 per night
Contact: Prateek Kackar, general manager, reservations@thesujanlife.com, +91 11 4617 2700, thesujanlife.com
The Brando, Three-bedroom Villa, French Polynesia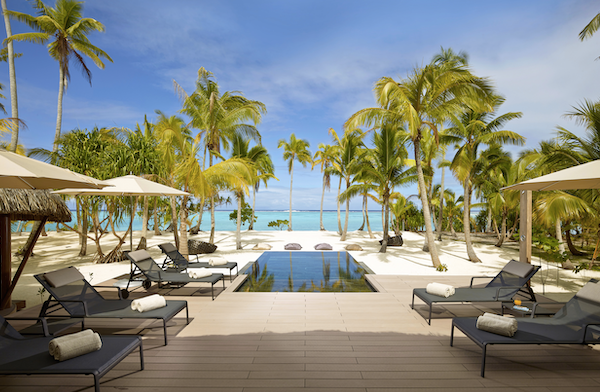 After filming Mutiny on the Bounty in the 1960s, actor Marlon Brando purchased a private atoll, Tetiaroa, where he founded a small, no-frills eco-lodge. In 1999, he enlisted Richard Bailey, a longtime resident of Tahiti and CEO of Pacific Beachcomber, a luxury tourism operator, to conceptualize a luxury zero-carbon-emission resort to preserve the island. In 2014, nearly 10 years after Brando's death, The Brando opened and, true to the late movie star's wishes, the resort is nearly carbon neutral.
Stay in the Three-bedroom Villa, a mini-compound comprised of four connected villas: a main house and three en-suite bedroom villas. Each structure is made with thatched roofing, wood and stone, and is surrounded by leafy palm trees and tropical greenery. The main house has a kitchen and living and dining rooms, and it connects to an outdoor deck with sun loungers, a pool and a dining gazebo. You couldn't get any closer to the ocean if you tried: The villa sits right on the beach, meaning lapping ocean waves will lull you to sleep each night. The villa is enclosed by floor-to-ceiling windows, and it has glass balconies and modern-meets-island decor.
The resort is sustainably powered by solar panels and Sea Water Air Conditioning technology, and also uses coconut oil biofuel. The Brando was also the first resort in French Polynesia to receive LEED Platinum certification.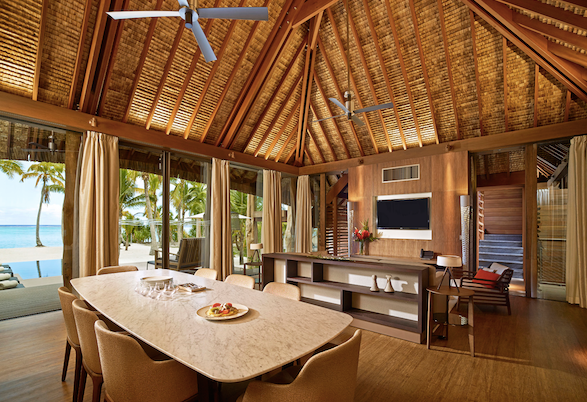 Giving back
Conservation doesn't stop at reducing emissions. The Brando created an Ecostation, which has laboratories dedicated to help scientists and researchers find conservation solutions. The hotel has programs committed to maintaining coral reefs; preserving local fish, coconut crab and sea turtle populations; and education initiatives. The resort also started the Tetiaroa Society nonprofit organization to encourage a positive relationship between people and the planet.
Rate: From $11,000 per night for a minimum two-night stay
Contact: Cindy Grigaut, reservations manager, reservation@thebrando.com, +689 4086 6300, thebrando.com
Kyambura Gorge Lodge, Deluxe Banda, Uganda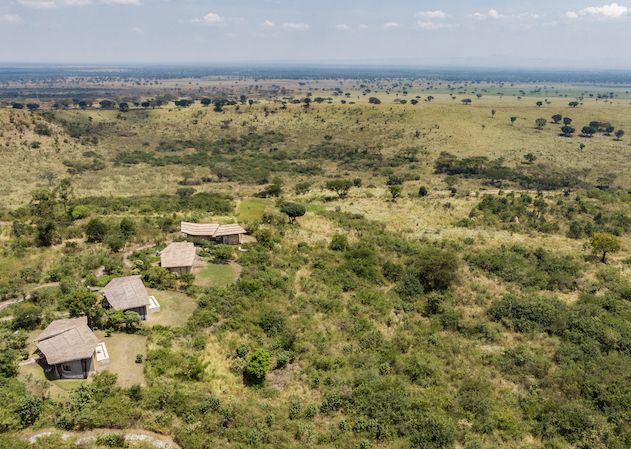 Uganda is one of the few places in Africa where you can see endangered gorillas and chimpanzees; at Kyambura Gorge Lodge, you have the chance to help protect these magnificent creatures. The lodge is situated at the edge of Queen Elizabeth National Park and has just eight bandas, or suites, overlooking either the savanna or the Kyambura Gorge. The four traditional-style Deluxe Bandas were renovated in 2019 and now have brand-new, rustic-chic interiors and private balconies. The thatched-roof bandas are built in the local style and feature local art. After a day spent exploring, relax in the saltwater swimming pool overlooking the expansive landscape. Each banda has a personal butler who can set up a variety of local excursions, like a boat cruise along the Kazinga Channel, home to hippos, water birds, buffalo, zebra and more; hot-air ballooning over the park; or tracking chimpanzees through the gorge.
Giving back
Volcanoes Safaris established the Volcanoes Safaris Partnership Trust, and both have been key stakeholders in the Kyambura Gorge Eco-Tourism Project since 2009. The project helps protect the local ecosystem, specifically endangered gorillas and chimpanzees. To give back, you can plant indigenous trees during the Kyambura Gorge Buffer Walk to help restore natural growth in the area, or join a lion research safari. You can also engage with the local community by visiting the Kyambura Women's Coffee Cooperative, a beekeeping training co-op, the Kyambura Community Café, partaking in classes with the local Kyambura Dance Group or helping re-roof local families' homes.
Rate: From $760 per night
Contact: Eloisa Barberis Canonico, director of sales and marketing, enquiries@volcanoessafaris.com, +256 414 346 464, volcanoessafaris.com