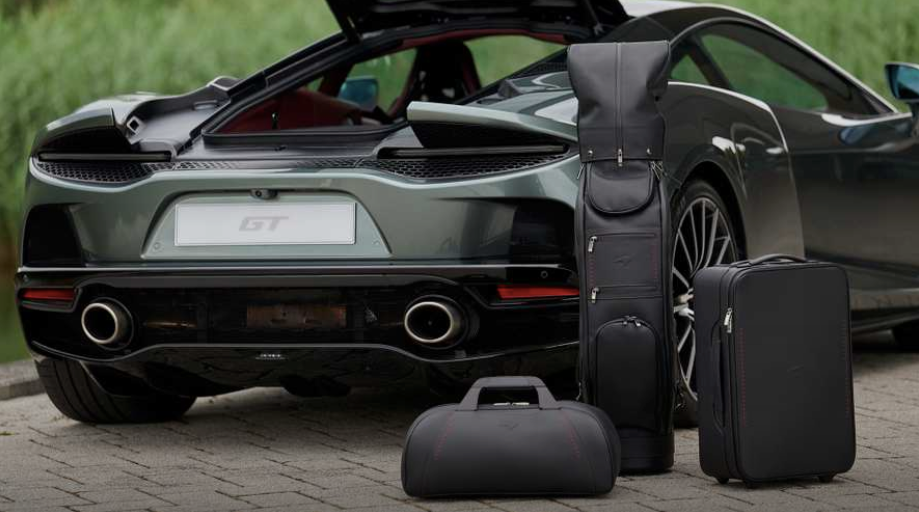 The McLaren GT is not known for its big trunk, so the British car manufacturer has developed a bespoke luggage line that allows customers to get full use out of the supercar's limited storage space.
Designed specifically to maximize the limited space inside the latest $200,000 GT model, the new GT Luggage line has been developed in-house to ensure it conforms to McLaren's highest standards of quality and engineering.
The collection includes a garment case, weekend bag, cabin bag and a full-size golf club bag. They can be ordered as a collection or separately. Each piece can also be specified to match the car's interior. Leather options include Pioneer Black, Luxe Black and Luxe Porcelain. There are also a variety of different trims.
The company's McLaren Special Operations (MSO) division has designed each piece of luggage to fit perfectly into a specific place within the car. McLaren says the full collection allows two people to enjoy "a range of lifestyle and sporting activities" in the GT. That helps to strengthen the claim that the GT is one of the most practical models ever developed by McLaren.
All four pieces have been assembled by master craftsman in Italy using Bridge of Weir leather. The cabin bag is likely to be the most popular item. It is designed to fit into the car's rear luggage bay while leaving enough space to fit two smaller bags either side.
That extra space can be occupied by the Weekend Bag, a smaller case that offers the greatest level of versatility in the collection. The Garment Case is designed to sit neatly on top of the aforementioned bags so that it does not restrict the rearview for the driver.
Finally, a state-of-the-art golf bag blends leather with smart fabric that both matches the car's interior and keeps weight to a minimum while maintaining the need for the highest standards in build quality. The bag is big enough to house a full set of clubs and all of the accessories one would need for a round yet slots seamlessly into the GT without impeding on the driver's position.
Register your interest in a McLaren GT and/or its exclusive luggage line by visiting cars.mclaren.com/new-mclaren-gt/luggage