Tasked with upholding the company tagline — "Inspiring Greatness" — Rolls-Royce Motor Cars CEO Torsten Müller-Ötvös perpetually pushes the envelope of luxury. Commemorating 10 years on the job, he speaks with Alexandra Cheney on how to maintain lasting global relationships, the power of saying yes and the future of coachbuilding.
"There is always room for fantasy," Torsten Müller-Ötvös declared, his German matter-of-fact tone infused with a hint of British whimsy, a learned trait achieved by clocking a decade living in a foreign land. Although it was just the two of us chatting in the wood-paneled library at Amangani, a luxury resort nestled at the foot of the Grand Tetons, it seemed as if he wanted the whole of Jackson Hole, Wyoming to know that "owning a Rolls-Royce is owning a dream."
It was there, savoring the penultimate days of fall, when leaves crunch with their last bit of fervor in anticipation of the first snowfall, that Müller-Ötvös, in a bright-orange Moncler down jacket, launched Cullinan, the brand's first-ever and long-awaited SUV. "There's so much functionality and practicality," the Dusseldorf-born, Munich-bred CEO admitted with a grin. "Those are words we've never before used in conjunction with Rolls-Royce."
The vehicle has proven to be as wild as the American West. In 2019, the Goodwood, England-based brand delivered 5,000 bespoke commissions, the highest in its 116-year history. Cullinan accounted for nearly half with 100% absolutely customized. That was in its first year alone. The 2020 edition of "the boldest and darkest expression of Black Badge yet" will certainly add to Cullinan's popularity, not to mention the roughly seven-month waiting list.
It's worth noting, Rolls-Royce crossed new levels in both volume and profitability, statistics certain to please parent company BMW Group. Those dividends come thanks to a "rejuvenation" strategy the 59-year-old chief executive carefully crafted and executed throughout the 2010s. Müller-Ötvös joined the company in the midst of its 2010 launch of the original Ghost (four-door sedan).
Shepherding the debut of Wraith (two-door coupe) in 2013, Dawn (two-door convertible) in 2015, the creation of Black Badge design in 2016 (a sexier, darker version aimed at younger buyers who enjoy being behind the wheel), a new Phantom (four-door sedan) in 2017 and Cullinan in 2018, Rolls-Royce now boasts a handful of nameplates with limitless custom options.
"You need to move the needle from time to time, otherwise you die. Lifestyles change, as do taste and values. If you don't keep up interpreting the brand then you are simply seen as history."
The average price of a US-sold Rolls-Royce is $400,000, with options. While other luxury manufacturers invest heavily in electrification research and design, Müller-Ötvös recently added 100 new employees to the bespoke department.  "Electrification is on my plate here, day by day. The brand will go electric in the next decade, but right now, if it's not 100% appealing it will fail."
Off the mountain and on a follow-up video call, I sit in the ample back seat of the first Black Badge Cullinan in the pre-dawn Los Angeles light. Besuited, Müller-Ötvös joins me digitally. Although BMW Group executives would likely claim that selling cars is central to Rolls-Royce's success, Müller-Ötvös repeatedly stresses that he "is not in the car business."
"I came from the car business, and the entire model is completely different. We are talking here to single clients only. We are not selling cars into fleets. We are not dealmakers, squeezing people into our cars. We are not pumping volume into the markets. It's all about emotions, the power of emotions. This is something that you need to have in your heart. I need to inspire our clients. They are expecting it."
Inspiration comes in the form of greatness. In the case of Rolls-Royce, that means boasting the ability to say "yes" to any request (safety or compliance requirements notwithstanding), from matching a paint color to a handbag to mimicking the constellations of any given night sky for the Starlight Headliner. From its CEO, that includes a stark realization.
"I will never be in [the customer's] league financially, never ever. But that's not the point. The point is can you talk eye level with them? Can you talk business in a proper way? Can you talk politics? Do they accept you as a global citizen? Can you talk to them about China or what's going on in the Middle East? These kinds of things are highly interesting for our clients. If you are not savvy with these topics you feel that immediately, and you are not accepted."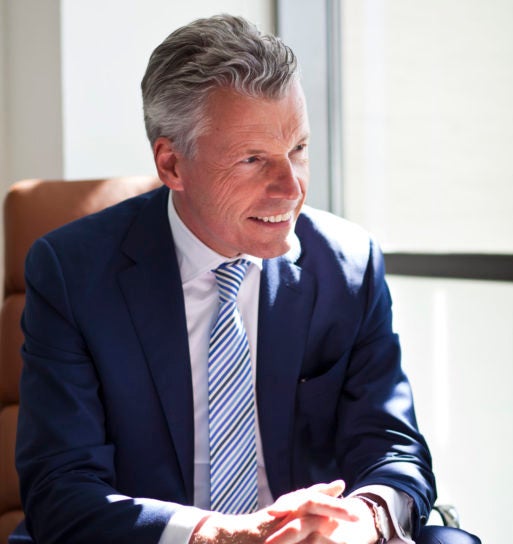 Müller-Ötvös circumnavigates the globe, prioritizing face-to-face interactions with customers year after year. He enjoys raising a glass of champagne when the occasion calls for it and is a self-professed "big fan" of 1970s disco music. Throughout his decade at Rolls-Royce, he's refined his sense of style, his diet, his leadership style. "Don't lie to yourself. Looking into the mirror, I look at myself — I am an honest man in whatever I do, and I am honest with my people."
Born to a pair of car-loving parents, Müller-Ötvös grew up in Munich in the shadow of the main BMW plant. Starting in kindergarten, he found himself keeping track of which cars belong to which brands. Upon graduation at age 18, his "mum and dad" gifted the enthusiast a red Mini 850. "It taught me intensively what it meant to repair your own car." He began university in Munich, but graduated with an MBA at the University of Augsburg in Economics. His first job was in the marketing department at BMW. It was all but fate that he landed within a familiar marque, Mini.
"From the very beginning I understood that I had to have a clear direction in life. I've carried that with me to all my jobs. It's an honor to work for Rolls-Royce. I've got a kind of pride on one side, but also a certain burden on the other. I know that I'm responsible for keeping this famous brand alive. It's my job to ensure it lives on for many, many years."