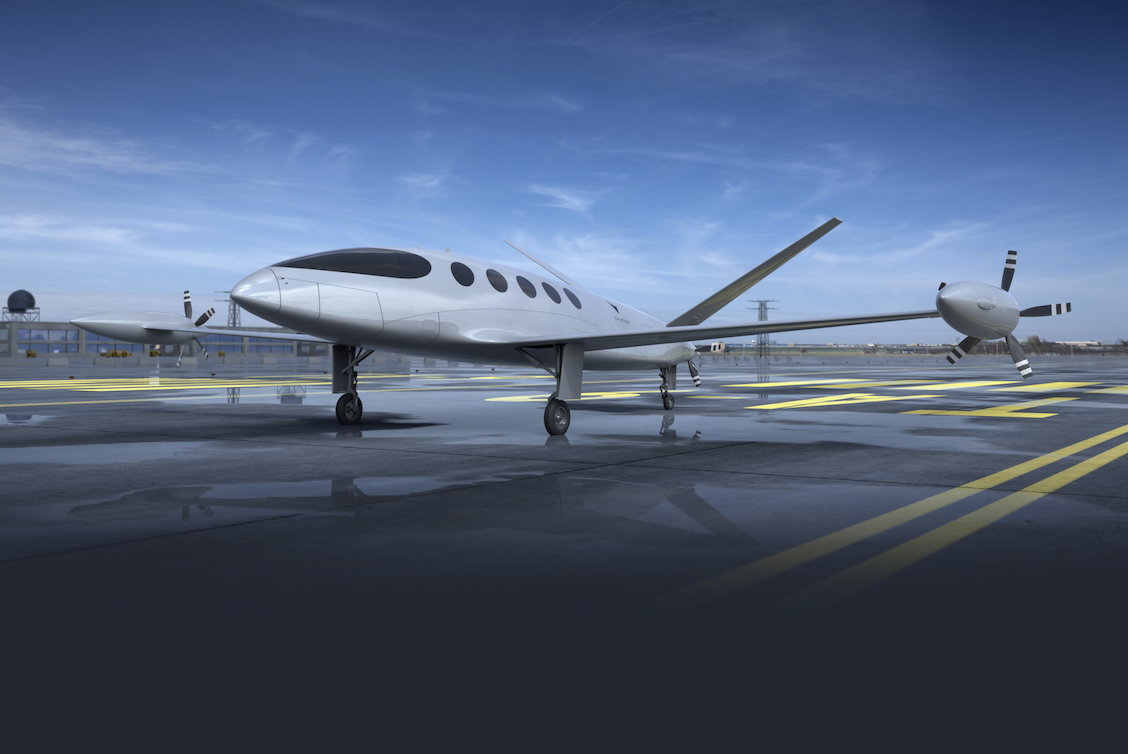 It would seem that the future of electric air travel isn't far off, at least not for Israeli startup Eviation. At the 2019 Paris Air Show, the innovative, high-tech company unveiled a groundbreaking prototype for an all-electric, nine-passenger aircraft called Alice, the world's first fully operational, electric passenger plane.
The launch of Alice heralds a new era of aviation — and what Eviation CEO and co-founder Omer Bar-Yohay calls a new breed of aircraft — one that doesn't require a drop of fuel. Alice has an electric engine that is fully sustainable and has zero emissions, which also means less noise compared to other jets. The aircraft is made with 95 percent composite materials, which are lightweight, have advanced thermal-regulating technology and aerodynamic efficiency, and offer flight stability and extreme propulsion.
And its design looks straight out of a time machine: To increase stability, reduce drag and distribute propulsion, it has a main pusher propeller at the tail of the aircraft, two pusher propellers at the wingtips and a uniquely curved nose. The aircraft relies on a cutting-edge battery that, on one charge, operates for two-and-a-half hours. The startup enlisted Siemens to collaborate on advanced motor technology, and worked with Honeywell on the fly-by-wire avionics.
So far, Eviation has received a significant order from regional US commercial airliner Cape Air for 92 planes set to deliver in 2022 — impressive, being that Alice's first flight is planned for the end of 2019 and, at the time of publication, FAA certification is scheduled to be confirmed by 2021. Cape Air's main points of travel are between New York and New England, perfect for Alice's range of 650 miles. It flies at a cruising altitude of 10,000 ft and has a cruise speed of around 240 to 260 knots.
Sustainability and efficiency aren't Alice's only draws. Bar-Yohay exclusively tells Elite Traveler that he hopes to make environmentally friendly travel accessible for everyone. He says: "For the first time in over 50 years, Eviation has created a new breed of aircraft fleets and a new era in aviation with the all-electric Alice. Operating at a fraction of the cost of conventional jetliners, our Alice will redefine how people travel regionally and usher in a new era of flying that is quieter, cleaner and cost-effective."
Alice might even become popular with socially conscious private owner-operators who often travel shorter distances for weekend golf trips, business meetings or family getaways. Be sure to place your order now and prepared to be the envy of the FBO.
From $4m. Contact info@eviation.co, eviation.co
Safety First
Cirrus Aircraft, creator of the world's first single-engine personal jet, the Cirrus Vision SF50, is redefining safety standards once again. After launching the first parachute system for a personal jet — which has landed 176 people so far — Cirrus takes a safe landing in case of a disabled pilot a step further with Safe Return, a new technology available in all Vision Jets starting in 2020.
It is the first-ever autonomous landing system in an aircraft, enacted by a simple press of a button on the ceiling of the plane. Once the button is pressed, the plane lands itself at the nearest airport, taking into account fuel load and weather conditions.
Because of its small size, the Vision Jet can land on nearly any runway (up to 5,000 in the US alone). Once Safe Return is activated, signals are sent to air traffic control and local EMT and fire stations in case of a medical emergency. And don't worry — the landing is as smooth as can be.
From $2.5m. Contact info@cirrusaircraft.com, cirrusaircraft.com