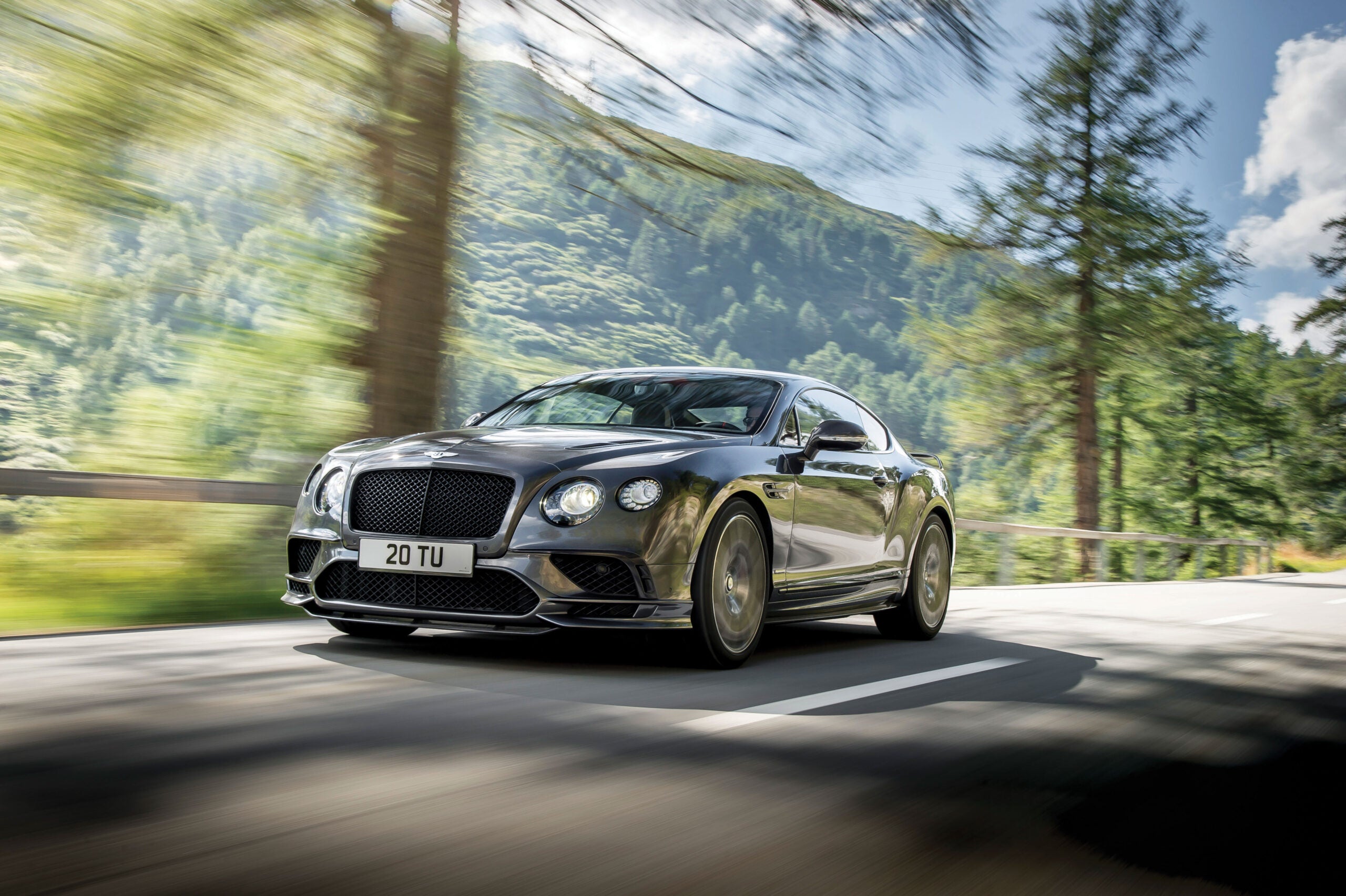 Each year, the automobile industry attempts to further seduce motorists and their passengers with new daily drivers, weekend-getaway cars and pure-indulgence purchases. Suggesting more than just speed or social status, one's vehicle, or collection of vehicles, gives a glimpse into each of our lives. Analyzing the luxury automobile market, from the technologically dazzling to the downright elegant, we have chosen the best vehicles based on a series of strong, albeit particular, characteristics. Each car on this list is striking and its standout feature highlighted, guiding those seeking to fill their garage with something fresh.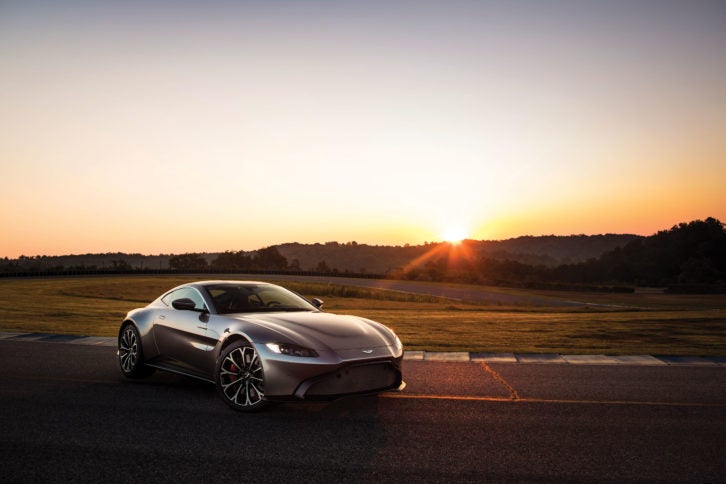 Aston Martin Vantage
Best borrowed engine appropriation
Call it British decorum; the 2019 Aston Martin Vantage runs the same engine as the Mercedes-AMG GT insofar as its 4.0-liter biturbo V8 specifications are concerned. Thanks to a technical partnership conceived in 2013, Daimler AG, Mercedes-Benz's parent company, supplies infotainment, electronics and engines to the Warwickshire UK-headquartered brand in exchange for a five percent stake.
The company-coined "visceral engine roar" rises from amended induction and exhaust systems. Rather than the deeply throaty trill that has become a trademark of Mercedes, Aston opted to massage more midrange purrs than pops from its eight-speed paddle-shifted automatic transmission. (A point of difference: Mercedes manages a seven-speed dual clutch.)
Suave and sleek, more Sean Connery than Daniel Craig when it comes to secret agents behind the wheel, the Vantage is both masculine and feminine all at once. Broad haunches and flared fenders meld with softer, less severe tension lines through the exterior. Inside the cockpit, a lower driving position gives the feel of a more immersive experience. The car envelops the driver, taking a page from the brand's racing annals.
Price from $170,000 Engine 4.0-liter biturbo V8 Power 503 hp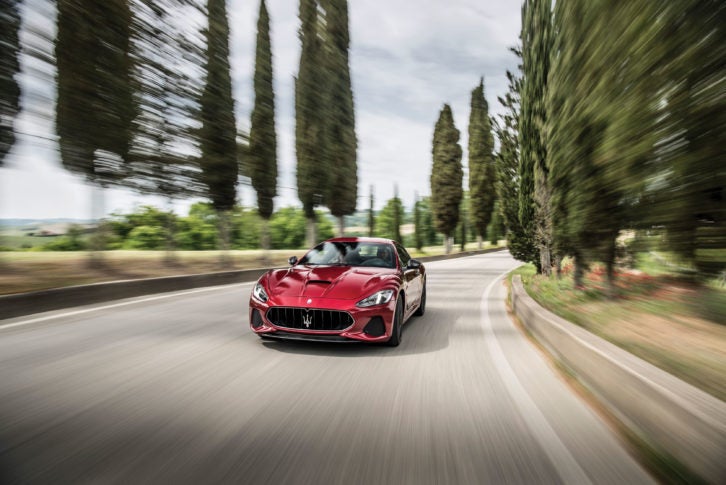 Maserati GranTurismo
Best grand tourer
It should come as no surprise that the top grand tourer hails from the company that claims to have invented it. Maserati premiered its A6 1500 in 1947 on the floor of the Geneva Salon. There, the Modena, Italy–based brand made a clear distinction between quotidian cars and racing vehicles with its prototype.
Through the celebrated decades of the Ghibli (which debuted its SS Coupé in 1967) and into the GranTurismo years, the very notion of an automobile purpose-built for luxurious distance driving while also incorporating performance handling felt revolutionary. Maserati lauds the idea that its 2018 GranTurismo is neither impressively fast (0 to 62 mph in 4.7 seconds) nor preposterously powerful. It is, however, freshly redesigned with a deep-cut oval front grille that eagerly inhales and a side profile that pays homage to the historic Tipo 60/62 "Birdcage" race car. Sumptuous in its interior, the GranTurismo is a pleasure rather than a puzzle behind the wheel.
Price from $134,300 Engine 4.7-liter V8 Power 454 hp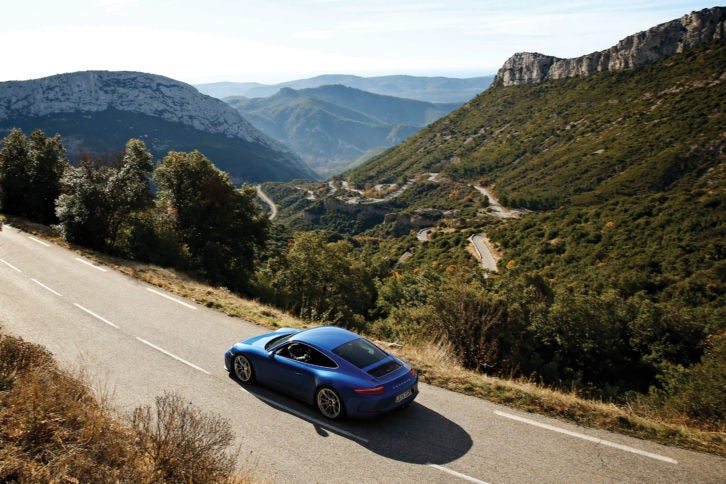 Porsche 911 GT3
Best manual transmission
Step aside paddle shifters. Yes, that's right, a manual gearbox and clutch pedal is in production in the form of the 2018 911 GT3.
A legacy, the 911 GT3 found its way into Porsche's lineup 19 years ago, less 145 horsepower and minus nearly a half cylinder. The naturally aspirated engine remains horizontally opposed over the center-lock back wheels, and the six-speed manual transmission zeros in on nostalgic memories of learning to drive a manual car. Immensely practical and downright fun, its short shift-throws allow the car to playfully enter and exit corners in a way oft reserved for floor clutches. With two seats and a duo of long gears in both first and second, the 911 GT3 may not have much competition when it comes to manual transmissions, but the thoughtfulness behind the design and the Stuttgart-helmed status quo excellence behind the engineering have created a winning engine/transmission combination. The power to weight ratio (6.4 pounds per horsepower), it's worth noting, is near motorsport levels. May the clutch popping begin.
Price from $143,600 Engine 4.0-liter V6 Power 500 hp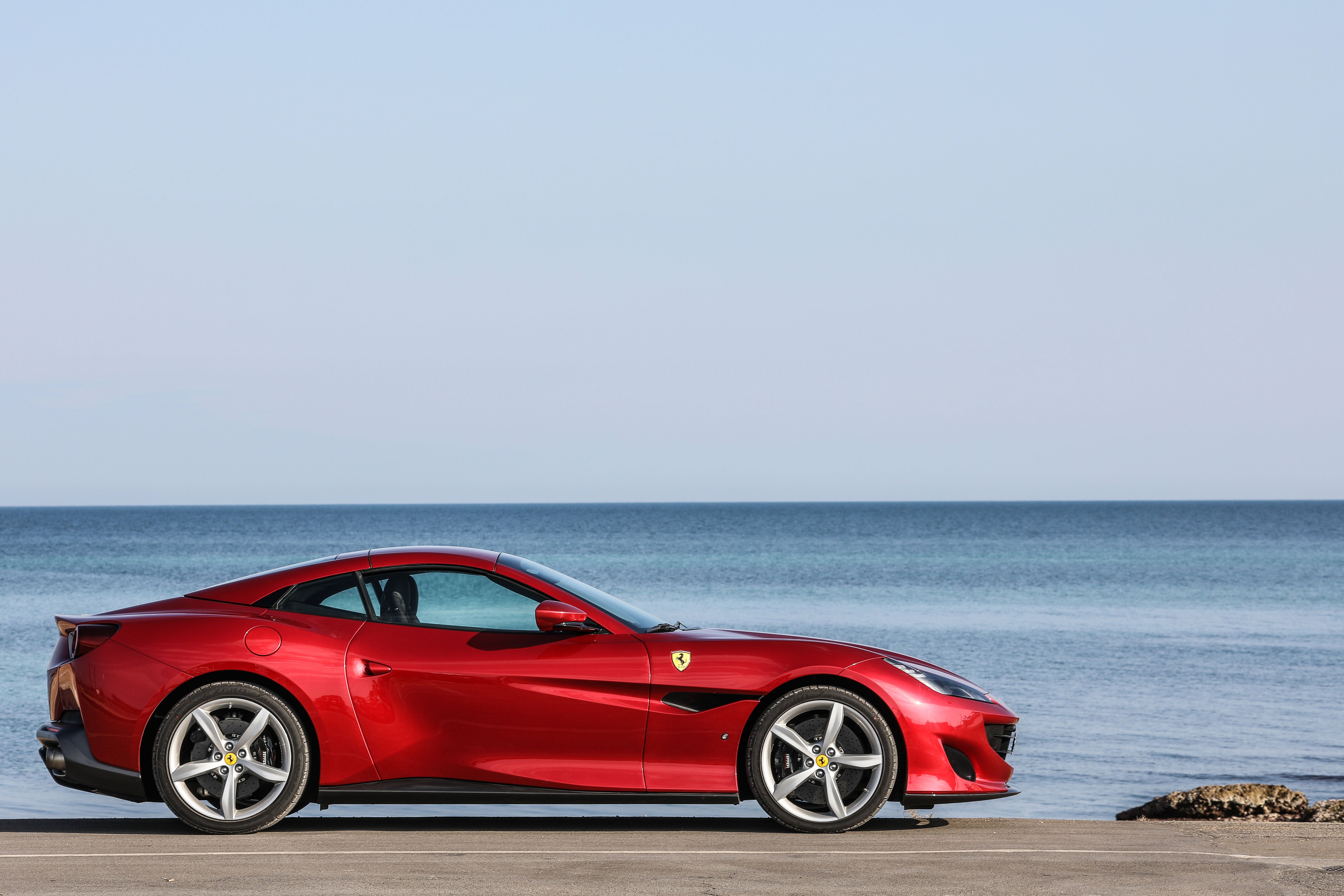 Ferrari Portofino
Best hardtop coupe/convertible
The Portofino promises both a true coupe and a true drop-top experience; heady words from the Prancing Horse. But the Maranello, Italy–flagship institution delivers in the form of a front engine 2+2 that's the replacement for the beloved Ferrari California T.
Rather than focusing on a three-box design — the California T had a definitive end to the passenger compartment and a third "box" for the trunk — the 2018 Portofino embraces the curvilinear lines that flow from engine through driver and back to the trunk-lid line. When the hard top is up, a singular stroke can be tracked from nose to tail. When the roof is down, the trunk creases lead to the rear passenger compartment headrest area.
The finely crafted, on-brand, high-humming machine rides exceptionally well regardless of roof placement. Mindful design cues, such as side paneling meant to disguise the wheel-well bulk, vertical slats on the outer edge of each headlight to reduce drag by forcing pressure through the wheel spokes, and a magnesium-made hardtop roof to reduce weight all result in a six percent decrease in drag from the California T and slightly increased maximum speed of 198 mph.
Price from $210,783 Engine 3.9-liter twin-turbocharged V8 Power 600 hp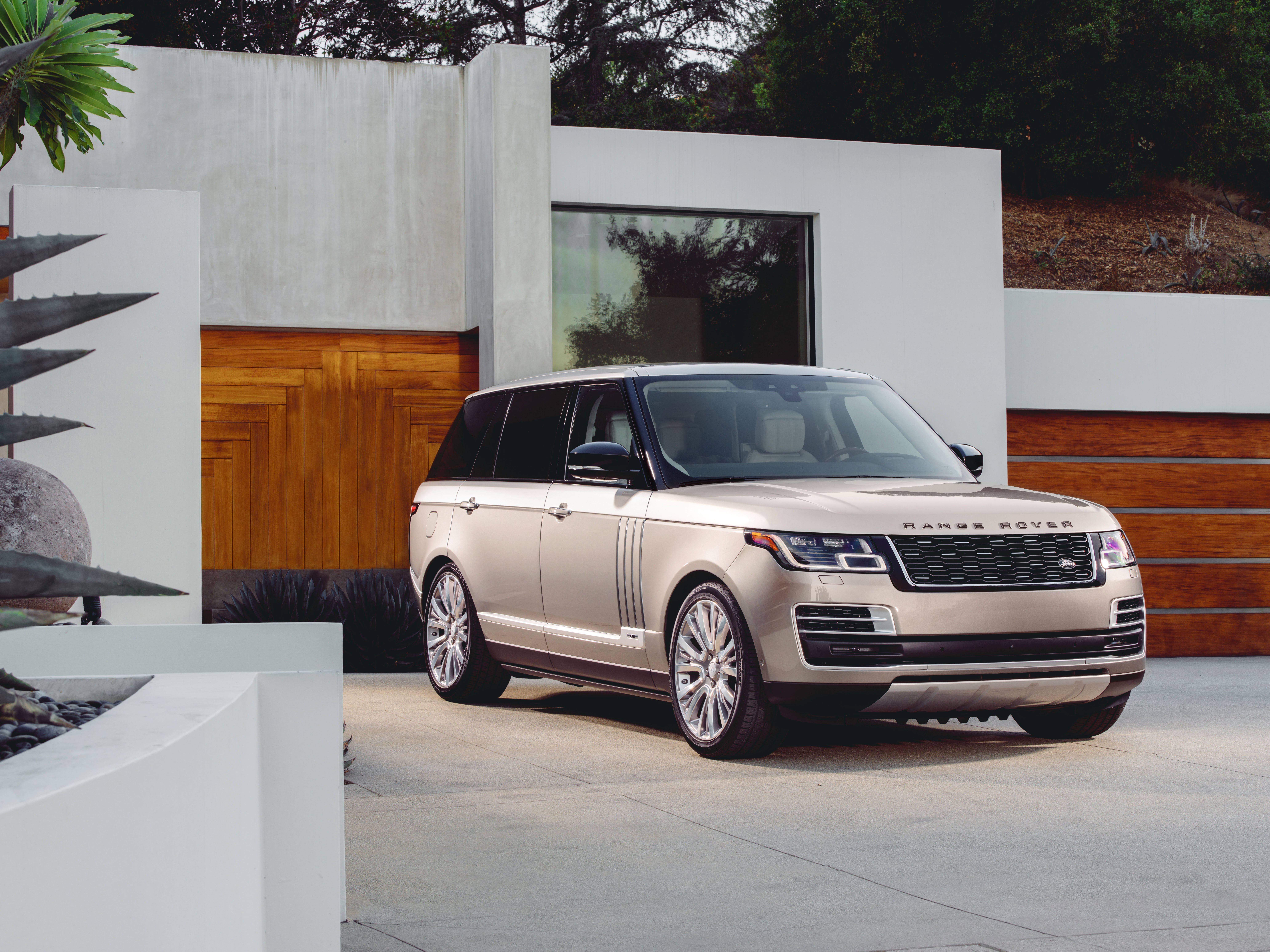 Range Rover SVAutobiography
Best infotainment system
Although the magnificently insightful infotainment system officially known as InControl Touch Pro Duo now comes standard on all 2018 Range Rover models, why not opt for the edition that includes the pair of front-row 10-inch screens, as well as an extraordinary back row that incorporates another couple of 10-inch screens with 4G Wi-Fi connectivity that can be enjoyed with four feet of legroom and 40-degree reclining seats?
In the front cabin of the Range Rover SVAutobiography, the bottom angled screen to the right of the steering column admittedly takes some acclimatization. Gone is the vast array of overwhelming buttons, controls and knobs. There's something very Steve Jobsian about the setup, which allows drivers to multitask without overcomplication or distraction. The top screen can navigate to dinner while the bottom can control the temperature of the seats and interior or play music.
While keeping your champagne chilled on the way to the party (the rear refrigerator holds two bubbly-sized bottles), back-seat passengers can recline and allow the front-seat headrest screens and their multiple USB ports to tend to their every charging need.
Price from $207,900 Engine 5.0-liter supercharged V8 Power 557 hp

Jaguar F-Pace SVR
Best practical accessory
First introduced on the 2017 F-Pace, the RFID-based waterproof wristband accessory key that incorporates a battery-free transponder endures as the most innovative, practical alternative entry device in the marketplace.
Available with the freshly announced 2019 F-Pace SVR, which boasts a top speed of 176 mph and 0-to-60 acceleration in 4.1 seconds, the accessory key unlocks the vehicle by simply holding the wristband up to the letter J on the Jaguar tailgate script. The hidden sensor instantaneously relaunches the deactivated key fob, which you leave inside, enabling the vehicle to be started.
Its 22-inch tires effortlessly navigate dirt roads and sandy beaches, while the new addition of a "trigger" shifter (as opposed to a wheel-bound paddle shifter) allows for seamless gear shifting. Having nearly doubled in price from the first F-Pace, the SVR enjoys newly redesigned exterior features, including the front fenders and vents, front and rear bumpers, wheels and brakes, rear spoiler and exhaust system.
Price from $79,990 Engine 5.0-liter supercharged V8 Power 550 hp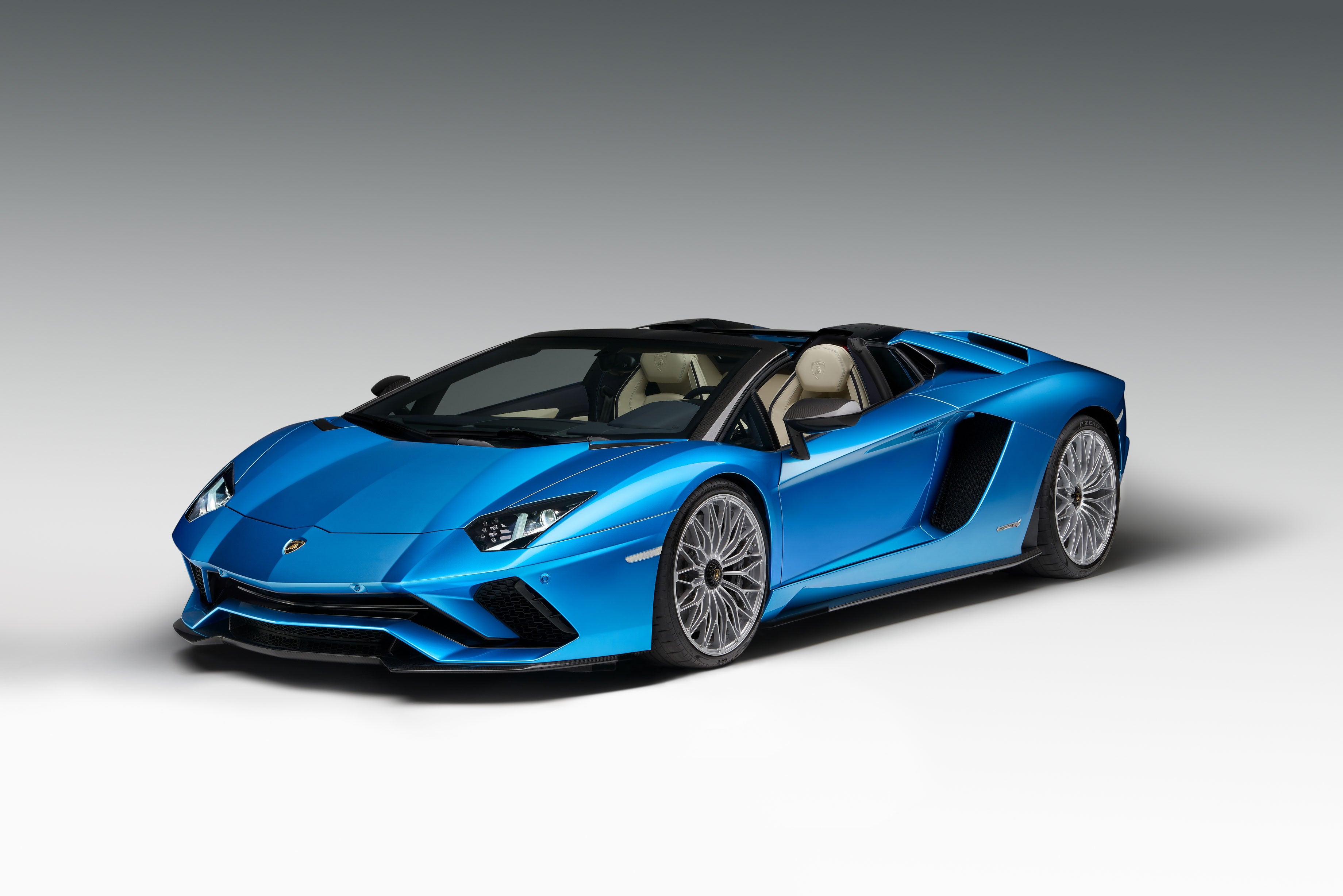 Lamborghini Aventador S Roadster
Best naturally aspirated supercar
The days of big-engine vehicles are largely in the rearview as stricter emissions standards become status quo and car brands across the board have committed R&D budgets to smaller displacement and alternative energies.
The Raging Bull of Sant'Agata Bolognese, however, continues to charge the road with its mid-rear engine V12, the last one standing in the super-sports roadster marketplace. A love song to the quad, Lamborghini's Aventador S Roadster has four-wheel drive, four-wheel steering, and four drive modes (strada, sport, corsa and ego), providing both a call and response in the form of raw power and performance.
Its top speed is 217 mph and it goes from 0 to 62 mph in three seconds flat. Perpetually statement-making, the Aventador S Roadster enjoys a series of distinctive tension lines from the coupe. An engine bridge runs from the back window to the rear bumper with a blend of matte-black carbon fiber and body-color engine blades. Should you request, a transparent option to flaunt the massive V12 engine within is always available.
Price from $460,200 Engine 6.5-liter naturally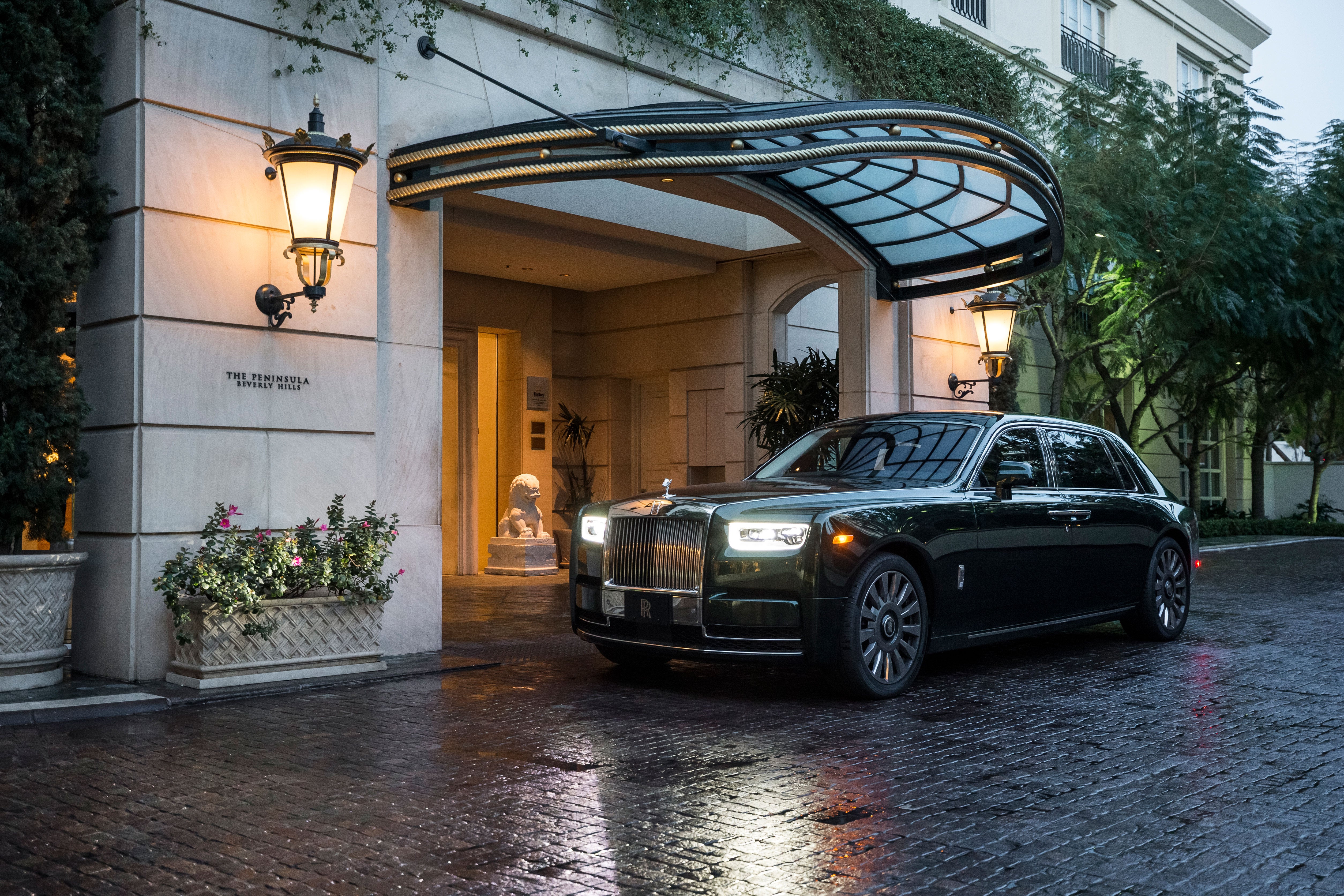 Rolls-Royce Phantom VIII
Best car in which to be chauffeured
Deep pile lamb's-wool floor rugs with power footrests that raise parts of the floor for more ergonomic seating, hundreds of fiber-optic pin lights that transform the roof into a constellation of one's choosing, 287lbs of sound-insulation material, doubleglazed windows, tires containing noise-absorbing foam, a clip-in decanter. The bespoke list can, and if Rolls-Royce has anything to say about it, will go on.
In its eighth iteration, the Phantom, and its maker by extension, is a space where the word "no" is rarely uttered. Although the silhouette, regal stance, front-end "Pantheon grille" and long, flat hood continue on from the VII, the aluminum space frame platform, officially named "Architecture of Luxury," is all new.
Sporty shifting and cornering are largely irrelevant, as is sudden acceleration. There are no roars or rumbles here; in fact, there seems to be a lack of starting or stopping. The Phantom, rather, simply moves.
Price Standard from $450,000. Extended wheelbase from $530,000. Engine 6.75-liter twin-turbocharged V12 Power 563 hp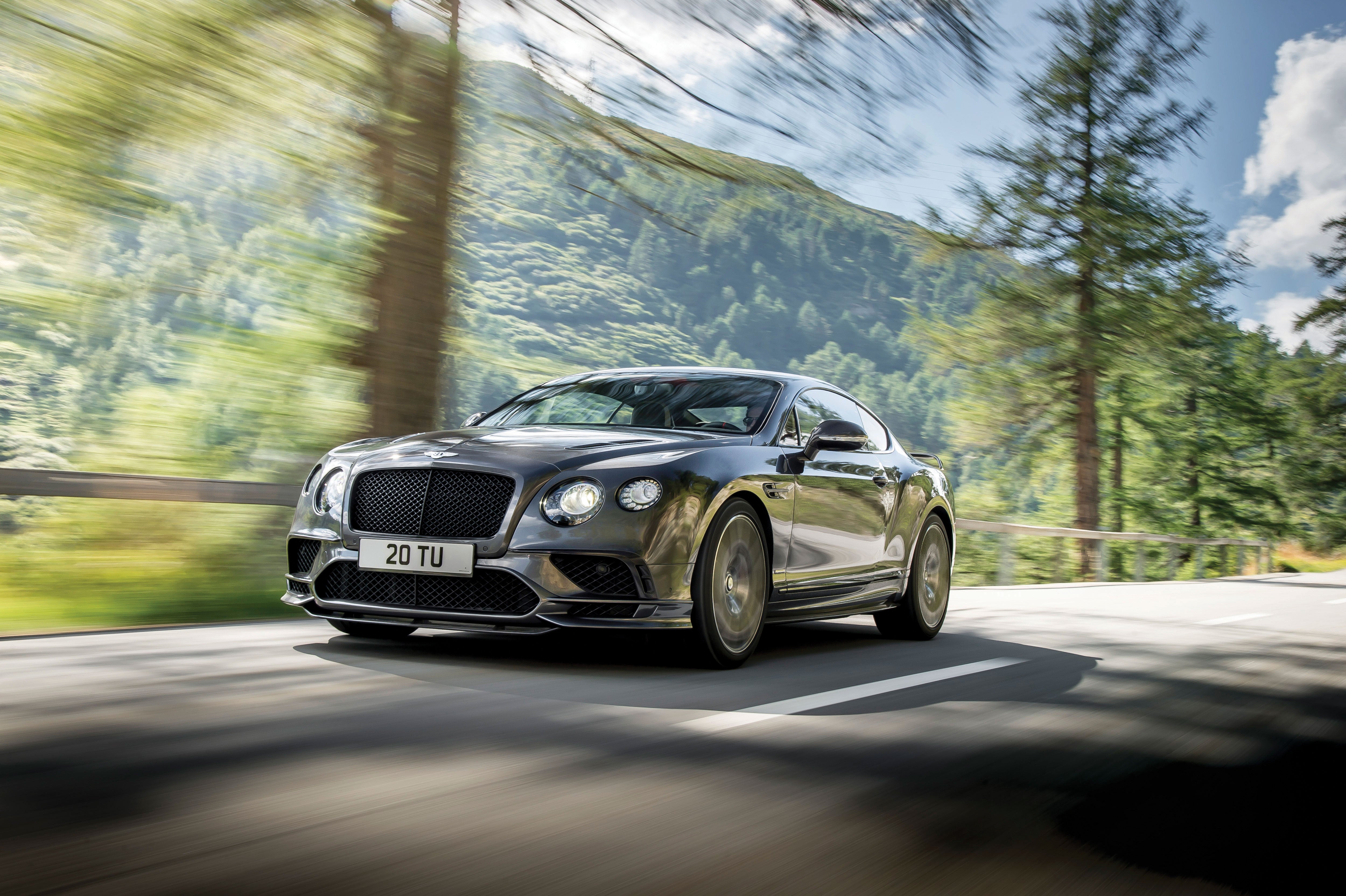 Bentley Continental Supersports Convertible
Best sports car trapped in a luxury sedan
As the fastest and most powerful Bentley in its near-century of coachbuilding, the 2018 Continental Supersports Convertible is remarkable for more than just its 0-to-60 mph (at 3.7 seconds). A sequel to the Supersports Coupe, produced solely in 2017, the convertible has two doors and four actual, not kid-sized, seats.
Heavy at 5,412lbs (roughly the same curb weight as a Chevrolet Tahoe), the Supersports Convertible possesses the ride quality of a sedan: smooth and effortless, but with an aggressive underbelly of power. That's thanks to the twin-turbocharged engine and a rear-wheel-biased torque vectoring system that was first introduced on the Continental GT3-R. The result is immediate and unrelenting power that doesn't lag, as is all too common with engine chargers, be they twin-turbo or super.
Open-air motoring is always an option in the Supersports Convertible, as Bentley adroitly crafted a neck warmer to keep the chill at bay during the shoulder seasons. Although some may consider this a small detail, it's the kind of feature that piques interest and promises daily top-down driving.
Price from $322,600 Engine 6.0-liter twin-turbocharged W12 Power 700 hp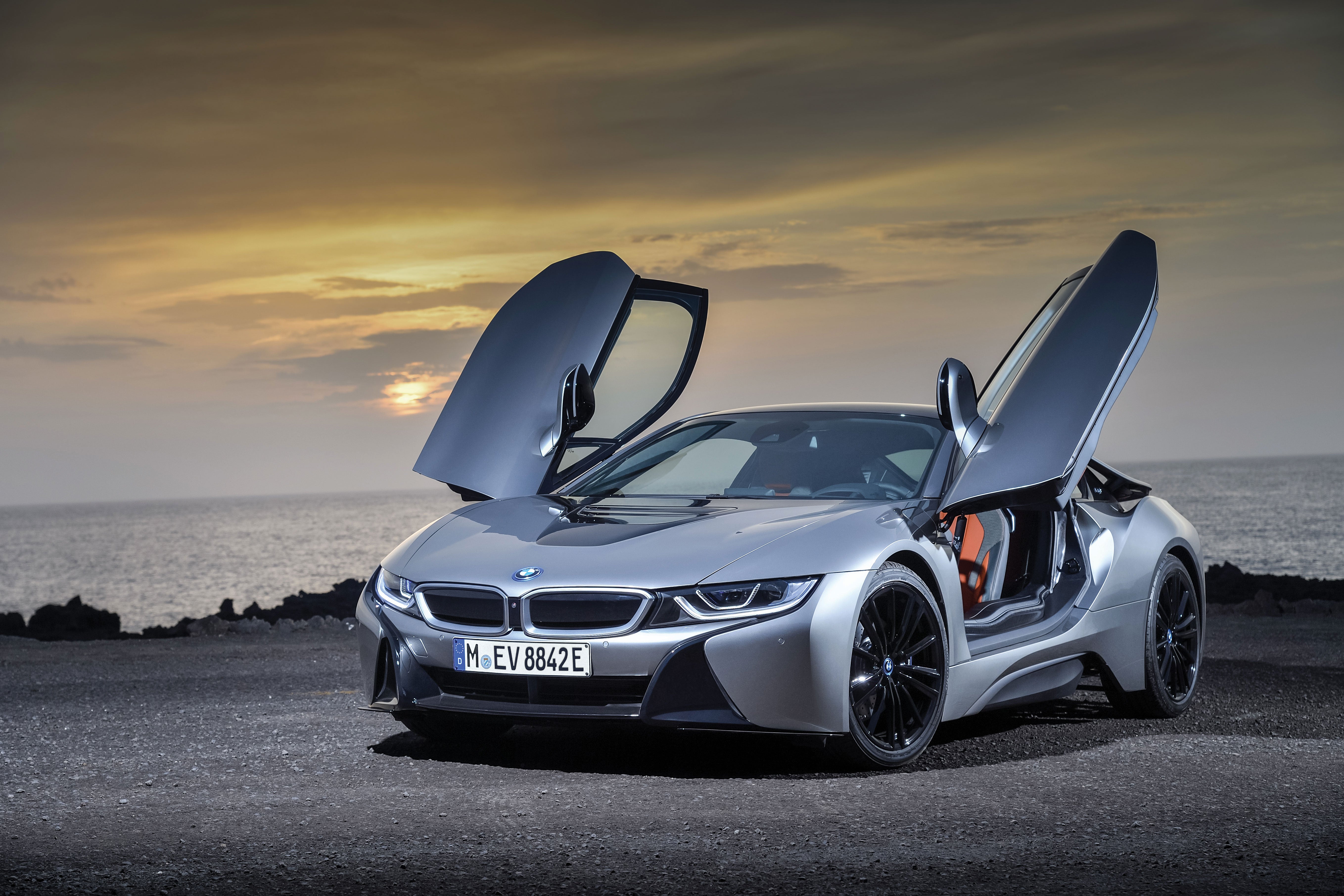 BMW i8 Roadster
Best hybrid sports car
BMW's 2019 i8 Roadster gives the world a glimpse into our full-electric motoring future. A plug-in hybrid sports car, the two-seat i8 Roadster possesses an 18-mile electric range, 20-inch wheels and a motorized soft top that takes 16 seconds to open or close when the car is going less than 31 mph.
The $6,300 Laserlight option launches the car firmly into Tron territory, with headlights that BMW claims are 10 times brighter than their normal counterparts. Proud of the i8's curb appeal, BMW is also quick to note that the rear-axle engine achieves a near-exact 50-50 front-to-back weight distribution.
While there are unmistakably better sports cars and plug-ins already in existence, the assimilation of the two posits the i8 in rarefied space. Its exclusivity and design are purpose-built to turn heads, whether via the angular, jutting rear or the statement-making stock colors including E-Copper, a fiery mica-filled orange, or Crystal White Pearl Metallic with Frozen Grey accent, a nearly iridescent white. For a tamer color like Donnington Grey, expect to pay $1,800 extra.
Price from $163,300 Engine 1.5-liter twin-turbocharged 3-cylinder with AC Synchronous Electric Motor Power 369 hp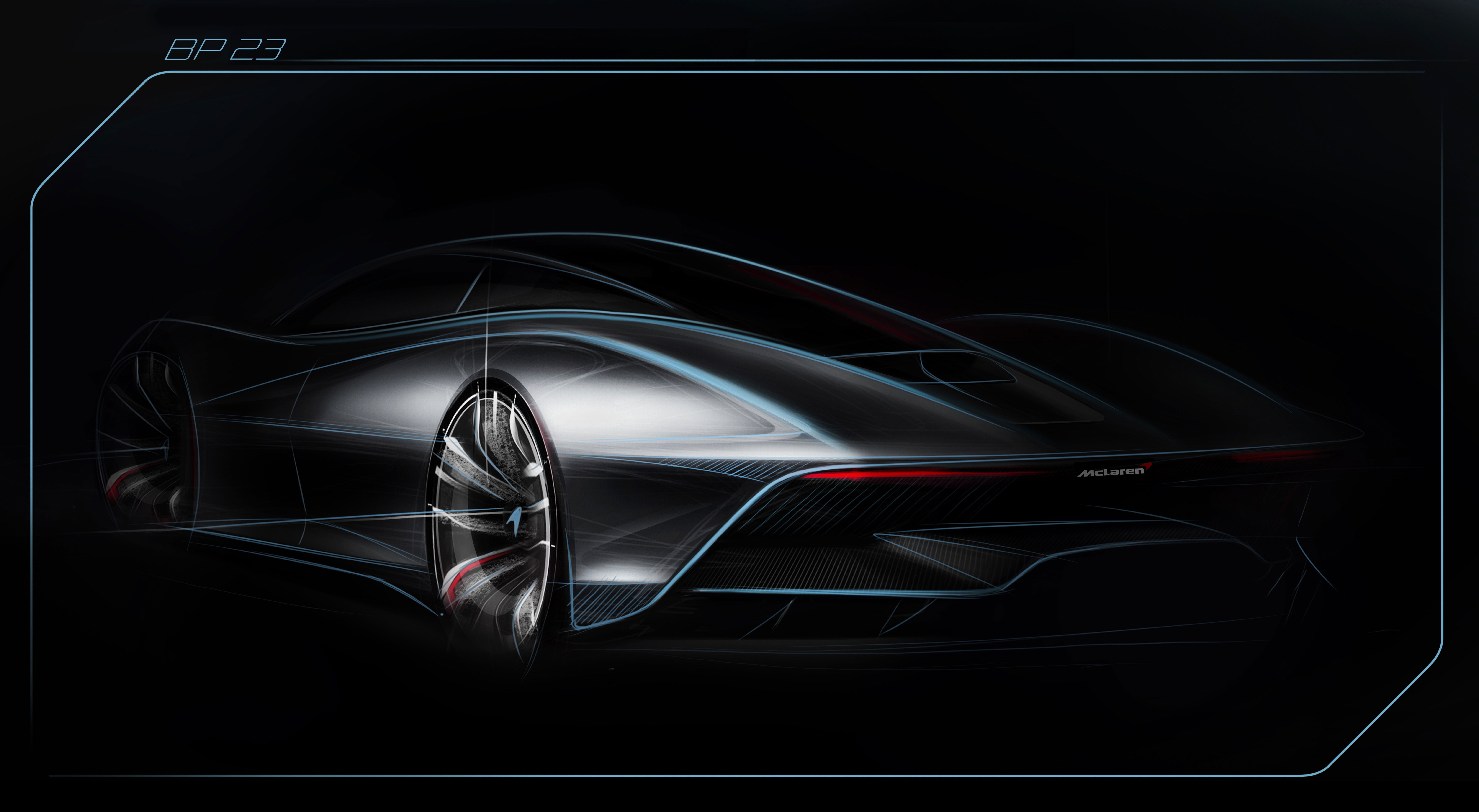 McLaren BP23
Best in-brand expansion
Not only is McLaren opting out of building an SUV (the fastest-growing and most globally profitable car segment), but the Woking, UK–brand has generated statement-making news by focusing its R&D efforts into a three-seat hyper grand tourer. A different area of focus from its other road cars thus far, which have a heavy emphasis on performance, the currently code-named BP23 is inspired by the legendary F1.
It will have a central driving position and a three-abreast format with a single seat slightly behind and on either side of the driver. As a hyper GT, a focus on comfort is paramount — long-distance driving is the very soul of a grand tourer. Its top speed will be at least 243 mph, the peak speed of the F1, and the allusions don't stop there. Many details, including exact engine specifications, are being closely guarded by McLaren Special Operations. McLaren has promised, however, that "the car will be the most powerful and aerodynamic road-going McLaren ever produced."
The entire production run of 106 vehicles (the F1 created the same number) has already been sold. By pursuing niche models like the BP23, McLaren is forgoing trends to remain true to its particular but ever-expanding clientele.
Price from $1.7 million Engine gasoline-electric hybrid powertrain Power 621 hp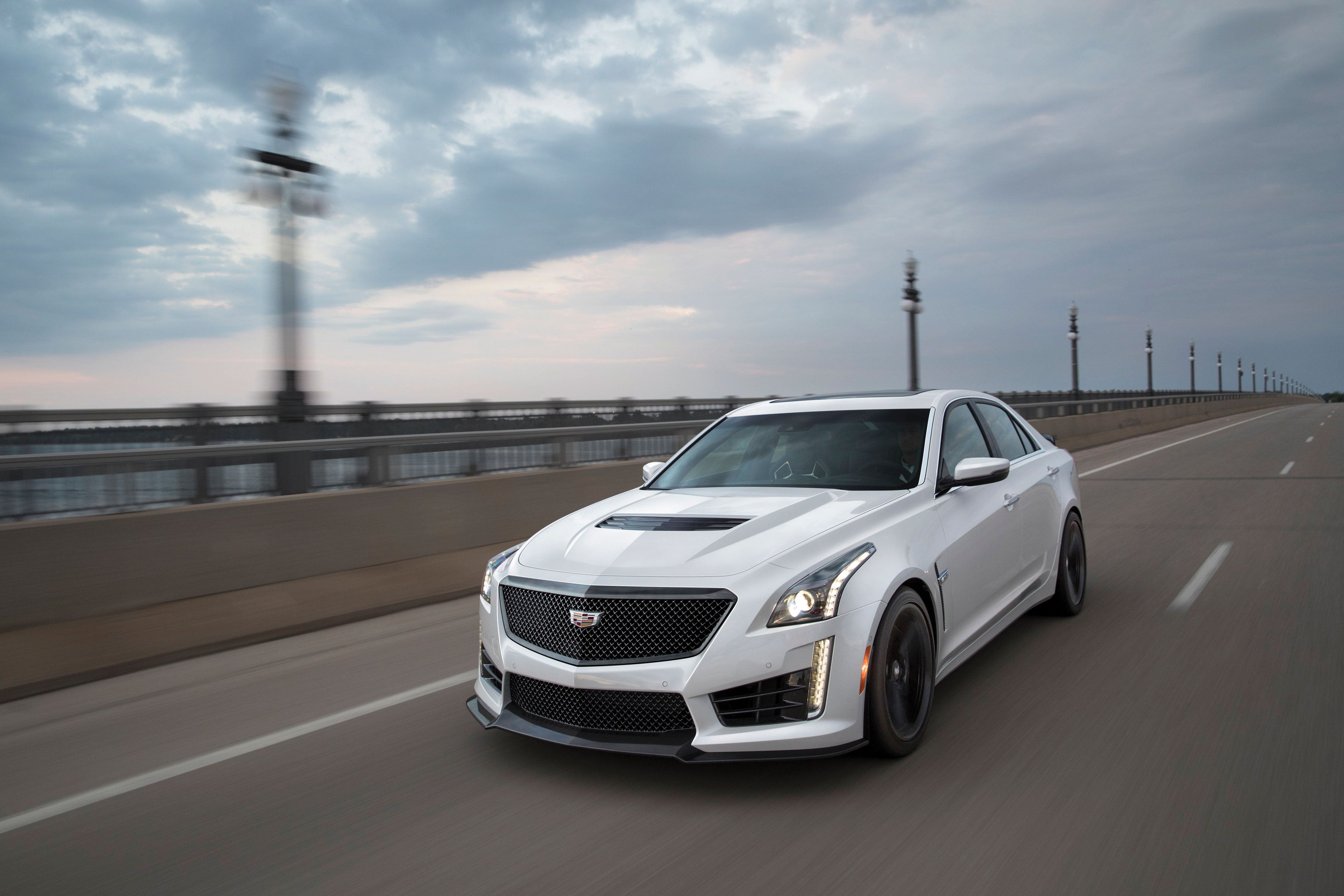 Book by Cadillac
Best car-subscription service
The commitment of leasing, financing or buying has always gone hand-in-hand with securing a car. Headaches, second-guesses and regret often ensue. To alleviate those symptoms, Cadillac has created Book, an app-enabled on-demand subscription service that offers you the ability to go between five vehicles, which include the Escalade, CTS-V sedan, CT6, ATS-V coupe or XT5 crossover. Vehicles are delivered and retrieved via white-glove service. There is no mileage restriction, and registration, taxes and insurance are all covered in the flat monthly fee of $1,500. Although Porsche and Volvo also have subscription programs, Passport and Care by Volvo, respectively, an Edmunds analysis found that Book could cost less than a textbook lease, depending on the make and model, and you can change your car to suit your mood. Cars can be lent for up to 30 consecutive days and exchanged up to 18 times per year.
Price $1,500 per month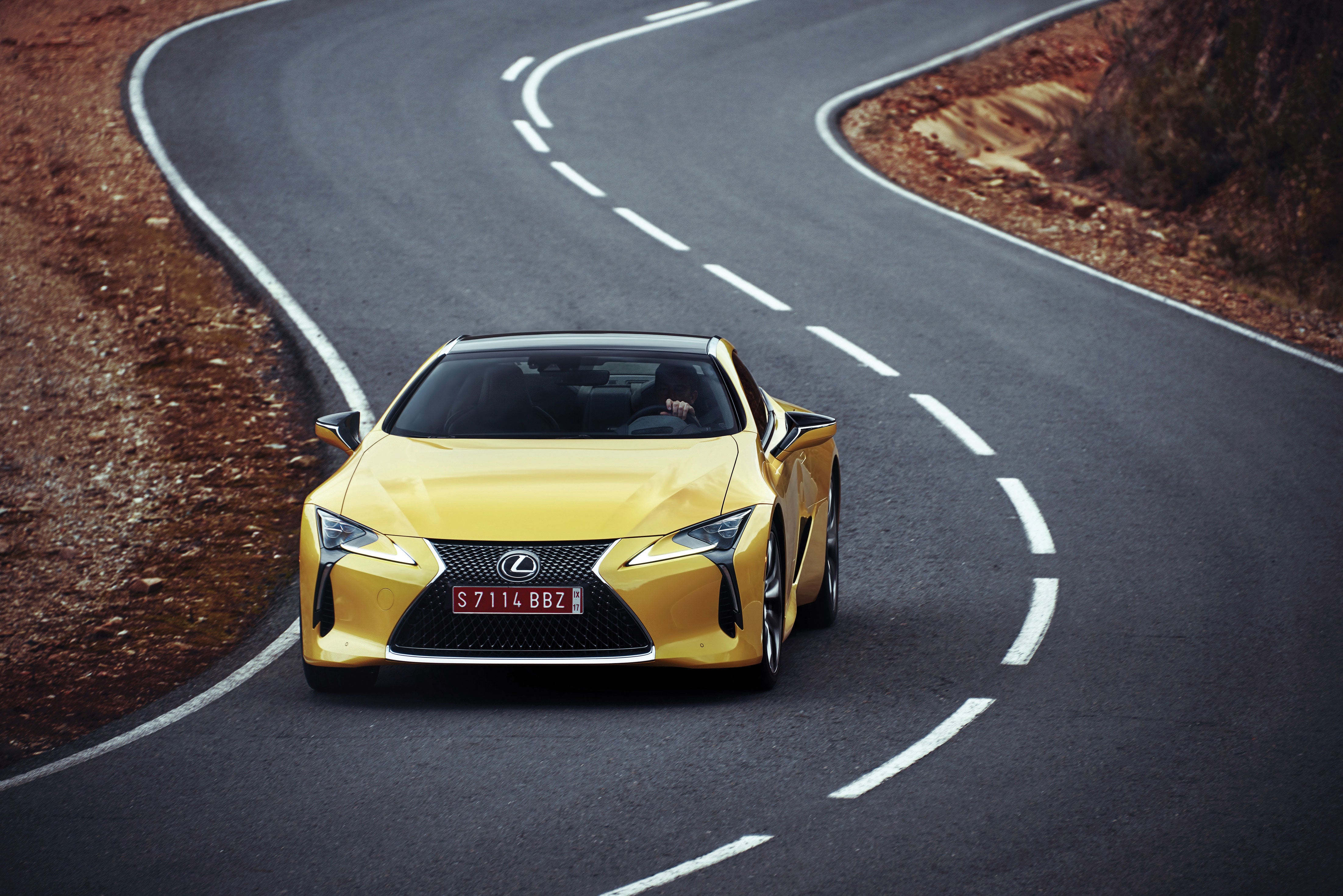 Lexus LC 500
Best concept car turned production vehicle
Lexus is swinging for the luxury fences. A concept car/production vehicle, the LC 500 is a series of contradictions. Pricing begins in the high five figures, certainly enough to turn heads, but Lexus is aiming for the six-figure consumer, having tested opposite Aston Martin's DB11. The deep rumble that belches from the exhaust is unlike anything successfully Lexus-branded — ever — and that's a good thing. Choosing natural aspiration means big-engine business, but it's a bit of a head-scratcher too, considering that Lexus also released a V6 hybrid version with 117 less horsepower and multistage transmission that costs nearly $5,000 more than the V8. The Nagoya, Japan–headquartered brand executes bells and whistles extraordinarily well: from the flush door handles to the windshield wiper de-icer and infinity-mirror taillights, this could be the making of a standout. Although absolutely in the realm of a daily driver, exotic yet manageable, the LC's trunk is petite and the back seats aren't for anyone over the age of six. Its massive spindle grille is the focal point, leading the eye up the long, low and fat hood, through the tucked midsection and out the flared, angular backside. There's an unmistakable curiosity, a pull that urges passersby to give the LC a double take.
Price from $92,000 Engine 5.0-liter naturally aspirated V8 Power 471 hp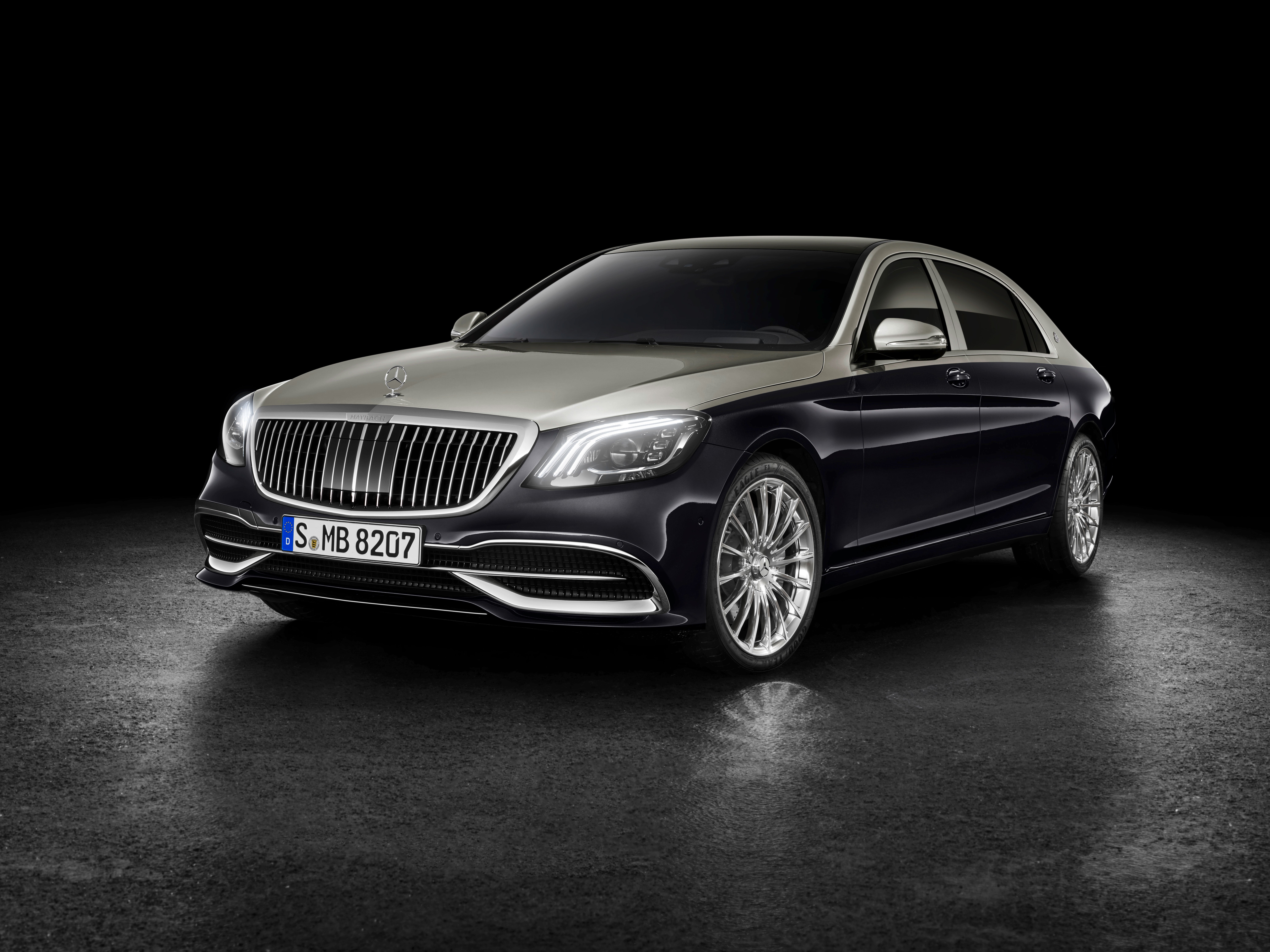 Mercedes-Maybach S650
Best seats
Intentionally settling in for a drive, behind the wheel or not, is a particular pleasure. The Mercedes-Maybach S650 ensures its passengers experience maximum comfort via seats so carefully constructed that the perforations in the leather never overlap with the stitching.
The Stuttgart-based company is taking de rigueur climate control, audio and massage options a step further with "energizing comfort control," a list of settings that rival most spas in terms of services. Ambient lighting, music, even fragrance can all be adjusted while you sink into the 12-way power front seats.
Moving to the rear of the automobile, the "executive rear seats" are also heated and ventilated, and have power reclining and numerous massage settings. Rear calf rests and folding tables are optional, in addition to the diamond-quilted, button-tufted nappa or semi-aniline leather. Naturally, each seat comes with a matching throw pillow.
A bonus is the semi-autonomous driving technology, which includes mapping data, sensors and cameras working together to forecast the car's route. It's miles ahead of its competitors, so it's advisable to really burrow into those seats.
Price from $198,700 Engine 6.0-liter AMG biturbo V12 Power 621 hp