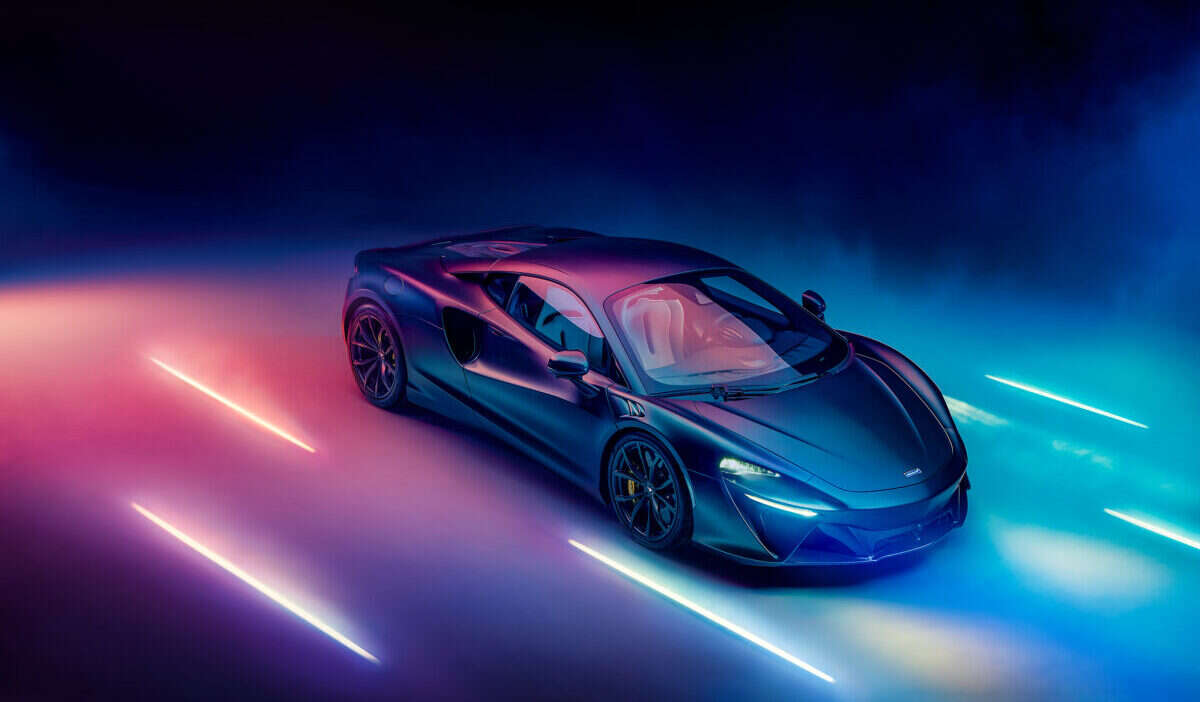 As McLaren's first series-production plug-in hybrid supercar, the Artura encapsulates the brand's uncompromising pursuits: above all peak performance and driver engagement. To obtain those goals, the company embarked on a relentless quest for weight reduction and optimum aerodynamics.
Or, as McLaren Automotive CMO Gareth Dunsmore puts it: "Artura is the pure distillation of our collective expertise and experience. It's the next generation McLaren."
It also promises to stand alone as the next generation of supercar.
Book your exclusive driving experience
Your exclusive opportunity to experience the full force of McLaren in the all-new Artura
click here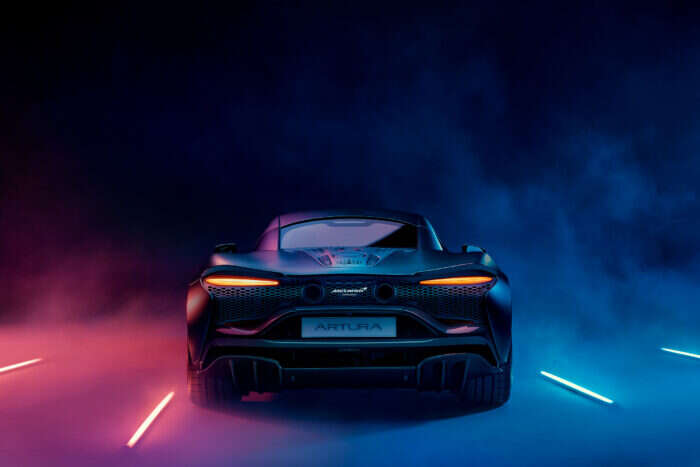 A supercar without precedent
Tapping into its robust racing technologies, the company used advanced engineering solutions to create the all-new McLaren Carbon Fiber Lightweight Architecture (MCLA). Only found in Artura, this carbon-fiber monocoque chassis is 11 lbs. lighter and 17% stiffer than the previous MonoCell 2 design, despite featuring a new battery compartment, aero surfaces, B pillars and door fixings. It's also stronger, which allows the British brand to mount the light, albeit powerful, HV battery as low as possible.
Arguably McLaren's biggest engineering project since the MP4-12C, which began the brand's production road car program in 2011, Artura is powered by an E-Motor working in conjunction with a new 3.0-liter V6. Weighing 110 lbs less than the well-established V8, and measuring 8.7 inches narrower and 5.9 inches shorter, the V6 features two symmetric turbos positioned between a 120-degree V-angle complete with a funnel that extracts hot air.
[See more: Richard Mille RM 40-01 McLaren Speedtail – Top Watches in the World]
Artura also contains an axial-flux E-Motor, as opposed to the more common radial flux, as found in the P1. Compact, the axial-flux sits in the gearbox's bell housing, clever positioning as it weighs a mere 34 pounds (less than half the weight of the P1). The new dual-clutch automatic gearbox now has eight gears instead of seven, and doesn't require a reverse gear but instead uses the E-Motor to move the car.
The sheer level of ingenuity required to produce a 671 horsepower vehicle that asserts 0-62 mph in 3 seconds with a top speed of 205mph, but also achieves the greatest fuel efficiency to date, combined with 19 miles pure electric drive, cannot be understated. As its first PHEV, the battery regenerates automatically when driving, or in two and a half hours when using a 240V outlet.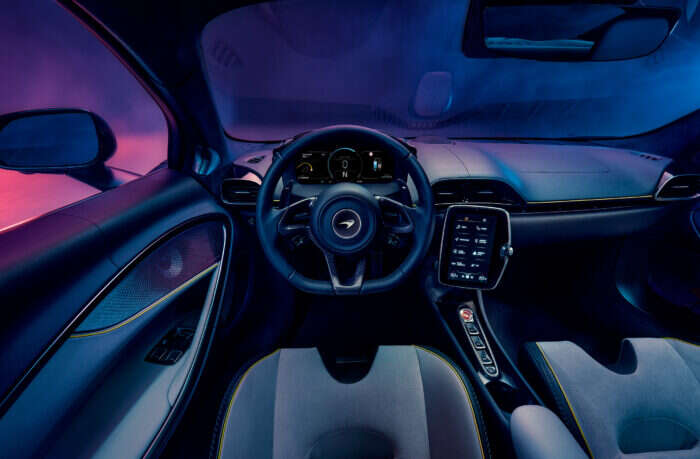 Peak performance
Although many elements of the Artura are completely original, others draw inspiration from outside sources. For instance, the cockpit design is influenced by that of a jet fighter. For the driving enthusiast, an all-new electronic differential means the throttle can be engaged earlier when exiting a corner. There's also reduced understeer and greater high-speed stability. For those looking for enhanced drifting capabilities and superior traction, Artura delivers with updated electro-hydraulic steering, 40% increased roll stiffness and enhanced Proactive Damping Control gleaned from the 720S.
While performance remains paramount, McLaren has focused on comfort via a larger cabin design and new Clubsport seats. Lighter than ever, the whole seat pivots as one through an elliptical arc when adjusted, combining under-thigh support, seat height and backrest in one movement. Heat, memory function and lumbar adjustment come standard in the seats, while soft close doors, power folding mirrors, Apple CarPlay and Android Auto allow for additional convenience for both driver and passenger.
[See Also: McLaren Automotive Unveils Artura Art Car by Nat Bowen]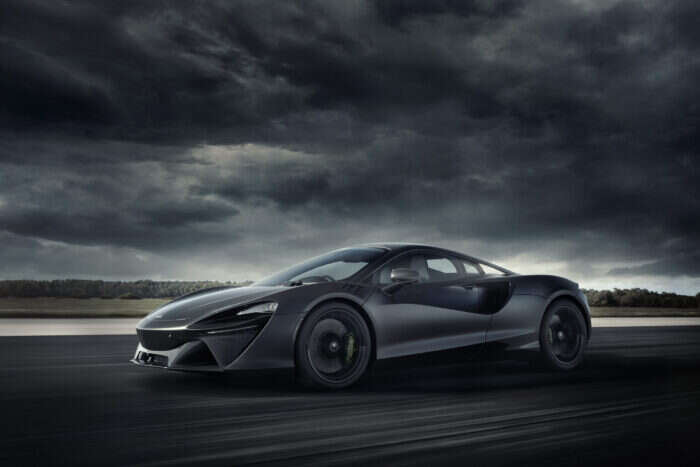 Driven by tech
Debuting on Artura is an automotive first: ethernet electrical architecture and Telematics Control Unit. McLaren's older cars used a CAN-based architecture but Artura, given its driver-assist systems, infotainment features and influx of technology required a program that can more easily and frequently update. Now, all that's required is an internet connection or hotspot for over the air software updates. Not only is the ethernet architecture faster than conventional designs, but engineers found a way to save up to 25% in weight.
That technology extends from steering wheel to tire. McLaren is the principal manufacturer to offer Pirelli's cyber tire. Tailor-made for McLaren, the P Zero Corsa Tires Cyber Tire Technology offers grip levels comparable to the extreme P Zero Trofeo R tires of the 600LT and includes an electronic 'chip' inside each tire, with instant pressure and temperature measurements.
Creating a PHEV that still feels and drives like a McLaren while weighing in at only 3,303 lbs, battery included, proved to be a culmination of multiple team efforts. Artura is not only McLaren's newest mid-engine supercar, but a statement of purpose and a display of its technological prowess.
Click here to book your McLaren Artura test drive today