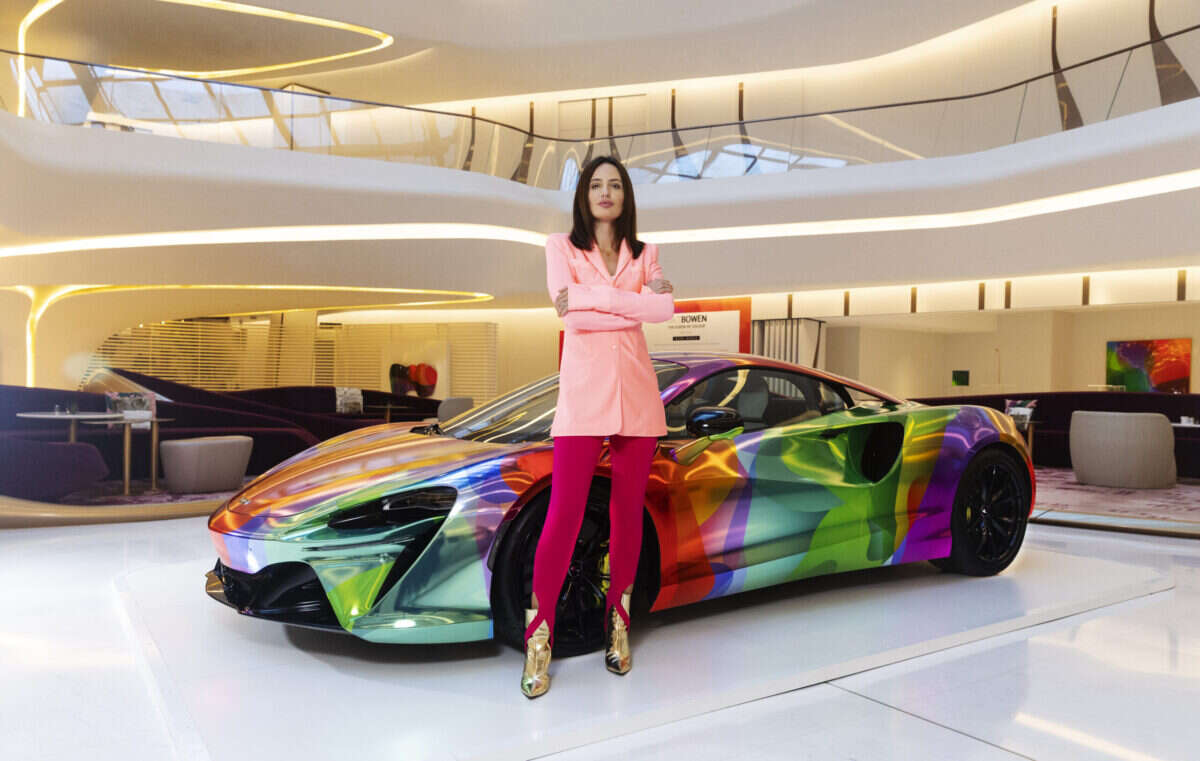 High-performance, luxury supercar brand McLaren has revealed the Artura Art Car as part of a regional collaboration with Nat Bowen — a leading British abstract artist.
Featuring Bowen's trademark vibrant style, the Artura Art Car is currently being displayed as part of Bowen's Queen of Color exhibition at the ME Dubai hotel.
"We are delighted to have collaborated with Nat Bowen to showcase the all-new McLaren Artura featuring her signature multi-layered artwork in the iconic surroundings of the ME Dubai," says McLaren Automotive market director for Middle East & Africa, Mohamed Fwazi.
"The exhibition received a phenomenal reception and allowed us to successfully engage with the extremely passionate art community in Dubai and the rest of the Middle East," he continued.
[See also: The Top Cars in the World]
Bowen's exhibition explores the use of Chromology — representing the psychology behind color — as well as the themes of 'Art' and 'Future', the elements which inspired the name of the brand's first high-performance hybrid vehicle.
The exterior of the vehicle features translucent resin pigments. This causes the car to adapt to the light, reflecting and absorbing its surroundings effectively becoming a part of the space it inhabits. At the exhibition, spotlights dance across the paintwork creating a visually stunning effect.
[See also: Twenty For 20: Game-changing Cars of the Past and Future]
"It's been an honor to work with McLaren Automotive on this exciting concept and display it as part of my first solo exhibition in Dubai," says Bowen.
"My goal was to provide a truly immersive experience and transport the visitors into a meditative state away from everyday distraction, as well as allow them to further explore and develop their relationship with color," she continued.
This entirely new vehicle, which was built from the ground up, marks the beginning of the next chapter for McLaren Automotive. Taking inspiration from its predecessors, the Artura is underpinned by McLarens's philosophy of super-lightweight engineering. The Artura is the first McLaren vehicle to benefit from McLaren Carbon Lightweight Architecture (MCLA), a new technology set to play a key role in the brand's electrified future.
The McLaren Artura is the result of almost 30 years of road car design and pedigree. Featuring the attributes of its precursors that owners know and love, combined with faster throttle response, lower emissions, and the ability to run in pure EV mode due to its groundbreaking electrified powertrain.