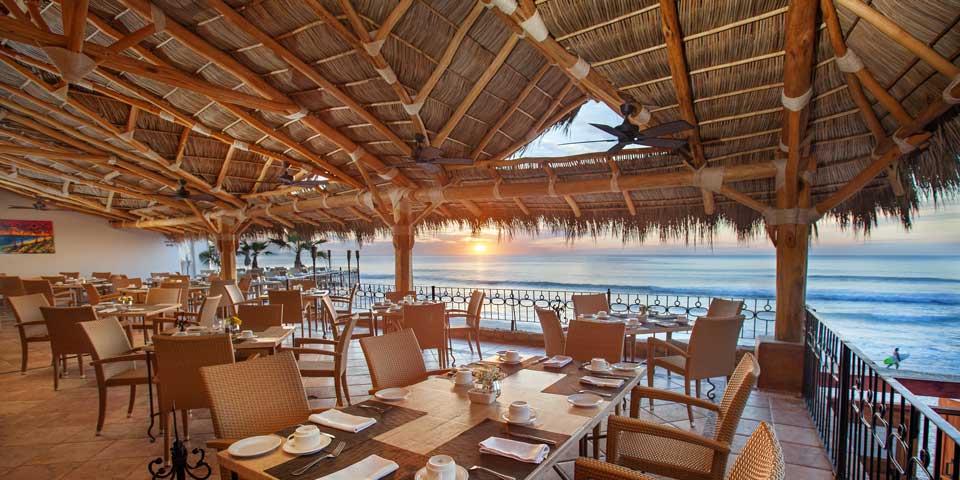 No matter who you are or how extravagant your taste may be, there is always a space inside where natural beauty summons the simpler side of life. Cabo Surf Hotel & Spa is just that kind of place. A place where you can dine side by side with some of Hollywood's biggest names, listen to the latest fish story from a group of buddies from Chicago, while watching the surfers challenging waves below.
Cabo Surf, a 36-room intimate boutique hotel, is located in the beautiful San Jose bay of Los Cabos. Nestled in an ocean cove on a pristine and golden sand beach, Acapulquito is also known locally as "Old Man's" beach.  Besides its beauty, this beach is one of the top surfing spots in all of Los Cabos. With long rides, it is the ideal spot for long-boarders. The architecture resembles a California style beach house with white stucco walls, arches and red tile roofs. Luscious vegetation enhances gardens and surroundings.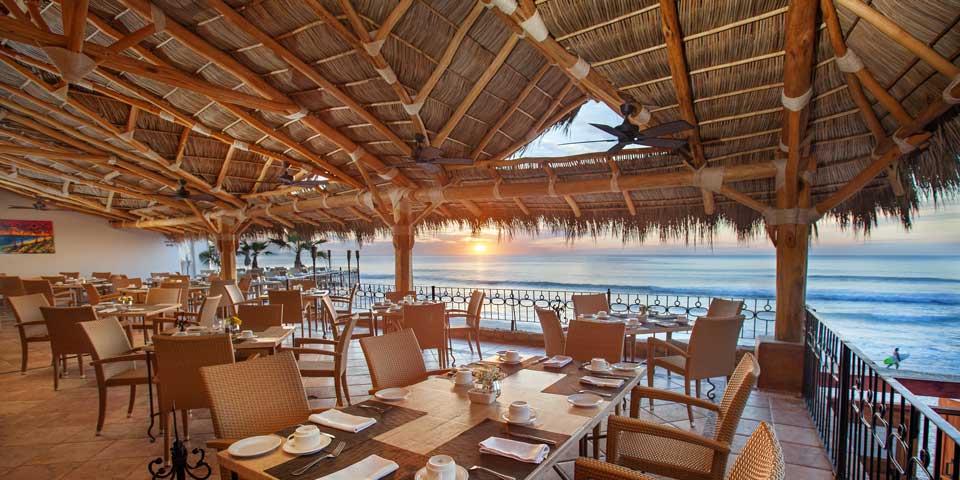 The hotel's 7 Seas Seafood Grille is well established as one of the area´s finest restaurants. With an ocean view found in only a few other restaurants in the entire Cabo area, 7 Seas offers a complete dining experience. Highlighted by creatively crafted seafood dishes with fresh and healthy ingredients provided by local fishermen and farms.
Executive chef Alejandro Rodriguez and his team of talented food professionals present an inspiring and innovative menu. Fresh Baja seafood is the main attraction featuring sea bass, tuna, shrimp, lobster, oysters, Baja clams, mussels, baby calamari, blue crab, scallops or whatever the sea provides. True to their Mexican heritage, the 7 Sea's chefs craft dishes that have an "accent" and are based on great recipes brought from the Mediterranean, Asia and the U.S. They use organic and fresh products to the highest extent. They fry and cook with olive oil replacing butter and cream as much as possible. They bake their breads with whole grain. They even make their own ice cream.  Delicious as well as healthy…perfecto!
Relax at the Sea Spa Cabo, the resort's on premises full service spa. Sea Spa Cabo offers a myriad of state of the art treatments in a variety of venues utilizing their own line of skin care products.  Pamper yourself while listening to the sound of the Sea of Cortes while enjoying a deep tissue massage or a variety of facial therapies  (including our four layer facial), and Premier anti-aging treatment which Cosmopolitan UK magazine called "the best facial of the century".
Destination weddings are an art form at Cabo Surf.  Their dedicated wedding professionals work on all the necessary details to make magic for on beach wedding events. Credited to its privileged beach cove location, the property has become a favorite wedding location in Los Cabos. The banquet facilities offered by the 7 Seas rank high in the area. The Executive Chef and the restaurant manager personally supervise all private events. Reception areas include: beach area, garden promenade, pool deck, shore wing terrace and the 7 Seas Restaurant. The salon estheticians perform hair and make up as well put together spa parties. Every celebration is a welcome challenge for the Cabo Surf Weddings Team.
Maybe the most unique aspect of visiting Cabo Surf Hotel & Spa is defined in its name "Surf".  Blessed with one of the most unique surfing beaches in the world, guests can literally step from their room or breakfast table pick up their surfboard and be paddling out in minutes.  The hotel has its own surf school, which operates everyday and year round.  With one of the best and most complete rental shops in Los Cabos, beginners and experienced surfers will find the perfect equipment to meet their expectations.
Contact cabosurf.com