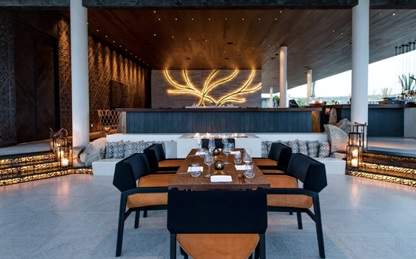 There is one thing about Los Cabos that cannot be denied…Everything Comes Naturally. Inspired by nature and perfected by man, COMAL at Chileno Bay Resort & Residences embodies that emotion from the moment you enter this amazing venue.  Designed by Los Angeles-based Gulla Jonsdottir Architecture + Design, COMAL is a breezy, contemporary space set against breathtaking views of the Sea of Cortez.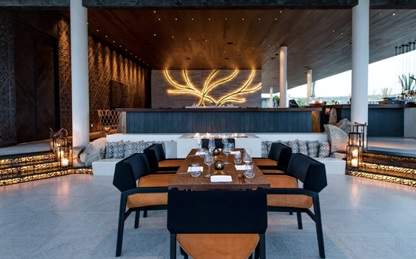 COMAL is truly a one-of-a-kind dining and social experience for Los Cabos residents and visitors with unique features such as a secluded outdoor fire pit, a magnificent "floating tequila display" above the bar, and live-action oyster bar.  Enhanced by inspiring design elements throughout, COMAL is the perfect place to enjoy a gourmet breakfast as the morning sun kisses the sea or to sip cocktails while enjoying panoramic views of the ocean and Cabo's exquisite sunsets.
Ultimately, the proof is in the tasting and COMAL will not disappoint. The secret behind its exceptional food and beverage services can be credited to the "Tres Amigos" — Thomas Keller-trained chef Yvan Mucharraz, award-winning pastry chef Devin McDavid and renowned mixologist Osvaldo Vasquez. Together these three culinary comrades are fusing their distinguished pedigrees to introduce a new wave of food and beverage innovation to Los Cabos.
Under the leadership of Executive Chef Yvan Mucharraz, COMAL has already been recognized by leading restaurant editors, as one of Los Cabos' must try eateries.
Yvan Mucharraz Executive Chef
As an expert in contemporary and traditional Mexican cuisine, executive chef Yvan Mucharraz is responsible for culinary operations and development at Chileno Bay. Bringing years of experience from helming the kitchens at top luxury resorts, the multi-lingual Mucharraz is passionate about showcasing Latin-inspired cuisine in new and imaginative ways at Chileno Bay restaurant.
Osvaldo Vasquez Beverage Manager

The beverage manager at our restaurants in Los Cabos, Vazquez is the award-winning mixologist who oversees the resort's beverage program. Celebrated for his extensive knowledge of regional spirits and avant-garde approach to cocktails, Vazquez prides himself on using seasonal and locally sourced ingredients. His own line of Mexican aged bitters, Bitter and Barrel, is carried in high-end bars around the world, from Paris to Tokyo.
Devin McDavid Pastry Chef
Devin McDavid is the resort's pastry chef. Inspired as a young boy by his aunt's wedding catering business, the Trinidad-born chef went on to hone his cooking techniques at renowned establishments across North America. McDavid's culinary style is extensive, ranging from elegant and refined to simple and rustic with influences from Italian, French and Japanese cuisine.
Savor the rich culinary tradition of Baja with a menu that fuses together authentic Latin American flavors with inventive, unexpected twists.  Experience expertly crafted dishes with organic, locally sourced ingredients; showcasing the unique regional character, while capturing the best each season has to offer.
Contact comal.restaurant@aubergeresorts.com