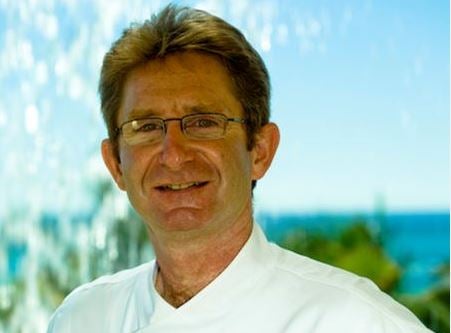 Rapidly establishing itself as one of the top culinary hotspots in Latin America, Los Cabos is a must-visit destination for any serious gastronome.  Blessed with the widest variety of fresh fish, calms, lobster and other saltwater delicacies, Los Cabos is the standard bearer in Mexico for gourmet seafood.  Today, Los Cabos is also home to some of the finest ethnic and specialty restaurants found anywhere in the country, with more emerging every few months. However, the one category that may be under represented is true French cuisine.  Here are two that are well worth your time to explore.
Canto del Mar – Signature Restaurant By Thierry, located in the Marquis Los Cabos Resort & Spa, is the Grande Dame of French dining in the entire region. The secret to any fine dining restaurant is consistency of presentation and service.  Since its opening in 2003, Executive Chef Thierry Dufour – Yves, has been the hallmark and inspiration behind every creation.  With a new five-course menu presented every Monday, Chef Thierry's selections are not only varied, but take full advantage of only the freshest local ingredients.  Each course offers uniquely prepared choices, all true to their French heritage, and guaranteed to please even the most discriminating palate.  To add to your enjoyment, wine pairing follow you throughout the evening.
From Paris to Mexico, Executive Chef Thierry Dufour, has earned the respect and recognition of both his peers and his patrons.
MAITRE CUISINIER DE FRANCE (MASTER CHEF DE FRANCE)
PRESIDENT OF HONOR OF THE VATEL CLUB OF MEXICO
MEMBER OF THE CULINARY ACADEMY OF FRANCE
KNIGHT OF THE WORLD ORDER OF THE CULINARY ACADEMY OF FRANCE
MEMBER OF THE CHAINE DES ROTISSEURS
VATEL GOLD MEDAL OF MEXICO (2003)
CHEF OF THE YEAR 2001 AT THE NATIONAL LEVEL (Mexico)
SAN PASCUAL TROPHY AWARD 2009 BY "The Association of International Hospitality"
Canto del Mar delivers a true French fine dining experience.
youtube.com, marquisloscabos.com
With the opening of the Grand Velas Los Cabos ultra-luxury all-inclusive resort in late 2016, came the second of Los Cabos' "French Connections" – Piaf.  Piaf offers a truly elegant (adults only) French fine dining experience, highlighted by an artful play on textures in every direction, with undulating crystal lighting, deep rust-colored patterned marble flooring and an impressive center column. Its classic French menu features amazing foie gras, duck breast with an exquisite wine and fruit reduction, Kobe filet prepared with a unique French flare, several tempting seafood dishes, freshly baked chocolate soufflé, and each course is paired with a selection of wine from any of the two wine cellars filling the walls of the dining room.
Piaf's Chef Aurélien Legeay hails from France with a resume of global experience and triumphs. Starting his career in France, he soon traveled throughout Mexico and the US in universal cities like Miami, New York, Chicago and Los Angeles continuing his culinary education and broadening his depth of knowledge. Legeay has gained experience in kitchens at many fine-dining restaurants including La Taverne du Mont d'Arbois at the Domaine du Mont d'Arbois, Relais & Châteaux, and Piaf at the AAA Five Diamond Grand Velas Riviera Maya where he acted as chef de cuisine under Michel Mustiere (Maitre Cuisinier de France) from 2008-2011.
It is important to note that both restaurants are not open daily, so it is important to check in advance and make reservations.