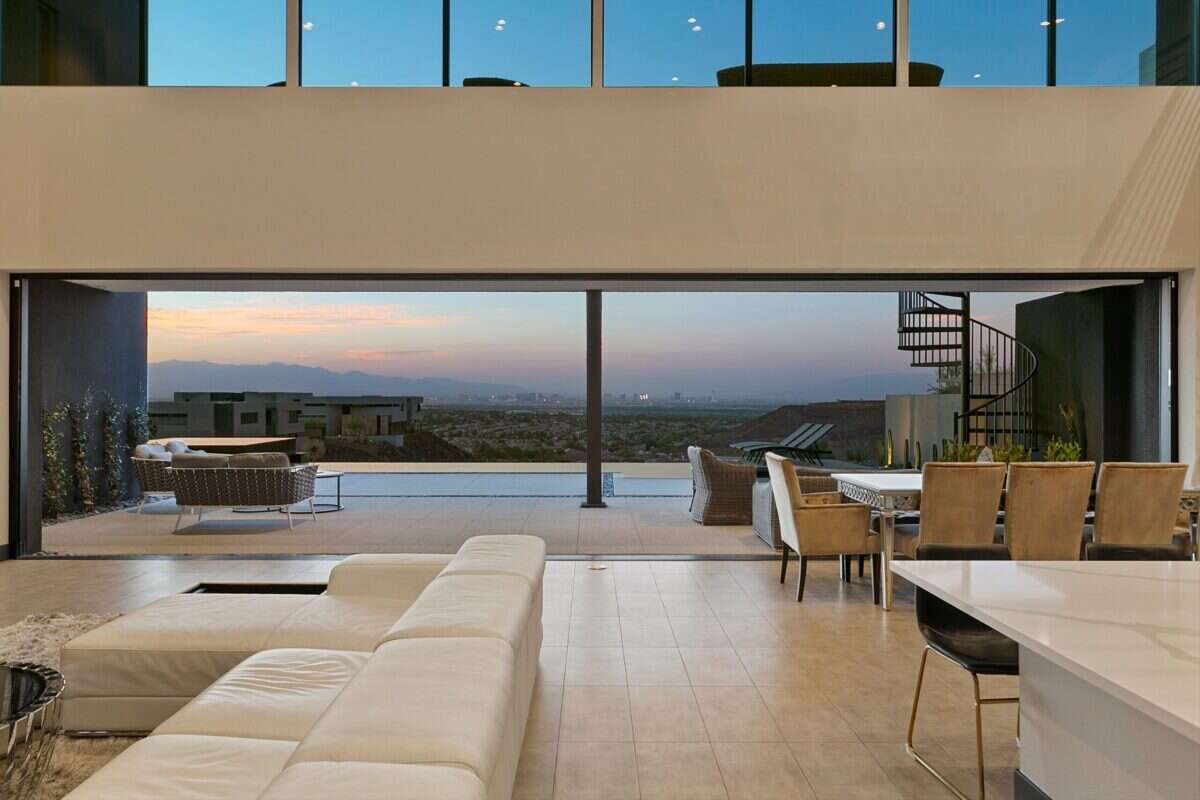 The tide of Californians rushing to Nevada isn't slowing down after Las Vegas' luxury property market saw its hottest year ever in 2021.
Sin City has long been popular with Californians looking to move, drawn in by its world-famous restaurants, hotels, international airport, and 0% state income tax.
But in the last two years, says Zar Zanganeh, managing partner of The Agency Las Vegas, the luxury property market in Las Vegas and the surrounding area, has been moving faster than ever.
[See also: Prime Property Prices Rise at Fastest Rate Since 2008]
"When the shutdown first happened, we had two weeks of almost complete silence, and we figured the market was going to come to a complete halt," he says. "And after about two weeks of quiet time, the demand just blew up."
Zanganeh says at first they began to see increased activity in the lower price points of luxury property, those between $1m and $2m. Then, as people began to be able to visit the properties in person, the demand for super-prime only grew, and Zanganeh says properties over $5m are selling at four or five times the rate they were pre-pandemic.
"We were selling on average one property over $10m a year in Las Vegas, now we're seeing at least one of those sales every month," he says.
The pace of the luxury property market in Las Vegas is moving incredibly fast. Many properties are selling before they are even listed. In Q2 of 2020, the average Vegas property was on the market for 49 days. In Q2 of 2021, that had fallen to just 14 days – more than three times as fast.
The reason for the speed, Zanganeh says, is simple. As people adjusted to working from home, they quickly realized they could do it from anywhere. California has always made up a huge chunk of Nevada buyers – in 2021, 43% of surrendered licenses at the DMV came from California.
Since Nevada has no state income tax, compared to California's top rate of over 13%, for wealthy individuals, every month they stay in California comes at a huge price. In 2021, the Agency says Californians made up 80% of their Vegas buyers.
Like in the rest of the US, the pandemic made finding the perfect home the utmost priority. In Vegas, Zanganeh says, the number one factor is the view, making the mountain rim properties extremely coveted.
"You get incredible views of the Las Vegas strip, the lights of the buildings and the beautiful skyline – it's our equivalent of the ocean view," he says. "And premiums range from half a million to over a million dollars if you just get a glimpse of that bit of beautiful view."
But, inventory is more suppressed than ever: the need to preserve the views means hillside construction is very limited, and land is hard to come by across the whole state. Despite Nevada's appearance of vast amounts of untouched land, the state in fact has the highest percentage of federally owned land in the country, limiting building options. Inside the Las Vegas valley, Zanganeh says, the available land is now 95% built up.
While inventory stays so low, and demand so high, Zanganeh says he anticipates prices for luxury property in Vegas will only continue to grow. 
"Just in the premier communities alone such as ASCAYA, the Summit Club, and The Ridges there is an overwhelming demand that we cannot satisfy for properties over $10m," he says. "In ASCAYA, Henderson alone, which is a community represented by The Agency, we have pre-sold everything under construction that will be completed in 2022 and 2023."
[See also: Property Market 'on Fire' in LA's Platinum Triangle]