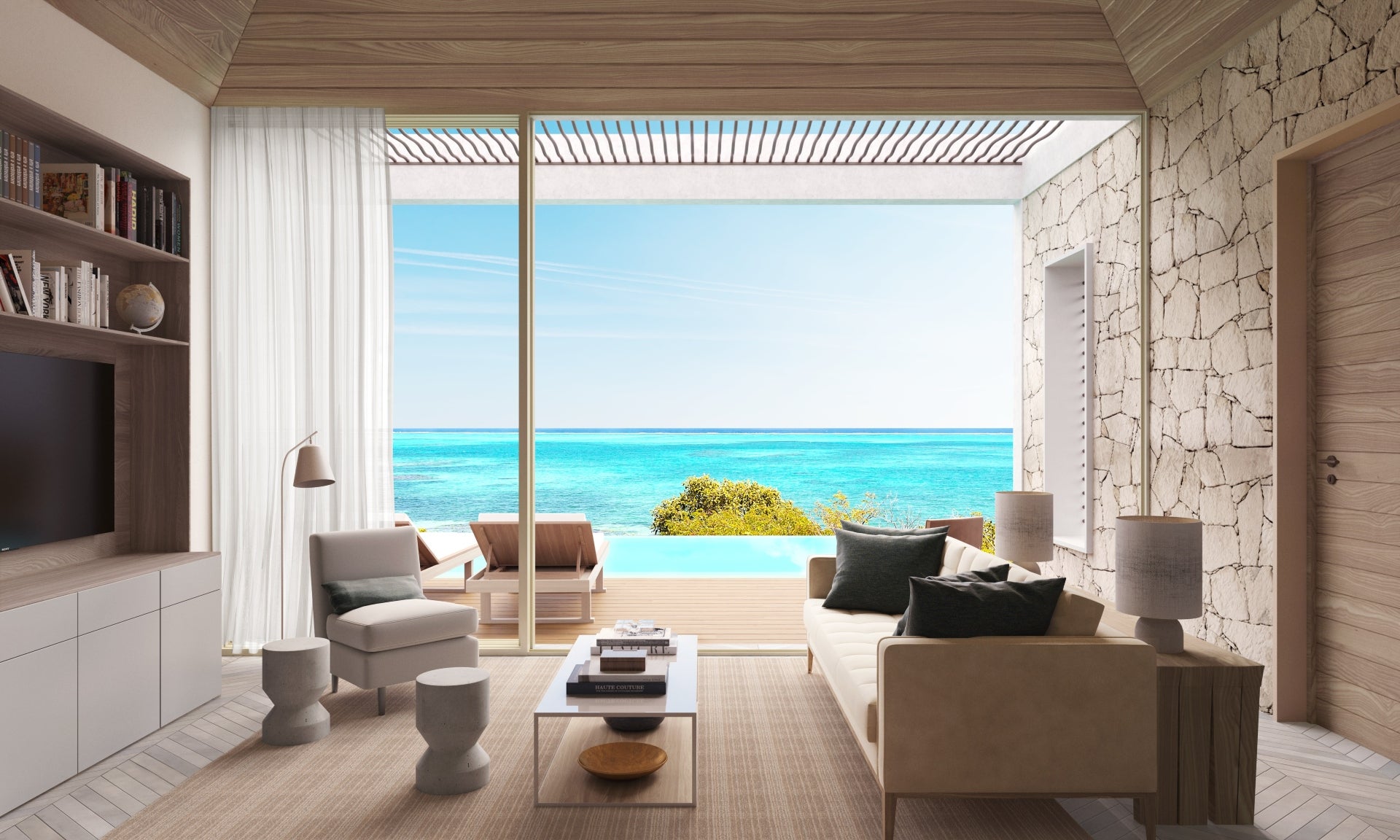 Located on the north coast of Providenciales in the beautiful Turks and Caicos, Rock House is a unique resort and residential offering set on 14 acres of expansive ocean frontage. Created by experienced local developer Grace Bay Resorts, Rock House prides itself on being different than any other development on the archipelago, balancing resort-style living with the opportunity to own standout property in Turks and Caicos.
Only two of the ridgetop homes within Rock House are still available for purchase. One of them is this standalone two-bedroom home, which is situated on an elevated ridge in the complex and boasts panoramic, unobstructed views of the ocean out of large floor-to-ceiling windows. Measuring around 1,740 sq ft of interior space, the two-bedroom house has a large open-plan living room and kitchen space that looks directly out to the ocean views.
[See also: The Most Exclusive Suites and Villas in the Caribbean]
This single-family Ridgetop Home also comes with parking and its own private infinity pool, as well as two terraces – one that leads from the living room, and the other that leads off one of the bedrooms. Meanwhile, the master suite is located at the back of the property and features one of Rock House's signature outdoor shower gardens, which makes the most of the natural surroundings and creates a spa-like tranquil feeling.
The property has been designed by Shawn Henderson and local team, Coast Architects; together the designers have created modern and welcoming interiors that combine traditional Caribbean style with sleek Scandinavian design. Sustainability was of utmost importance for the design team, both for the real estate offering and for Rock House resort.
As such, several low environmental impact initiatives have been put in place. Native flora, including the centuries-old Joewood trees, were moved to an onsite nursery during the build and are being incorporated into the landscaping – there is no imported foliage on the Rock House site. Limestone excavated from the cliffs during construction has also been reused within the homes as architectural elements, such as wraparound feature walls.
From $1,895,000. Visit sothebysrealty.com for full details.