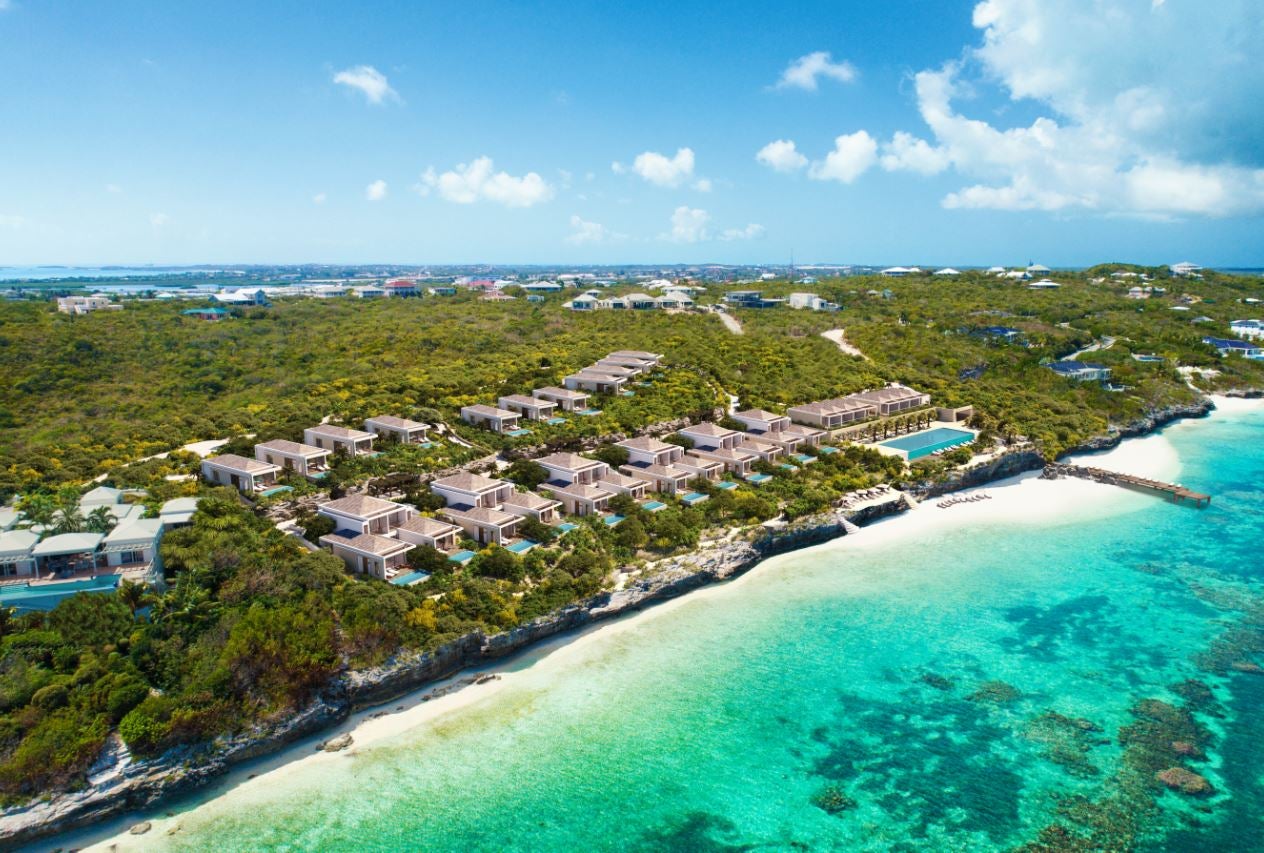 By Lauren Jade Hill
The creator of luxury retreats, Grace Bay Resorts, has now launched sales on a Mediterranean-inspired collection of homes on the limestone cliffs of Providenciales in Turks and Caicos, making it the first cliffside residential resort to have been built on the archipelago.
Owing to this privileged setting, the luxury development affords dramatic sea views from residences ranging from studio suites in the main building Rock House, to one and two-bedroom cottages spanning up to 1,750 square feet, and four and five-bedroom single-family estates. Taking inspiration from coastal towns in the south of France, Coast Architects – one of the leading design firms in Turks and Caicos – collaborated with Epikos Design and New York-based interior designer Shawn Henderson to create contemporary stone-clad cottages that sit on the cliffs sloping down towards the sea.
To achieve authenticity in the style of each one, residences were built by hand by local artisans who sourced their materials from the surrounding limestone cliffs. These residences then sit amidst the landscapes ancient Joewood trees and native orchids. And in each cottage this façade is then complemented by contemporary interior design featuring Scandinavian and custom-made furnishings, porcelain and terrazzo flooring and oversized soaking tubs.
Each freestanding cottage encompasses a private plunge pool and outdoor terrace, as well as bathrooms with secluded shower gardens, while floor-to-ceiling windows look out over the infinity pool and the enticing sea views beyond. And
these views can also be taken in from Rock House's signature restaurant, which boasts a 180-degree vista of the archipelago's barrier reef and the Atlantic Ocean. A spa, fitness center, tennis courts and jogging trails add to the residential resort's appeal.
Cottages are priced at $1.4 million. Find out more by going over to rockhouseresort.com.