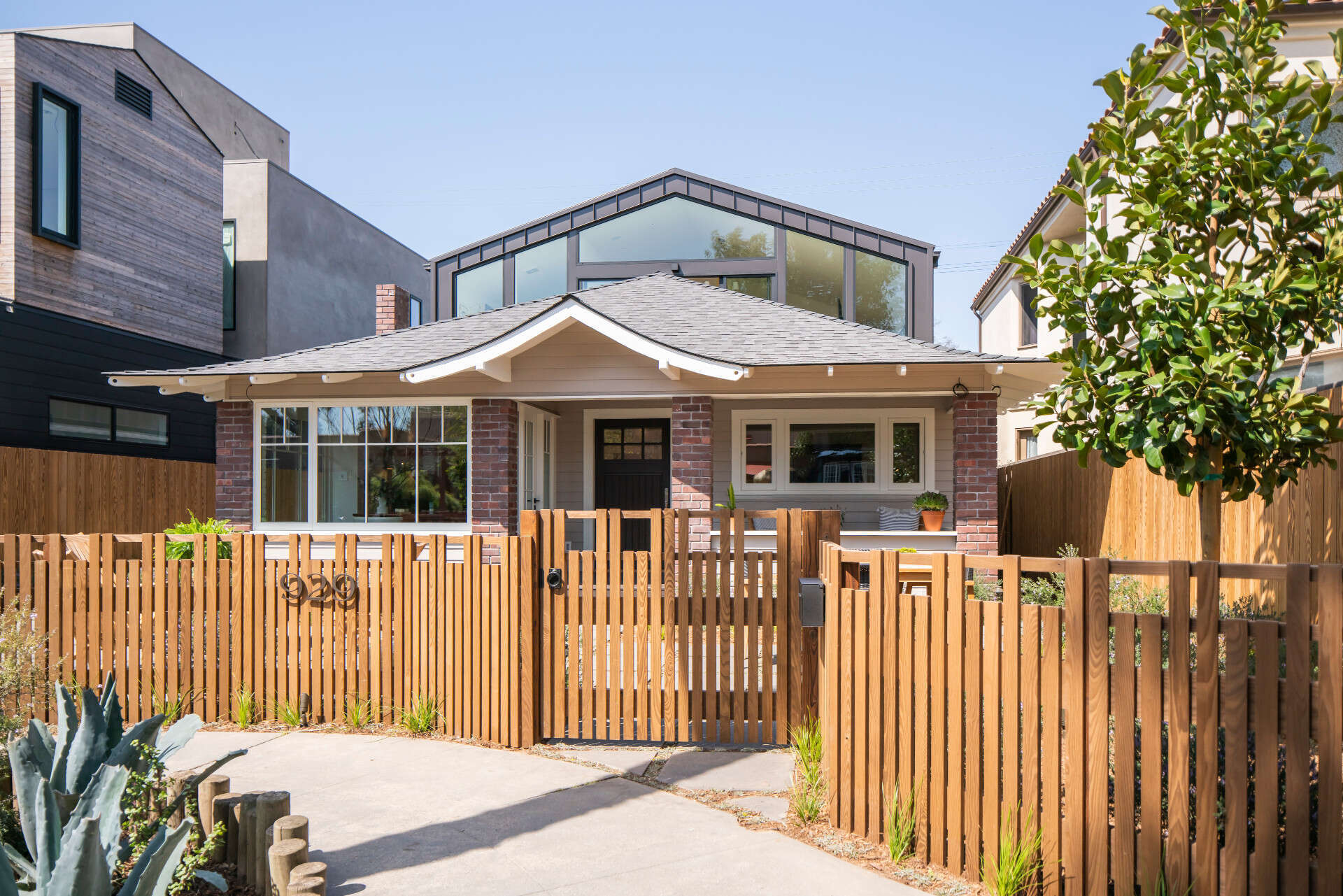 This extraordinary 2,700 sq ft property in Venice, California, is currently on the market. The unusual building is a newly constructed family home that combines an original 1907 Japanese Craftsman cottage with a modern, light-filled structure at the rear. Called the Historic Modern, it is the first property that has been completed out of the Modern Venice Homes, a curated collection of three new residences built by boutique developer ME Development.
The trio of new family homes is located side by side on one of Venice's famous walking streets, Marco Place. For the residences, ME Development brought together the expertise of award-winning Abramson Architects and interior design studio Joan Behnke & Associates. These iconic studios are collaborating on the designs for all three properties, with the other Modern Venice Homes due for completion in June and July 2021.
The Historic Modern is the perfect way to launch the collection of Modern Venice Homes. California cottages are prevalent in the Venice community but the addition of the modern metal structure at the back of the house makes it ideal for modern living. As part of the build, the original 1907 cottage that makes up the front of the home was lifted and transported to the site; every detail of it was restored with a certified historian watching on.
[See also: The American Designers that You Should Know]
"We challenged ourselves to design something that would embody the old and new," said architect Trevor Abramson.  "What makes Venice so unique is that it's a diverse patchwork of architectural eras and styles.  This presented a rare opportunity for Abramson Architects to design three residences side-by-side and to truly add something distinctive to the existing urban fabric."
The four-bedroom home features a gourmet, open plan kitchen with smart appliances and dual living rooms, allowing residents to spread out through the home for maximum comfort or enabling them to entertain in one area while the other stays closed off as a family space. There is also a garden and a guest suite on the ground floor. A boldly striped staircase leads to the second floor and three of the bedrooms – including the master bedroom, with its private spa-like ensuite.
As well as preserving the history of the area by salvaging the California collage, the Historic Modern has several environmental features as part of its design. For example, its fencing has been made with American, chemical-free ash Arbor Wood and there is a hand water pump on-site that pulls water from an underground catchment system, allowing residents to water the garden off-grid. There is also a fully automated indoor garden in the kitchen, giving residents a space to grow their own herbs, flowers and leafy greens.