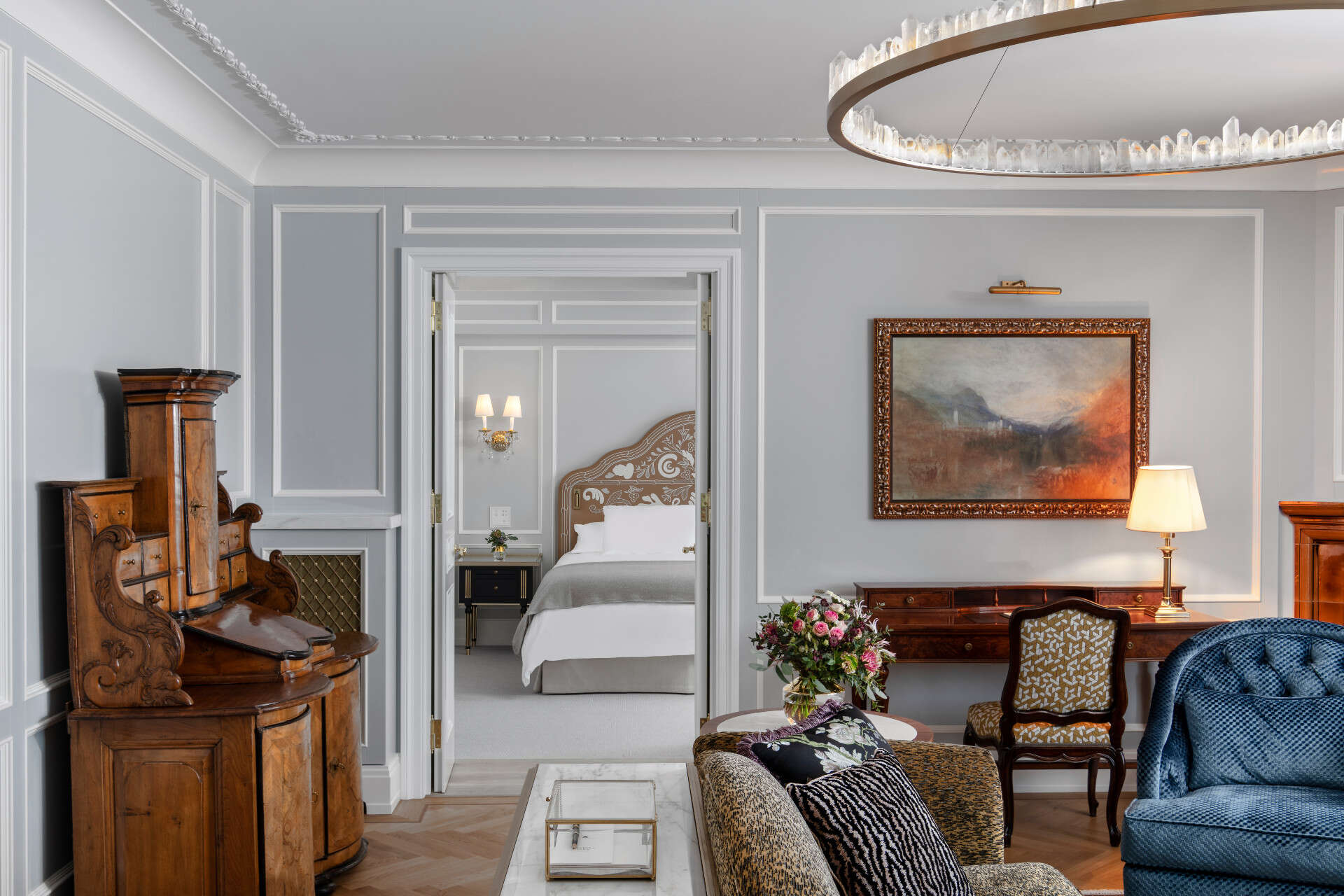 When it comes to interior design, there is one country that has a plethora of styles and trends: the United States of America. As the birthplace of many design styles and famed interior designers, it's no wonder the US has a wealth of knowledge and history in this industry when you consider the country's size – whether it's the ranches of West Texas, the high rises of New York City or the sprawling mansions of California, the culture and climate of any given location will have an impact on its design. With this in mind, we've decided to pay homage to some of the top American designers currently working across the US and internationally, who are all as diverse and iconic as the great nation they are from.
Jeff Andrews
One of the most sought-after designers across the globe, Jeff Andrews creates concepts for both interior and exterior spaces. Many of his projects marry inspiration taken from his upbringing in southern California with strong attention to detail and a dedication to exceeding client expectations. It seems that Andrews' process works: his previous clients include celebrities such as Kaley Cuoco and Ryan Seacrest as well as Jenner and Kardashian clans – Kendall, Kris and Kourtney are all known to be fans of his work.
Every Jeff Andrews project starts with a bold design concept that is designed around a client's needs and wants. It's important to Andrews and his team that every project also has a sense of "warmth, sophistication and most importantly, a sense of home." As well as designing properties, Andrews has also created his own collections of wallpaper (partnering with Astek Wallcoverings), wood surfaces (with Jamie Beckwith Collection) and rugs (with Mansour Modern).
Stephen Sills
Celebrated interior designer Stephen Sills is another major player on both the American and international circuits – his New York studio has been creating unique, timeless spaces across the residential and commercial sectors for over a quarter of a century. Originally from Oklahoma, Sills lived in Paris in his 20s and it was here that his eye for interiors and European antiques started to take shape. Returning home to the US, he began working as a decorator in Dallas but moved to New York in the 80s to start his career as an interior designer.
Fast forward to the present day, and Sills is the designer behind an expansive portfolio of sophisticated interiors that exude class, blending modern design and functionality with heritage and an appreciation for history. Sill's aim for each of his projects is to have "one overall vision" that includes every aspect of the project – his studio, Stephen Sills Associates, is involved in every part of the project, whether this includes exterior and interior architecture, landscape design or lighting.
Barbara Barry
Having founded her Los Angeles-based design studio in 1985, Barbara Barry has been working in interiors for almost 40 years – it's no wonder she is sometimes referred to as the matriarch of American interior design. Barry was raised in a family of artists and painters, meaning her understanding of colors and space was formed from a young age. She has carried this understanding throughout her career (she is an active Plein air painter) and her definitive source of inspiration has always been nature and the natural world.
Her eponymous studio has grown over the years and now boasts an international reputation for excellence, with an expansive portfolio of residential and commercial projects. Barry's design aesthetic is recognized by its timeless elegance, often featuring classic silhouettes that are complemented by modern touches and splashes of color. Barry is also a product designer and has had several partnerships with brands, creating ranges of everything including furniture, lighting, bedding and crystal objects.
[See also: The Women Making Waves in Luxury Design]
Champalimaud Design
Award-winning multi-disciplinary design studio Champalimaud Design is a slightly different addition to this list – it's arguably one of the largest firms we are showcasing, with a team of 50 highly skilled individuals and a leadership team of 10 individuals, which is headed by three partners: Ed Bakos, Winston Kong and the studio's founder, Alexandra Champalimaud. Based in New York City, Champalimaud combines American spirit with European design sensibilities and an extraordinary range of international projects.
Champalimaud Design is the creative genius behind some of the world's most distinguished properties including the iconic Raffles Hotel in Singapore, The Plaza in New York and The Stafford in London. However, the studio is not limited to hospitality design; it has also created beautiful interiors for a range of residential and retail projects and has a collection of products. When it comes to a new project that Champalimaud Design is working on, craftsman and innovation take center – the studio is also able to consult on everything from master planning to preservation, restoration and artwork.
Michael S Smith
Working across the hospitality, residential and commercial sectors, Michael S Smith is another American designer with his roots in California. His approach to interior design blends European classicism with American modernism, which is understandable when you consider Smith's background: after studying interior design in Los Angeles, he moved to London to continue his studies at The Victoria and Albert Museum. On his return to the US, Smith spent time working and learning from renowned antiquarian Gep Durenberger.
Thanks to his extensive work in antiques, Smith has a strong appreciation for the past and has a curator's eye, which lends itself well to choosing art and furnishings. He set up his eponymous design studio, Michael Smith Inc, in 1990 and hasn't looked back since. Smith sees each of his projects as highly individual and starts by working with clients to discover how the spaces will be lived in and used before creating a design concept. Alongside the interior work, Smith also has a collection of fine furniture and finishes, called the Jasper Collection.
Ones to Watch:
Emily Daws Textiles
Charleston-based textile artist Emily Daws has been drawn to fabrics from a young age and has been designing and creating bespoke pieces since she first learned to sew. After studying textiles and apparel and spending time in Europe's design center, Milan, Daws created a ready-to-wear line of contemporary dresses and also worked in the bridal sector, creating custom dresses for Charleston brides. It was after she designed the spaces for her first home that Daws made the switch from fashion to interiors.
Daws launched Emily Daws Textiles from a small workroom with a single textile collection, but her brand has now grown to include wallpapers, shower curtains, throw pillows and bespoke décor. Daws' main vision for her collections is to create small batches that "modern southern living to life", with much of her inspiration coming from the organic patterns that are found in nature – particularly coastal areas, such as her local area of Johns Island. Daws has recently announced the launch of her latest line of textiles, Spring in the South.
GRAIN
Based on Bainbridge Island, Grain is a product design company that we are very excited about. The reason for this is that Grain's ethos is embedded in environmental and social responsibility. In fact, we featured the brand in our Guide to Ethical and Sustainable Design. The boutique design studio was founded by partners Chelsea and James Minola In 2008; it makes an expansive collection of products for the home including ceramics, furniture, rugs, lighting and mirrors.
As a Climate Neutral certified brand, Grain aims to eliminate its entire carbon footprint. It has a full ethical policy and all of Grain's projects are made as responsibly as possible. For example, the studio collaborates with expert artisans throughout North America and creates several of its products in-house in small batch runs. The studio also offers its services as a design consultant for other brands and companies that are interested in choosing more sustainable practices – previously it has worked with Calvin Klein Home and Areaware.